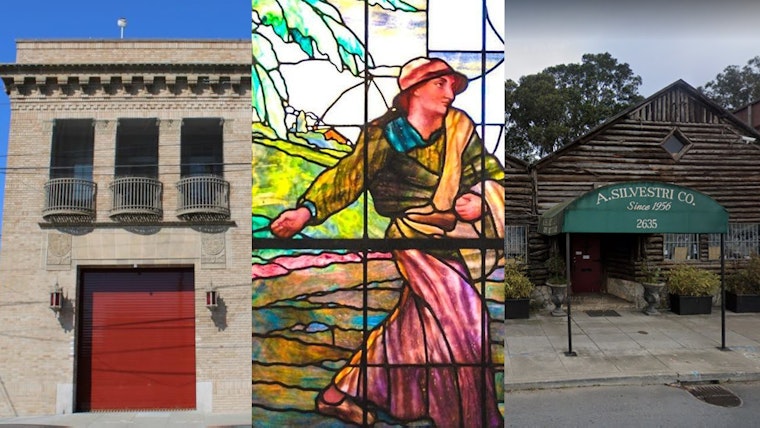 Published on March 02, 2022
Visitacion Valley is steeped with San Francisco history, but the neighborhood does not contain even one single city landmark. The history buffs at SF Heritage are trying to change that, and have initiated the Visitacion Valley Heritage campaign to finally get landmark designation for one of several buildings that are roughly 100 years old or older. And the Chronicle reports they've narrowed it down to three candidates.
Let's get to know these three finalists, one of whom may be the first officially recognized and designated historic landmark in Visitacion Valley.
San Francisco Fire Station #44, 1298 Girard Street
San Francisco's oldest fire station still in active service, SF Fire Station 44 was a modern vanguard when it was converted to a fire station in 1915 because it was meant to house fire engines rather than horses. SF Heritage points out unique architectural details, including "its brick façade, intact cornice work, and triple inset balconies evoking an Italian villa."
St. James Presbyterian Church, 240 Leland Avenue
Hearst Castle architect Julia Morgan designed this church that will turn 100 years old next year. Yet its exterior is most recognizable for its stained glass window, which depicts the biblical Parable of the Sower. The window's history is not well known, but was apparently taken off an abandoned church in rural Nevada about a century ago.
A. Silvestri Statuary, 2629 Bayshore Boulevard
The "youngest" structure of the bunch at a mere 90-some years old, the recognizable log cabin that is now A. Silvestri Statuary was originally Sam's Lodge. Since the building spans both San Francisco and San Mateo counties, Sam's Lodge owner Samuel Chappat painted a yellow line down the middle — to demarcate where slot machines and after-hours drinking were legal (San Mateo County), and where such things were not (San Francisco County).
A public vote on which building will get the landmark campaign has already concluded, but SF Heritage is expected to announce the winner in the near future. Even so, the landmark status is not guaranteed. That decision will be made by the Historic Preservation Commission and the Planning Department.