It's not going to be an April Fools' prank. An underground dinner club known as Hi Felicia, which became an instant hit in Oakland last year after launching in Feb. 2021, will start taking reservations for a brick-and-mortar location in the city's Uptown District on April 1st. Hi Felicia was started by Imana, a 25-year-old former restaurant server and model who goes only by her first name. The home-based pop-up that went on during the pandemic without permits was located at Imana's Oakland apartment, and reservations offered on Instagram were constantly gobbled up by foodies and well-known chefs. (It helps that Imana learned the biz during front-of-house stints at Michelin-starred spots Coi, SingleThread, and Californios.)
Now, Imana is shooting for the stars by opening her first legit restaurant at 326 23rd Street in the spot formerly occupied by Daughter's Diner. According to Hi Felicia's Instagram page, which describes the restaurant as "vulgar fine dining," it will be open Saturday through Tuesday. The Chronicle reports that "there will be one dinner seating at 6:30 pm. The restaurant will serve a $195-per-person, 14-course tasting menu with optional beverage pairings." Imana has described the food as "market-driven Mexican fare with Japanese and Spanish influences," but it will change often, and her influences are many.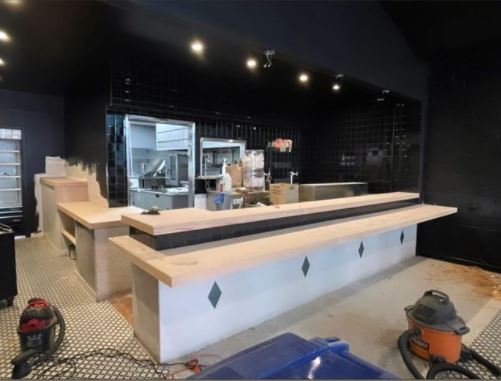 Photo Credit: Hi Felicia/Instagram
As for the interior of the new space, Bay Area News Group reports that we can "expect an eye-catching neon green exterior and plant-filled outdoor space, where guests will be welcomed with a glass of sparkling wine and encouraged to mingle until seated. Inside, there will be sleek black furnishings with pops of color, vintage chandeliers, and moody, amber lighting." Imana said in a recent interview with Bay Area News Group that the 12 employees she used as part of her pop-up venture will all be moving with her into the Hi Felicia's new location.
Imana also says she has hired a chef so that she can focus her efforts more on the guest experience, despite the fact that she loves cooking and has always wanted to be a chef. "When I was younger, food was a very connective thing for me, even though I didn't grow up with a lot of it," she tells Bay Area News Group. "I grew up poor. Going out to eat, my favorite place was Marie Callender's. I went to McDonald's a lot. Through a government program, I got to do a cooking class once when I was 8. Now as an adult, I still try to do the best with what I have."
There's no doubt Imana is aiming higher than ever with the new brick-and-mortar location, telling the Chronicle "because it's fine dining, I want Michelin stars. I'm gonna toe that line." Dinner reservations will go live on April 1st on the platform Tock. Hi Felicia is expected to start serving guests roughly several weeks later.