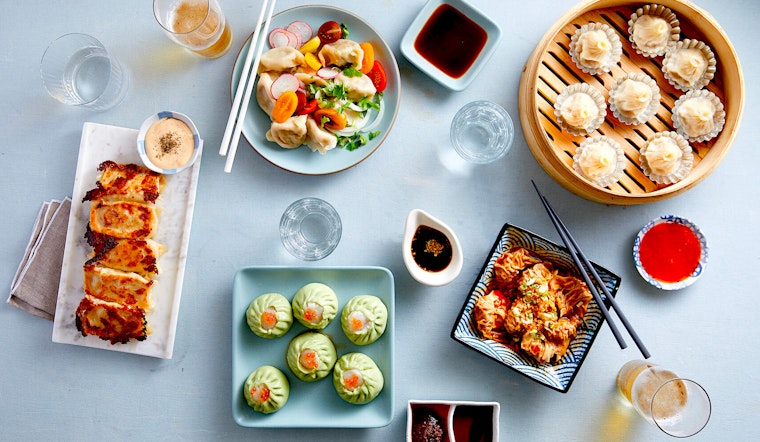 Published on May 27, 2022
Marina: Bernal Heights dumpling and Chinese food restaurant United Dumplings is readying to open a second location in the Marina, at 2015 Chestnut Street. The space was formerly occupied the Peruvian "gastrobar" Cancha, which shuttered about a month ago after being in business a little over one year.
United Dumplings opened in Bernal Heights, at 525 Cortland Street, in the middle of the pandemic in October 2020, but quickly became a takeout hit. Specializing in both traditional and non-traditional dumplings, United Dumplings is co-owned by Sandy Zheng — the owner of Beijing Restaurant (1801 Alemany Blvd.) in the Excelsior — and business partner Julia Zhu, who both grew up in Northern China.
"Dumplings have always been the most special food for our family reunion[s]," the pair writes on the restaurant website. "Apart from being tasty, what really makes them special is that their preparation involves all the family and the harmony and joy created among our family members: grandma makes the filling, uncle makes the dough, auntie makes the wrapper, mom makes the perfect dumplings, dad makes the most ugly ones and children simply get messy with flour in laughter. Now having children of our own, we started United Dumplings, hoping to pass along our fond childhood memories of happy family reunions to our children through our interpretation of dumplings."
They add, "During the process of creating our menu, we kept grandma's handed-down recipes but also incorporated the flavors we brought along with our life adventures."
Dumpling options include traditional xiao long bao and shengjian bao, but also Korean BBQ dumplings, chicken-mushroom-truffle dumplings, and something called Mission Chicken Pot Stickers, which are stuffed with chicken, sweet corn, and mozarella cheese.
The menu also features noodle dishes, wings, shrimp toast, and a few entrees like Mongolian cumin lamb.
They're currently open for indoor and outdoor dining on Cortland, but you can also order takeout and delivery here.
It's not clear when the Chestnut Street location will be open — the SF Business Times first caught word of it via a public business license filing.
Divisadero/NoPa: The space formerly occupied by Wine Kitchen at 507 Divisadero is getting a new Indian restaurant. Details are scarce, there doesn't seem to be a liquor license tranfering yet, and there are just signs in the window declaring "Indian Food" coming soon.
We'll update you if and when we learn more.