If you've been wanting to get a dog, especially a larger breed, then Animal Services in the city of Oakland wants to hear from you. The agency is now pleading for the public's help after announcing that its shelter on 29th Avenue is jam-packed with more than 100 dogs and there is no more room left. "We need your help! All of our dog kennels are completely full and we have new animals entering the shelter every day. We have an unprecedented number of large dogs currently available for adoption, and we urgently need homes for these dogs," an announcement on the Oakland Animal Services website states.
The agency is also drastically lowering adoption fees to help the dogs find new owners. Instead of the normal $150 adoption, the shelter is now only charging $20 to take a dog home. The director of Oakland Animal Services, Ann Dunn, tells KPIX that the shelter can't keep up with the pace of new dogs coming in. "They're just not getting adopted quickly enough so we have more dogs coming in every day than are going out," Dunn says.
One factor leading to the influx of dogs is the economy. With higher gas and food prices, it seems people just can't afford to keep caring for their pets. "People have been struggling economically throughout the pandemic and I think we're really starting to see the impact of that where people who love their dogs – and the last thing they want to do is bring them here – are bringing them here," Dunn told KPIX.
Larger breeds often require more care time from their owners and cost more to feed, but having so many bigger dogs coming in at one time is something the shelter isn't used to dealing with. "We're seeing an increase in the number of German Shepherds and Huskies coming in and that's relatively new. It used to be that we're seeing mostly pit bulls," Dunn told KPIX.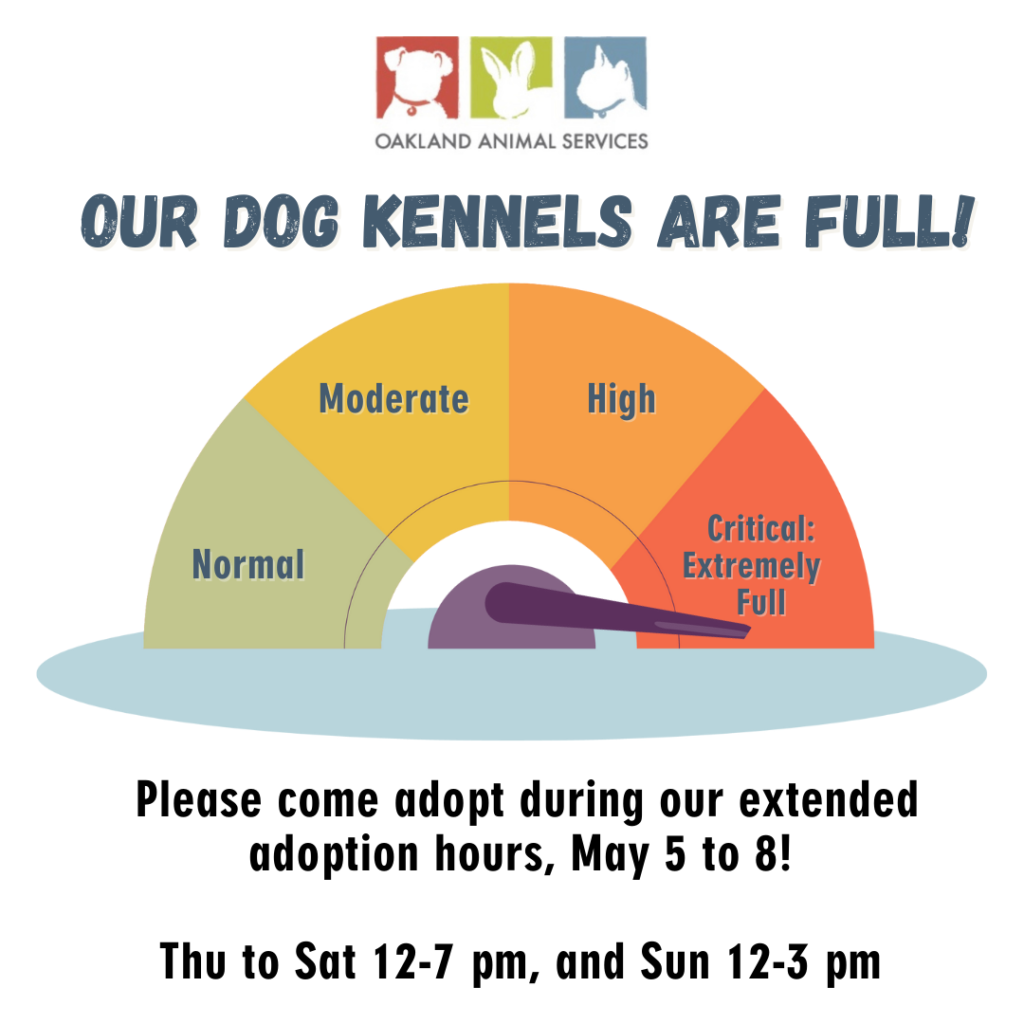 Flyer from Oakland Animal Services
Oakland Animal Services is hoping that an extension of adoption hours this weekend will help clear out some space at the shelter. On May 6th and 7th, the shelter will be open from 12:00 p.m. to 7:00 p.m. and on May 8th the shelter's hours are 12:00 p.m. to 3:00 p.m. "Please come by to adopt a large dog! We have wonderful dogs to fit your household and lifestyle, and our matchmakers will help you find the perfect match," the announcement says. For more information, check out these links: Adoptable Pets and How to Adopt.