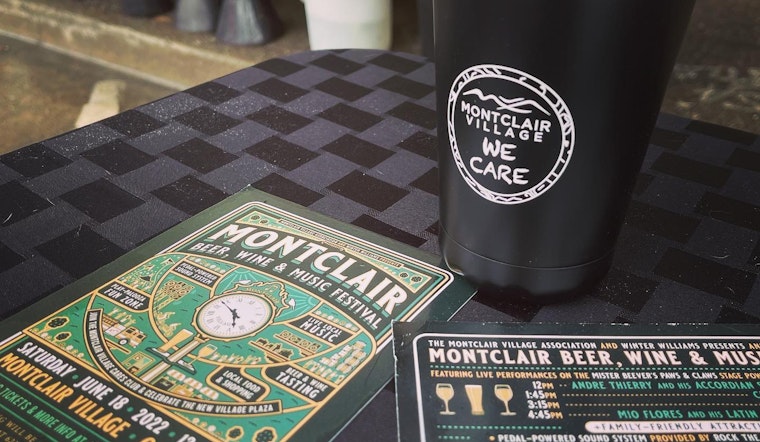 Published on June 14, 2022
A favorite event among the denizens of the Oakland hills is starting up again this weekend for the first time since 2019.
The Montclair Beer, Wine, & Music Festival runs from noon to 6:00 p.m. Saturday. Attendees get unlimited samples of beer and wine from over forty different vendors.
It isn't just the booze that's the draw, though. There will be four different live bands, food vendors, and a family-friendly play zone where kids can see fire trucks and participate in interactive art. People can also choose to bring their own food.
The pandemic put the festival on a two-year hiatus, making its return in 2022 the eighth event, hopefully back on an annual schedule. The first festival was in 2013.
This year, the festival is spread out to three blocks rather than just one, allowing people to socially distance. Although masks aren't required outdoors, visitors are encouraged to bring masks, since Alameda County just reinstated its indoor mask mandate and people may want to visit nearby shops or other vendors close by the festival that could require a mask.
The festival is hosted by the Montclair Village Association and Winter Williams Presents, an Oakland-based music event production company.
Williams tells the East Bay Times that this is an especially important time for people to support the event.
"I'm talking about everybody — the folks approving permits, the business owners, our sponsors, vendors and community members," Williams told the Times. We all need to have a pause from negativity and fear, to not sit back and wait for good things. If we want our communities to be places we feel good about and want to cherish and hold onto things like the businesses and local artists we value, we all need to show up. There's a lot at stake as we come out of COVID. It's a delicate time."
For those that don't want to drink, they're welcome to simply come to the festival to enjoy the live music and time outdoors.
The music lineup starts with a concert by Andre Thierry and his Accordion Soul Music at noon sharp. The Louisiana native showed off his French-Creole roots at the festival in 2019, too.
Next up is Citizens Jazz, a band out of Oakland that mixes jazz, funk, and R&B and is led by a female bass player. That starts at 1:45.
Wolf Jett starts its show at 3:15. That Americana band is from Santa Cruz, and Williams chose them on purpose, hoping to expand their audience.
The last performance is at 4:45. That one's style is explained in its name: Mio Flores and the Latin Jazz AllStars. They performed at the festival in 2019 as well.
There's something else unique about the performances, though: the sound system will be powered by high-performance bicycles provided by Rock the Bike.
"We'll have some people just doing it for fun, but we also have real cyclists like (the teams from) Crufit in Montclair. Their teams are fit folks, and as a result, we will need less reserve power. The idea is that we can create power with our movements and use alternative energy instead of fossil fuels to power our systems," said Williams.
Tickets for the drink sampling package are $35 if you buy them ahead of time (which you can do here) or $40 at the door. Or, you can pay $120 for a year-long enrollment into the Montclair Cares Club and get a free tasting package.
The event is being held at 2051 Mountain Boulevard in Oakland, and parking is free.