People seem to love them or hate them. Either way, another Chick-fil-A location is about to open in Silicon Valley. The new location is in San Jose's Edenvale neighborhood and has the address of 5815 Silver Creek Valley Place near the intersection with Coyote Road. It opens on September 29th.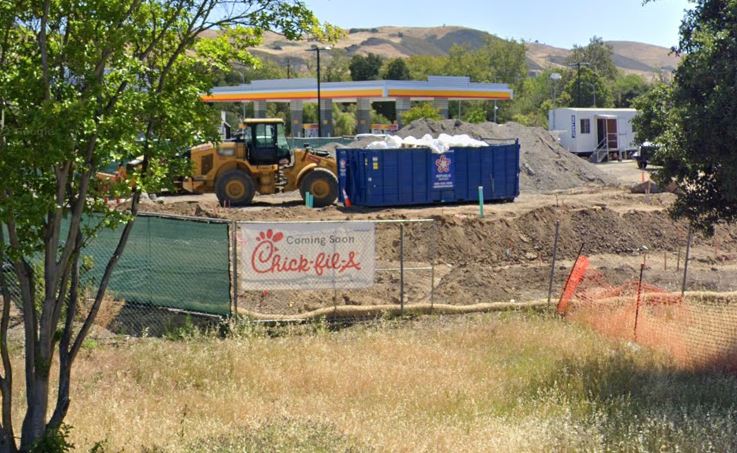 Construction in May of the new Chick-fil-A location. | Photo Credit: Google Maps
The location is inside a brand new building that is around 2,600 square feet and also features a drive-thru. It shares a parking lot with a Starbucks and a Shell gas station. The new Chick-fil-A marks the fifth location in the city of San Jose, if you include the location inside Mineta San Jose International.
Chick-fil-A says that the franchise owner and operator of the new Edenvale location will be Zach Jones. "I am extremely grateful for the chance to positively impact the Silver Creek Valley area and beyond. My wife and I are thrilled by the endless opportunities to care for our guests, Team Members, and the community," Jones said in a statement obtained by SFGate, which reports that city planning officials approved an early development permit for the restaurant in late 2020.
On behalf of the new San Jose store, Chick-Fil-A is donating $25,000 to the non-profit Feeding America, which helps food banks across the county fill their shelves.
The chicken chain has gotten major attention in the past for some of the groups it and its founder give funds to, including anti-LGBTQ organizations. Plans for a Chick-fil-A location in Campbell were stonewalled in 2020 when LGBTQ activists and residents complained about the company's political stances and the impact on traffic due to the restaurant's notorious long drive-thru lines.
Activists launched a Change.org petition to try to stop a location in Milpitas from opening in June, but there wasn't enough support to stop it. "If we were to look at every business in Milpitas politically, the reality is we'd have to shut down half the businesses. No one is perfect. Chick-fil-A certainly is not. And I think the most important thing moving forward is for us to coexist," Milpitas Mayor Rich Tran told the Mercury News when it opened. Chick-fil-A also is planning to open a location in the old Panera Bread space in Emeryville, as reported by Hoodline earlier this summer, but so far, an opening timeline has not been released.