The city of Mountain View has reached a tentative settlement that will allow people living in their RVs to park on three miles of city streets overnight without any restrictions. The settlement is in response to a class action lawsuit filed last summer by the ACLU Foundation of Northern California, the Law Foundation of Silicon Valley, Disability Rights Advocates, and others. They argued that Mountain View's Measure C, which was passed by 56.6% of voters in November of 2020 and banned RVs and oversized vehicles from parking on about 90% of city streets, was unconstitutional. The groups argued that the ban disproportionately impacted low-income individuals and families, along with people with disabilities, which they claimed was a violation of federal and state law.
The newly announced settlement has a guarantee that at least three miles of Mountain View's streets will always be available for overnight RV parking, though the city has the right to change which three miles it designates. "We are pleased that the city came to the table in negotiating these protections that will allow some vulnerable populations to remain in their chosen communities. This tentative settlement will prevent the displacement of many long-time residents of the city of Mountain View who can no longer afford permanent housing," Quyen Ta, with the King & Spalding LLP, the law firm representing the RV dwellers, told the Mercury News.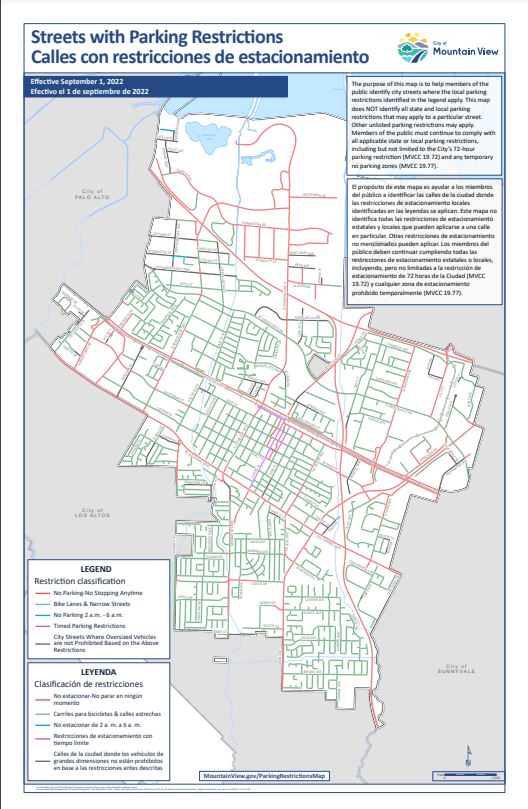 Map Courtesy: City of Mountain View
The city has released a new map showing which streets are currently available for RV parking, which it will start handing out to the RV dwellers. RVs that are parked on non-designated streets will start getting tickets beginning October 1st. Police will give the dwellers three days' notice before towing their RVs. If RVs have more than three tickets, are a danger to traffic, or are blocking a driveway, they are liable to be towed immediately. "The real purpose of this litigation is to secure a right to indefinitely locate their oversized vehicles on their preferred roadways, regardless of any dangers this may pose," retired City Attorney Krishan Chopra told the Palo Alto Daily Post.
To be finalized, the tentative settlement still needs to be approved by federal Judge Nathanael Cousins, which could happen this week. The two parties also still need to figure out who will pay the attorney's fees.