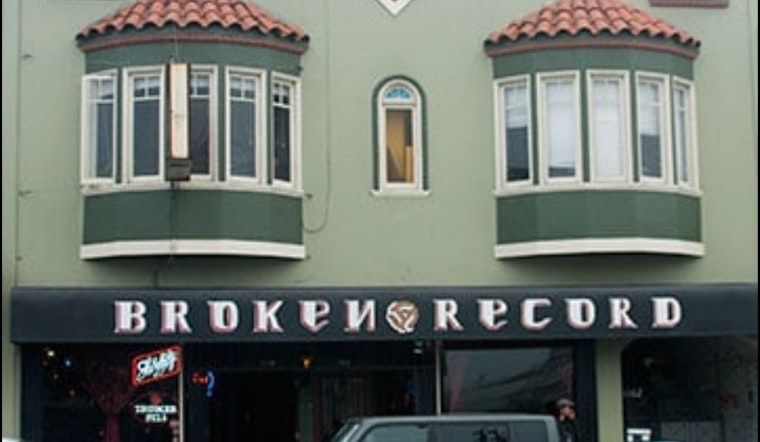 Published on September 08, 2022
We hate to sound like a broken record, but we have to bring the news that another longtime beloved SF bar is closing. This time it's the Excelsior's whiskey dive bar The Broken Record, as Broke-Ass Stuart reports that The Broken Record will close permanently, effective October 15.
"The Record is closing," owner Jason King said in the Monday Facebook post above. " After 15+ years of business we have to throw in the towel. We can no longer keep up with increasing expenses after 2 1/2 years of covid-related slowdowns, rising costs of goods and services, loans and, finally, a new lease that we unfortunately can not afford."
"We will be closed to the public after our 'farewell party' on Saturday the 15th of October and will entertain a couple private events as we clean out the property," he added.
The Chronicle has a follow-up article on The Broken Record closing today, and King elaborated a little further that it's a combination of business shrill being down from the pandemic, but the rent still being hiked. "The landlord raised our rent, but that was just the last straw," King told the Chronicle. "COVID is over for him, but it's not over for us."
"The Excelsior is a wonderful — but outskirt — neighborhood," he added. "We don't have a lot of foot traffic. People have to come there intentionally."
But The Broken Record surely leaves a legacy. It's longtime back area pop-up Gentilly managed to grow up and out to a permanent dedicated home elsewhere in The Excelsior at Mission Street and Russia Avenue. Its current back pop-up Chicano Nuevo is moving to a new home in Mission-Bernal, to the Mission Street space that formerly housed the original location of Emmy's Spaghetti Shack.
But on the upside, Jason King's North Beach bar Church Key is still going strong and faces no disruptions.