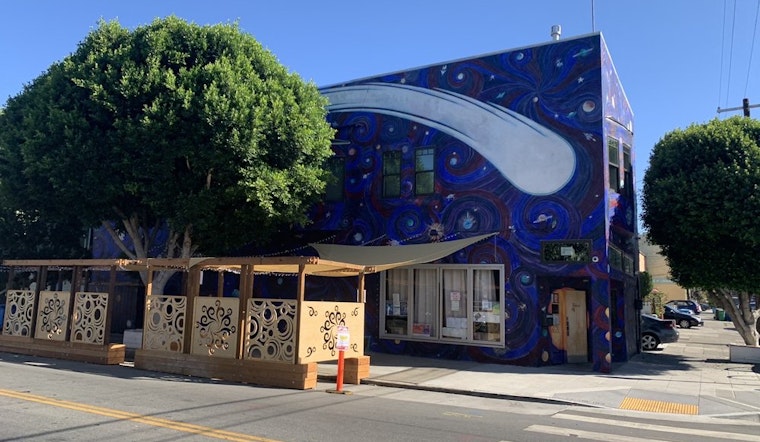 Published on April 01, 2022
You can't help but notice the sprawling, outer-space comet mural at tapas and cocktail bar Asiento when cruising the Mission District near Potrero Avenue. But after 11 years of DJ dance nights, board games, and crafty artisan cocktails, Asiento will be closing permanently after Saturday night, April 2.
But this is apparently not the end of the road for the Asiento team. According to online event pages for Friday and Saturday night closing parties, Asiento will be undergoing a "remodel" and "rebrand" that will eventually lead to "new operations."
"Come out to say farewell to Asiento!," the bar and restaurant posted on a Facebook event page. "We've loved our community and all of the friends we have made along the way. We will be cooking up what's left in our fridges in preparation for the remodel/rebrand & new operations."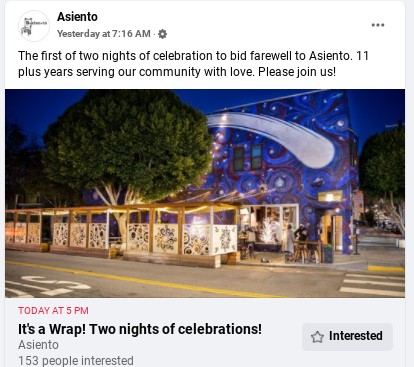 Screenshot: Asiento via Facebook
"Yes, the mural is staying," Asiento owner Debi Cohn tells Hoodline, answering the big Number One question on everyone's mind (It's actually a holdover from the space's previous bar, Cosmos). But she does add that under the new concept and ownership, which she will still be a part of, "The parklet will change."
Friday night's event is Funky First Friday with DJ Souldog (8 p.m.). Saturday's It's a Wrap Final Party event post notes that "We have two Wrap parties this weekend. Come get your last piece of Asiento (most of the furniture will be for sale as well!). Plus you need one last Asiento burger."
Asiento is open 5 p.m.-1 a.m. both nights.
"There will be some food for sale and lots of food just passed out for all to enjoy," according to the event page. "Many Kill the Bottle specials too! We hope to see you on April 1st or 2nd (or both!)."
Saturday's event post adds "ON THIS NIGHT we will have price tags on the furniture and you can come and buy a little piece of Asiento to take home."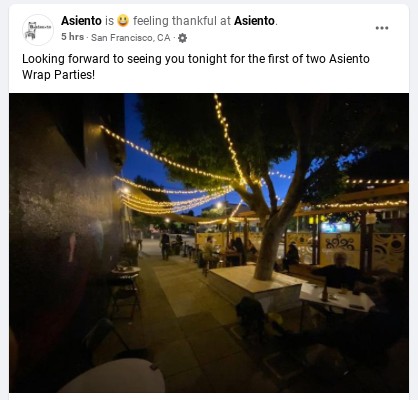 Screenshot: Asiento via Facebook
"It's time for someone else to realize their dream," Cohn explains to Hoodline. "In this space I've created love, community, and just a really good neighborhood spot. I've done my job and I can leave that legacy."
Cohn will remain on as a partial owner under the new concept, which will have a different name. But her new co-owner will be a current employee, so the new version of Asiento will still stay in the family.
"I'll still be there in the background, still an owner. But I'm going to allow him to realize his dream, he's been an employee of mine for more than a year."

And there will be a renewed focus on live music at the space's upcoming new incarnation.
"In the new space there will be a stage," she says. "It will be much easier for [bands] to set up, they'll have a dedicated area, we won't have to do so much moving and adjusting for that. And I think that's going to be great, more welcoming for live bands so they'll play more."
"I've done this 24 hours a day, seven days a week, for eleven and a half years," Cohn tells us. "I'm looking forward to getting back into my life. I've had to miss events, birthdays, everything. The only birthdays I see are people that come to my bar."
If you're an Asiento fan, Friday and Saturday nights are your last chance to come to her bar. That is, until the space's new chapter begins.

Asiento's 'It's a Wrap Final Night!' parties are Friday, April 1, and Saturday, April 2 at 2730 21st Street (at Bryant Street); 5 p.m.- 1 a.m.