It may be the only business in San Jose that doesn't rely on computers, and at the end of the month, it will be closed for good. Sam's Downtown Feed & Pet Supply, at 759 West San Carlos Street, first opened in 1986, but the legacy of the family who runs the pet and farm supply store is more than 150 years old. The shop is owned by Sam and Lisa Blackford. Sam's family arrived in San Jose in 1860 to start growing crops like apricots and prunes, as reported by the Mercury News. The family has had streets named after them as well as schools. Blackford Elementary is still in operation, but a high school containing the name has since closed.
Sam Blackford opened the store as a way to keep his family's agricultural legacy alive in an area that has been taken over by tech. One of the things customers loved about Sam's Downtown Feed was the old brick building, which was built back in 1913. According to KTVU, it contained a secret speakeasy in the basement that was used to serve booze during the prohibition to people visiting San Jose's nearby historic red-light district. The property is now up for sale for $5.2 million.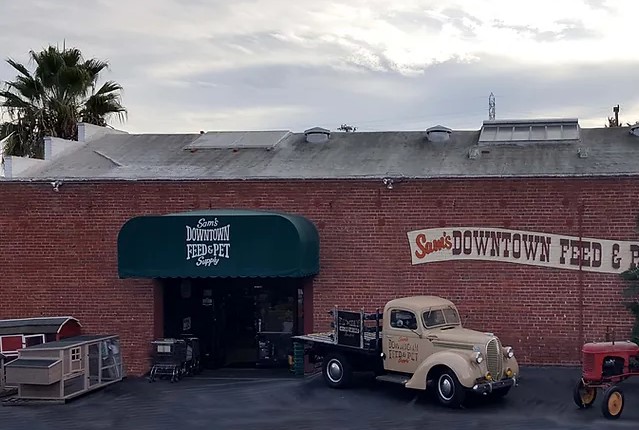 Photo Credit: Sam's Downtown Feed
Several factors are leading the Blackfords to close the business. Sam's health, lingering challenges from the pandemic, and San Jose's ever-growing tech-minded demographics to name a few. "The demographics with high-density housing, I think, will inhibit people from continuing to have chickens and rabbits in their backyards and things like that. So, we'll see," Lisa Blackford told KTVU. The Blackfords are looking forward to not having the pressures of business ownership. "You know owning your own business stresses the family life a little bit. We have grandkids now. Our kids are older with families, and we'd like to be able to spend more time with them and know that we can. So, and we're getting older," Lisa Blackford told KTVU.

Photo Credit: Sam's Downtown Feed
Sam's Downtown Feed apparently has no computers or internet service in the store, but it has a line of supplies that not many stores can cover. Its website makes a bold claim that it "feeds anteaters to zebras. We feed every animal, A-Z, but we are also eager to help with your companion pet issues."
The exact closing date has yet to be released, but it is expected to be before the new year. You can check for updates on the Sam's Downtown Feed Facebook page.