Police response times in the city of San Jose are not getting any faster and are falling well short of policing goals. To make matters worse, the slower response times are coming after an increase in staffing and the police budget. San José Spotlight got ahold of a recent city auditor report that shows slower response times in two main categories. Priority one calls, which involve life-threatening situations or the possibility of significant damage or property loss, took an average of 7.3 minutes for officers to respond last year. That's a 0.2 increase from the year before and more than a minute behind the department's required priority one response time of six minutes.
The rise in response times for priority two calls is even more concerning. These are calls that involve injuries or property damage with the criminals still in the immediate area. The goal is for cops to get to these calls in 11 minutes. However, the auditor report shows that last year the average response time was about 23.9 minutes. That's two minutes slower than the year before, despite having 30 more officers and a budget with an extra $20 million. "That is horrible. They're getting destroyed on priority two calls, and it's a matter of bodies," San Jose Police Officers' Association spokesperson, Tom Saggau, told San José Spotlight.
"Today, our Priority One response time is seven minutes. Priority Two is 23 minutes, more than double our performance target. That is the unacceptable result of low staffing levels," San Jose Mayor Matt Mahan said during his inauguration speech, as reported by ABC7. One problem is that San Jose currently has only roughly 1,150 police officers, which makes it one of the smallest police departments when compared to other major U.S. cities with more than one million residents. Take San Francisco, for example. The city has about 875,000 people, yet it has about 2,100 officers.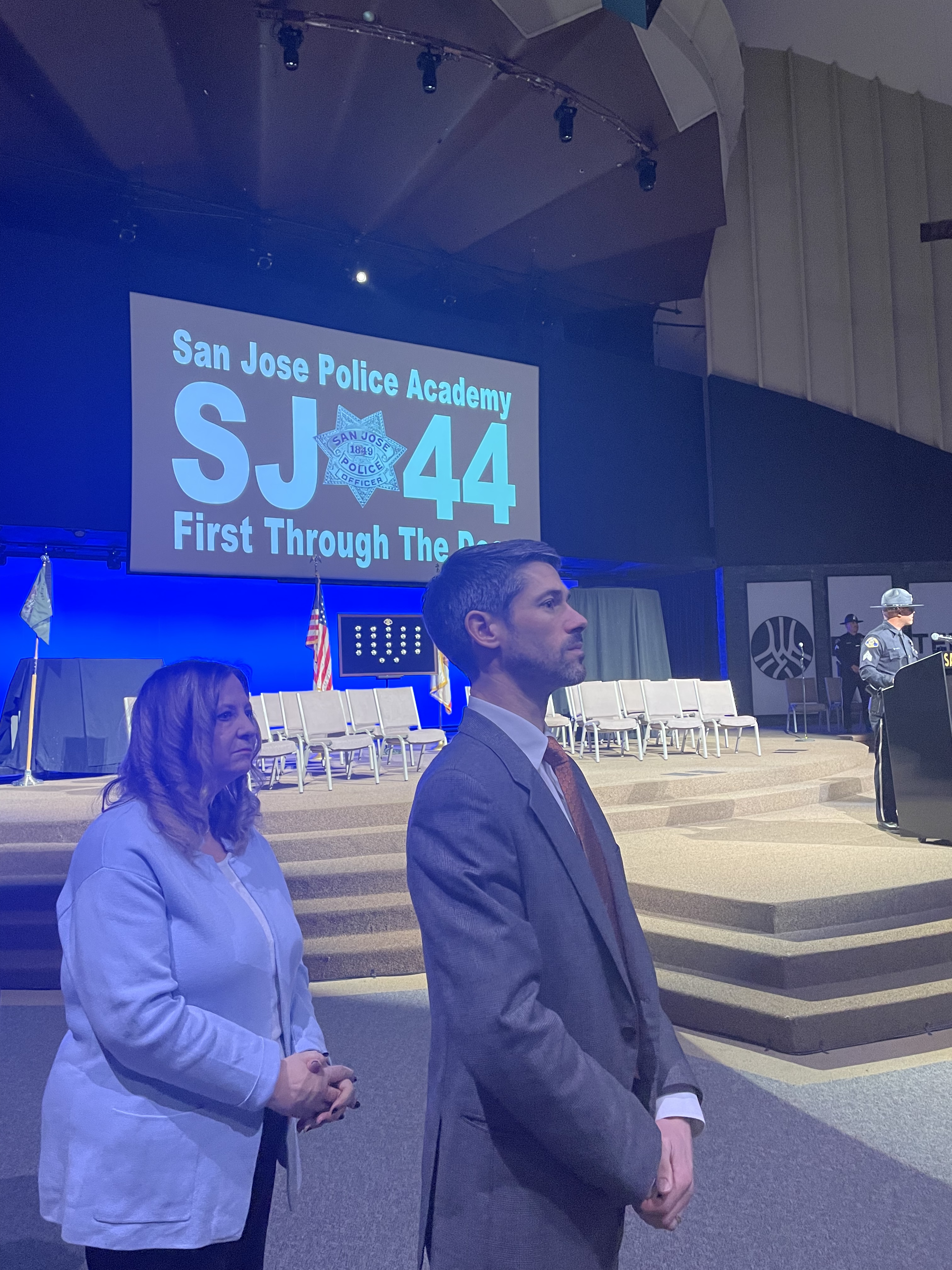 San Jose Mayor Matt Mahan attending a recent SJPD academy graduation. | Photo Credit: Twitter/@MattMahanSJ
Slowing response times have been a trend for the past several years. According to a report by the Mercury News two years ago, the average response time to a priority two call was 21 minutes in 2020.
"The only time in recent years that the department came close to meeting its Priority 2 target was in 2007-08, when it averaged 11.4 minutes," according to that Mercury News report.
"When San Jose was meeting its goal of 11 minutes for priority two calls, it was back when there were 1,400 officers," Saggau told the Spotlight. "So, you see a direct decline year after year in these reports because staffing has just kept going down. Then add on a much higher number of homeless folks that these calls take much more time to solve and a larger population in general."