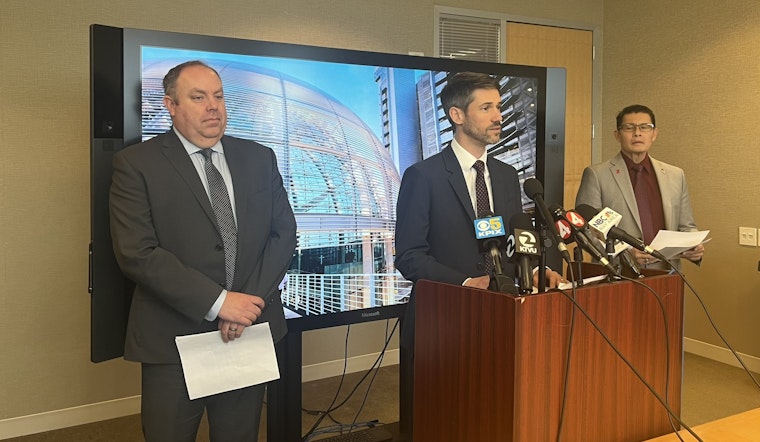 Published on March 15, 2023
Just over two months after becoming Mayor of San Jose, Matt Mahan has put forward his first budget plan that has a major focus on public safety, homelessness, housing, and blight. It's a self-proclaimed "back-to-basics" approach that he says will make San Jose a better city for everyone. "New spending really needs to be concentrated on our top four priorities. We shouldn't be doing more programming until we make progress on them," Mahan told the Mercury News.
To build up the lacking police force, Mahan wants to double the hiring budget, enabling the police department to add 30 more officers instead of the 15 allotted in the current budget. Despite the city's growing population over the last two decades, San Jose currently has 1,157 full-time officers, which is about 200 less than in the year 2000. Mahan also wants to give officers bonuses for referring new officers that sign on to the department. He also wants to give new officers relocation fees while creating a new youth program that would theoretically attract officers in the future. Mahan is also recommending the city buy more than 70 automatic license plate readers to help cops catch criminals.
Regarding homelessness, Mahan's wishlist includes money to build 500 units of emergency interim housing and find new sites by the end of the year that would allow the city to build another 1,000 units of housing for the homeless. He also wants to establish no encampment zones in certain areas and have a team within SJPD of what he calls 'trauma-informed specialists' that would enforce the zones.
Councilmember David Cohen told San José Spotlight, "I know there are people in the public who want that to happen, but I'm not convinced we're at the stage where we can do that. I'm concerned about how we're going to designate which parts of the city are no encampment areas and then what other parts of the city will end up bearing the burden as more people move into those parts of the city."
As for housing, the mayor wants to change the city's permitting process to make it easier for developers to get through the red tape and build. Part of that plan includes the hiring of more planning department staff to help process more than 500 building permits that are currently backlogged.
The final major priority is cleaning up the city and reducing blight. Mahan is proposing new resident trash cleaning programs and a new system that would help get rid of graffiti on private property. He also wants to create two new teams to clean up the trash along creeks and rivers every week. "I'm confident that we can move the needle on these issues if we focus our attention, our creativity, and our resources on them. When we do, San Jose will be a better city for all of our residents," Mahan told San José Spotlight.
The city council will make changes to the mayor's budget proposal ahead of a meeting on March 21st. On Twitter, Mahan encouraged residents to weigh in on his proposal. The council votes on a final budget in June, which goes into effect in July.