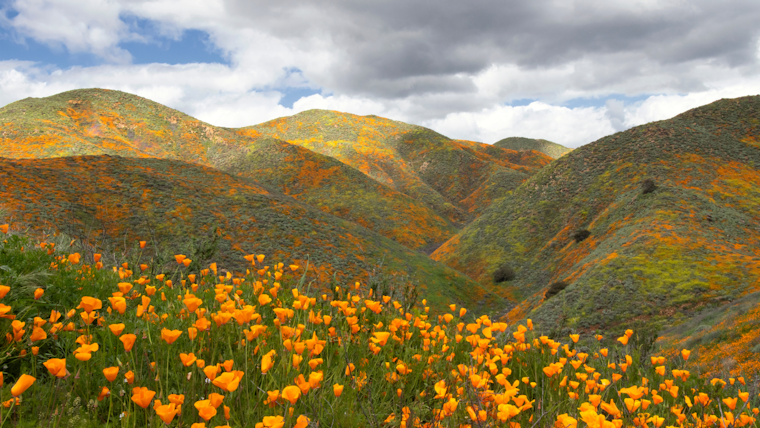 Published on April 07, 2023
Spring hasn't just sprung; it has exploded when it comes to wildflowers. Thanks to all the rain we had this winter, super blooms in the South Bay have created eruptions of color all over the hills, and with the weather now warming up, people are flocking to the trails to get a glimpse of this rare phenomenon. It's not just the wet weather that has created such an amazing season for wildflowers, but it is what has happened in the last few years that has set up this perfect storm for nature's colorful showcase.
"Three years ago, we had giant fires on four sides of the Bay Area and almost no rain. The next year, we had really heavy, early rains that then stopped, and now we have so much rain it's record-breaking and flooding. Now, a lot of the areas that have the best wildflower blooms are places that've burned or have disturbed ground from erosion. So the state's taken a big drink of water, and we're going to see regeneration in all kinds of places," land conservation director for Save Mount Diablo, Seth Adams, told Bay Area News Group.
If you are looking to get outside and see the tsunami of color, we've put together a list of the top 3 places, plus a few bonus options, in the South Bay to check it all out, thanks to help from sites like visitmorganhill.org and openspaceauthority.org.
Calero County Park, San Jose - You can catch wildflowers galore in the foothills of the Santa Cruz mountains, and the trails at this 4,400 acres county park make it easy to trek around to see the spectacular colors, which will likely last well into the month of May. With all the water we've had, there will be great views of Calero Reservoir and the wildlife that thrive near the lake. For more information, check out: parks.sccgov.org/santa-clara-county-parks/calero-county-park
Coyote Hills Regional Park, Fremont - Expect to see a huge variety of wildflowers in full bloom, like seaside heliotropes, silver lupine, blue-eyed grass, buttercups, and mule's ear. Plus, the park's nectar garden experience is a great place to see butterflies, hummingbirds, and other wildlife that love all the blossoming. For more information, check out: ebparks.org/parks/coyote-hills
Rancho San Antonio County Park & Open Space Preserve, Cupertino - There are a whopping 25 miles of trails in this nearly 4,000-acre area. It's one of the most accessible outdoor spaces in Silicon Valley, and there will be no shortage of color if you go. For more information, check out: openspace.org/preserves/rancho-san-antonio
More options: