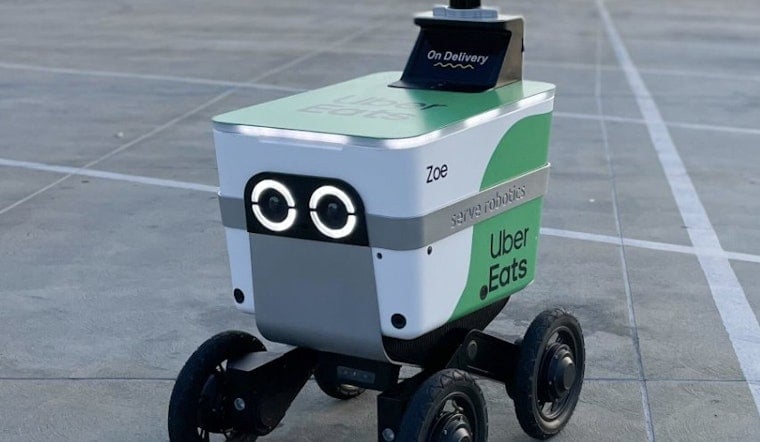 Published on May 30, 2023
San Jose residents, prepare for an exciting new addition to your food delivery experience - robots! Yes, you read that right. Uber Eats is expanding its fleet of autonomous food delivery robots in partnership with Serve Robotics, aiming to deploy up to 2,000 self-driving rovers in the coming months to new markets, including San Jose, Dallas, and Vancouver according to Restaurant Business.
This futuristic development comes after a successful pilot program in Los Angeles, where Uber Eats began testing the Serve Robotics rover about a year ago. Since then, they have seen a whopping 30% month-over-month growth in robot deliveries and over 200 LA restaurants now offer this cutting-edge delivery option. Moreover, another article by TechCrunch reveals that Uber Eats and Serve's partnership will last through the beginning of 2026, further solidifying Uber's commitment to autonomy.
San Jose customers can look forward to the convenience of having their food orders delivered by these innovative Level 4 autonomous four-wheeled rovers, which are designed for traveling on sidewalks and operating for extended periods without human intervention. When the delivery arrives, customers will receive a notification and a unique code they can use to unlock the robot and retrieve their food.
This expansion is not only a testimony to the success of their partnership, but also to the potential environmental and logistical benefits of using delivery robots. For starters, the robots could reduce traffic and pollution while making deliveries more efficient and affordable as mentioned by Serve co-founder and CEO Ali Kashani. Furthermore, a study conducted by Starship and Milton Keynes Council found that robot deliveries could save up to 80-90% in delivery costs and reduce the retailer's carbon footprint significantly. By using robots instead of cars, they have avoided 280,000 car journeys, reaching more than 500,000 miles in a span of three and a half years, which equates to saving 137 tons of CO2 and more than 22kg of NOx emissions according to a report by Raconteur.
Uber Eats' expansion of autonomous delivery robots brings the world a few steps closer to adopting cleaner, smarter, and more efficient technologies in logistics. However, there were some challenges faced by the autonomous delivery business in recent times. But they did not deter the growth of this industry. Notably, autonomous delivery company Nuro laid off 30% of its workforce earlier this month, citing the high costs of deploying the vehicles commercially.
San Jose residents will soon be witnesses of the high-tech revolution in food delivery with Uber Eats and Serve Robotics, not only making the process more efficient but also reducing environmental impact. So, keep an eye out for these autonomous delivery robots traversing the sidewalks in your neighborhood, bringing you your favorite meals from participating restaurants, as they contribute a small part to shaping a cleaner, smarter future for urban logistics and beyond.