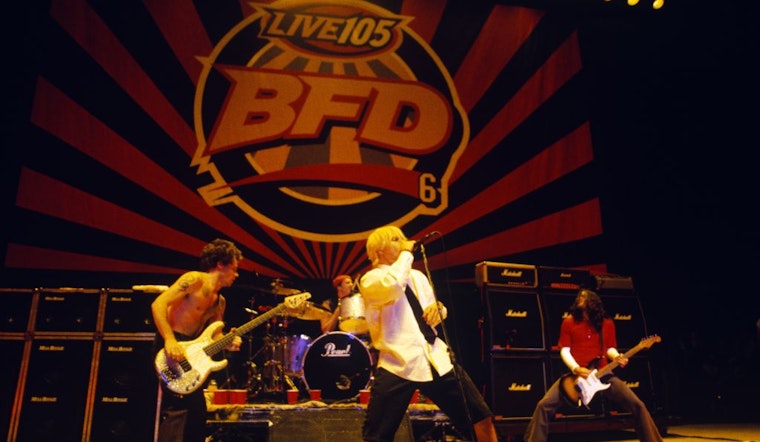 Published on June 04, 2023
The San Francisco Bay Area once again (Monday 10 am) will hear the familiar name and sound of Live 105, as it reclaimed its iconic spot at 105.3 FM (KITS) after a two-year hiatus. With a newly revived playlist featuring classic alt-rock acts such as Red Hot Chili Peppers, Depeche Mode, Nirvana, Oasis, and Green Day, Live 105 is set to win back the hearts of its loyal listeners and reignite the love for alternative music in the region, according to an SF Chronicle article.
In a move lauded by music lovers, John Allers, regional vice president of alternative programming, announced that Live 105 aims to restore the essence of what the station once represented, bringing back familiar voices like Aaron Axelsen, Miles "Miles the DJ" Anzaldo, and Ben "Party Ben" Gill. Meanwhile, Jayn, the veteran music director at sister station Alice at 97.3 (KLLC-FM), will take on the same position at Live 105, with the rest of the on-air talent yet to be announced. For the time being, Live 105 will operate without regular DJs.
Originally launched in 1986 under the program direction of Richard Sands and music director Steve Masters, Live 105 broke the monotony of mainstream radio's tightly controlled playlists by introducing lesser-known acts from around the world like the Cure, New Order, Radiohead, The Strokes, and the White Stripes. The station boasted an influential DJ lineup and hosted iconic on-air personalities such as Steve Masters, Big Rick Stuart, Mark Hamilton, Roland West, Alex Bennett, and Lori Thompson throughout its storied history.
However, changes in media ownership and programming strategies took the iconic station down different paths over the years, with occasional rebrands and format changes. In December 2017, rebranding as Alt 105.3 saw the format remain largely similar until October 2021, when parent company Audacy switched the station to a retro Top 40 hits format under the name Dave FM, which left many listeners disappointed.
Fans of alternative radio have long hoped for the return of Live 105, and their patience was rewarded.
Live 105 has always been known for its dedication to local and electronic music programming, as well as its popular event calendar. Live 105's live events portfolio has included the annual BFD Festival during the summer and the Not So Silent Night concert series in December. Allers hinted at the possible return of some of these elements, but highlighted the importance of focusing on winning back listeners and their trust during the initial weeks of the relaunch.