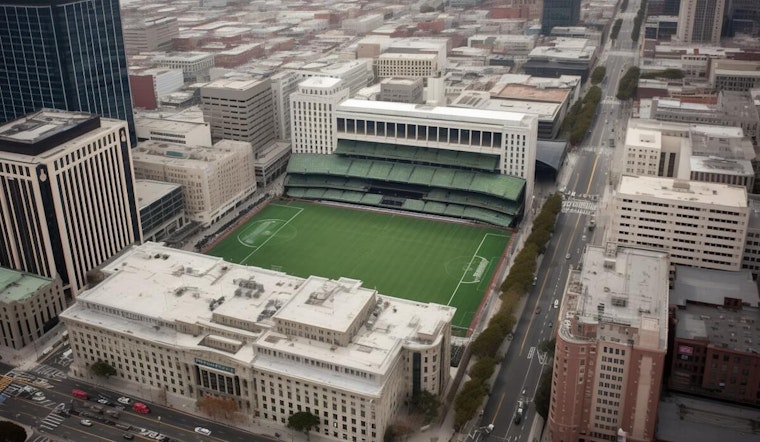 Published on June 23, 2023
The landscape of San Francisco's once-thriving downtown has been struggling for some time now, with declining sales, foot traffic, and a series of closures that have hit the city hard. In what many might think an odd suggestion, Mayor London Breed has proposed a new idea to reinvigorate the area: replacing the Westfield Mall with a soccer stadium, a concept that comes in the wake of Westfield's announcement that it will be abandoning its iconic San Francisco mall due to these challenges.
According to a recent article from SF Gate, Mayor Breed has suggested that Westfield Mall, a once-prominent landmark in the city's downtown, could potentially be transformed into a whole new soccer stadium. This proposal was made during a stage interview at Bloomberg's Technology Summit in San Francisco, where the mayor discussed the declining state of commercial real estate in the city and the pressing need for creative solutions to revitalize the area.
As SF Gate reported, Breed began to rattle off things that could be, saying, "You can convert certain spaces ... A Westfield mall could become, you know, something completely different than what it currently is. It could be a place where — we could even tear down the whole building and build a whole new soccer stadium,"
As Bloomberg reported, Mayor Breed called on investors to redevelop the struggling downtown core by converting or even demolishing empty buildings to make way for new growth. "I think we have to start re-imagining what the downtown can be," Breed said, emphasizing the importance of looking for new possibilities rather than dwelling on the decline of traditional retail establishments. Critics and experts alike have noted that such a move could potentially provide a much-needed boost to San Francisco's beleaguered downtown, injecting fresh energy and rekindling the city's reputation as an innovative trailblazer.
While San Francisco's downtown has been grappling with the effects of a decline in tourism, remote work displacing office tenants, and safety issues, it is interesting to note that Westfield's Valley Fair mall, located in Silicon Valley just 50 miles away, has seen a much more positive trajectory with record high sales and a steady growth, as we also reported here on Hoodline. Successful tenants like Nordstrom have chosen to remain in Valley Fair while leaving the San Francisco property, indicating that it is not merely the retail sector's decline that has brought the latter to its knees. Instead, it points toward the way the San Francisco mall has failed to adapt and meet the challenges of today's retail landscape.
This contrast between the two Westfield malls underscores the importance of innovative thinking and making bold moves when faced with a changing environment, as exemplified by the successful adaptations of Valley Fair. By transforming the San Francisco downtown area and potentially replacing the Westfield Mall with a soccer stadium, new opportunities could be created for the city, its businesses, and its residents, allowing it to emerge from these difficult times with renewed vigor and optimism.
However, it is critical that San Francisco leaders focus their efforts on not just bold redevelopments, whether stadiums or otherwise, but also address pressing concerns like homelessness and public safety. To this end, Mayor London Breed has proposed various measures in the past to tackle these issues, such as speeding up the construction of new housing units, enacting legislation allowing easier access to mental illness treatment, and tirelessly working to improve the quality of life for the city's residents, as mentioned in a New York Times article.