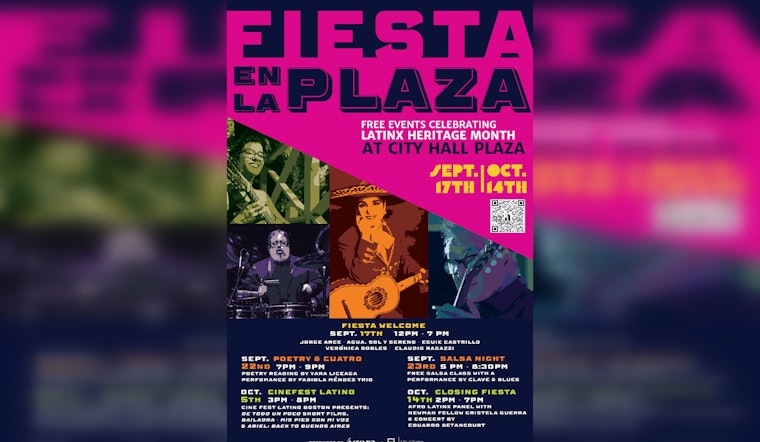 Published on September 15, 2023
Inclusion and celebration took center stage today as Boston Mayor Michelle Wu kicked off National Latinx Heritage Month, announcing a variety of exciting events showcasing Latinx culture and communities. The month-long observance, running from September 15 to October 15, aims to honor and recognize the vital role Latinx residents play in Boston's vibrant cultural fabric.
According to City of Boston news, "Our Latinx residents are an essential part of Boston's cultural fabric, and we honor their contributions during Latinx Heritage Month and beyond," said Mayor Wu. One of the central aspects of Latinx Heritage Month programming will be Fiesta en la Plaza, a series of Latinx-centered cultural activities taking place over four weekends on City Hall Plaza. Produced by Ágora Cultural Architects, a firm founded and directed by Latin American women, the series is supported by the Mayor's Office of Arts and Culture.
Beyond Fiesta en la Plaza, the City's Equity and Inclusion Cabinet and Latinx Employee Resource Group (ERG) co-hosted a Mexican Independence Day celebration on September 14 and plans to host a Central American Celebration event on September 17 at 11 a.m. to recognize the independence days of Guatemala, El Salvador, Honduras, Nicaragua, and Costa Rica. By celebrating Latinx heritage, Boston residents can learn about the diversity of Latin American culture and communities throughout the month.
Other events include a Latinx Heritage Month celebration party on September 19, co-hosted by the Equity and Inclusion Cabinet and Latinx ERG, a series of resources and programming at the Boston Public Library, and other events organized by the City according to the City of Boston.
Fiesta en la Plaza's lineup features an array of exciting activities and performances, exploring various aspects of Latinx culture, from music, dance, and spoken word, to film and discussions on Afro-Latin arts. Highlights include the Welcome Fiesta on September 17, where Latin American artists residing in Boston, such as Jorge Arce, Agua, Sol y Sereno, Eguie Castrillo, Veronica Robles, and Claudio Ragazzi, will take to the stage. Cuatro & Poetry on September 22 will showcase Afro-Antillean rhythms and Latin women's voices, with performances by Yara Liceaga and Fabiola Méndez.
Salsa Night on September 23 offers residents the chance to participate in dance classes and enjoy live performances, while on October 5, CineFest Latino Boston will feature two Latin films for a movie night celebrating Latinx culture. The Closing Fiesta on October 14 will include a discussion on Afro-Latin arts and cultures, a performance from the Hyde Square Task Force youth dance group, and a musical closing with Venezuelan harpist Eduardo Betancourt and Newman Fellow Cristela Guerra.
As Principal and Co-Founder of Ágora Elsa Mosquera-Sterenberg stated, "Fiesta en la Plaza invites us to meet friends and families to celebrate everything that unites us," opening a space for conversation and appreciation of Boston's multifaceted Latinx community.
For more details and information on the upcoming Latinx Heritage Month events, head to the Boston Public Library website for a full list of events and resources, and join in the celebrations happening throughout the city during this culturally vibrant month.