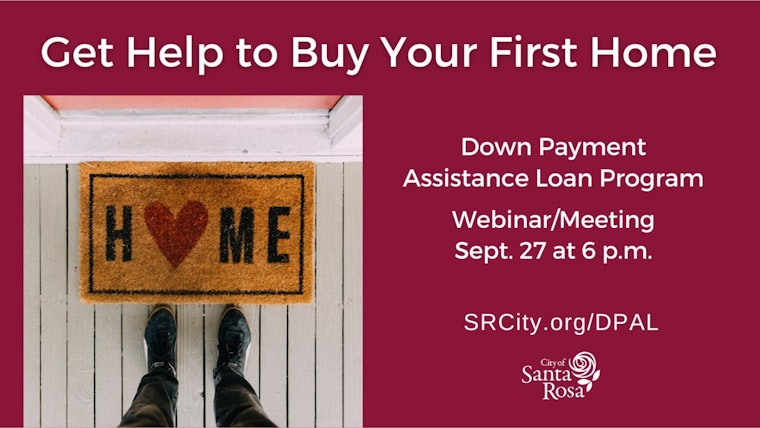 Published on September 22, 2023
In an effort to provide financial relief to local first-time homebuyers, the City of Santa Rosa recently unveiled its Down Payment Assistance Loan program (DPAL), a program that offers loans up to $75,000 to qualified borrowers looking to purchase their first home within the Santa Rosa city limits. With no monthly payments required, the loan, offered alongside Burbank Housing's CALHome Program, is only to be repaid when the property is sold, transferred, refinanced in some cases, or when the 30-year loan term expires, according to the City of Santa Rosa.
Santa Rosa residents looking to buy their first home may be eligible for up to $175,000 in down payment loan assistance. Attend a webinar with in-person access on Sept 27 at 6 p.m. to learn more. Visit https://t.co/P1eeonQNxI pic.twitter.com/QTmEcGWhUh

— City of Santa Rosa (@CityofSantaRosa) September 20, 2023
The DPAL program, which aims to help first-time homebuyers bridge the financial gap and undertake the massive step of purchasing a home, is available to Santa Rosa residents who meet specific income criteria. Eligible applicants must be first-time homebuyers with household incomes at or below the moderate-income level, set at 120% of the Area Median Income (AMI).
Alongside the income requirement, the loan program also dictates certain specifications. The loan amount can go up to 10% of the purchase price, with a $75,000 maximum, and carries an interest rate of 3% simple interest. The loan term lasts 30 years, while eligible property types include single-family homes, condominium units, cooperative units, and manufactured homes on owned land. Furthermore, the purchase price of the home must not exceed the Maximum Purchase Price limit for Sonoma County, which is updated monthly.
For potential homebuyers eager to benefit from DPAL, the process comes after meeting eligibility requirements. Applicants must work with a mortgage lender of their choice for mortgage pre-approval, before completing and submitting the application to the City of Santa Rosa's Housing and Community Services Department. Applications become available on the program's webpage on September 27 and can be submitted starting October 2.
Following pre-approval from the Housing and Community Services Department, applicants need to complete a Homebuyer Education counseling session via Balance, a HUD-certified Homebuyer Education Provider. This counseling is obligatory and serves to provide crucial information and guidance for prospective homeowners. Having completed the counseling session, applicants receive six months' time to close escrow on eligible property, with loan funds being provided at the close of escrow.
To provide further clarity on the DPAL program and Burbank Housing's CALHome Program, the City of Santa Rosa will host a webinar alongside an in-person location to better address any questions from interested parties on these programs, which many current residents consider life-changing opportunities. The webinar and in-person meeting will take place on September 27 with potential participants advised to register early as spots are expected to fill up quickly, according to the city's website.
Those looking to apply should keep in mind that DPAL applications will be made available starting September 27 and can be submitted in person at the Housing and Community Services Department or electronically via the program's webpage starting October 2. It is important to note that only applications submitted after 8:00 a.m. PDT on October 2, will be considered for the program. Funds are provided on a first-come, first-served basis and are available until the program is exhausted.