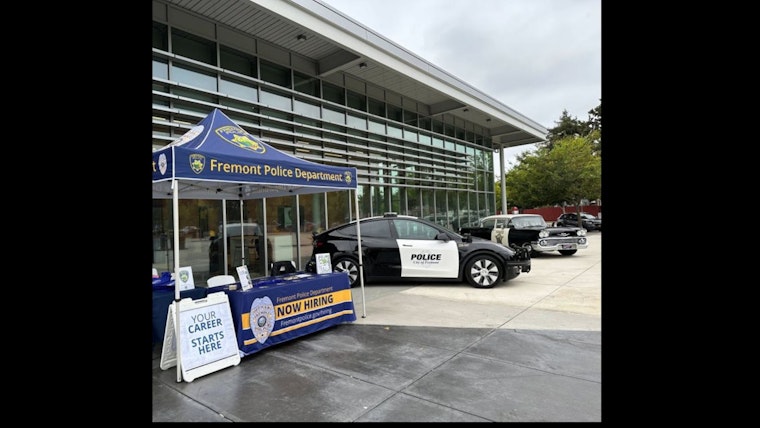 Published on September 30, 2023
Law enforcement aspirants and emergency vehicle enthusiasts are invited to the 2nd Annual Emergency Vehicle Display Show and Law Enforcement Career Fair. The event is scheduled for October 7 and will be held from 8 a.m. to 3 p.m. at the Ripon Community Center & Park, Ripon, California, according to the Fremont Police Department.
Join us next Saturday, 10/7/23 from 8am - 3pm at the 32nd Annual Emergency Vehicle Display Show and Law Enforcement Career Fair at Ripon Community Center at 412 West Fourth St, Ripon, CA. Look for our '58 Chevy and the Tesla Model Y! More info: https://t.co/DCpN7oL2wJ pic.twitter.com/iQsuDdofl5

— Fremont Police Department (@FremontPD) September 30, 2023
The Menlo Park and Ripon Police Departments, along with the California Law Enforcement Historical Society, are organizing the show. It will showcase a diverse range of emergency vehicles, from a 1958 Chevy, to a Tesla Model Y.
The fair will educate visitors on career pathways in law enforcement and vehicle mechanics. The event, as per the Ripon Police & Menlo Park Police Emergency Vehicle Show & Recruitment Fair official website, also serves to quickly raise funds for causes such as the California Highway Patrol Museum, The Ripon Volunteers in Police, Menlo Park Police Cadet Unit, and Concerns of Police Survivors (C.O.P.S.).
Visitors will enjoy the display of vintage emergency vehicles and innovations in alternative fuel use. Innovation is an integral part of emergency response vehicles, especially in our age of rapid technological advancement and heightened environmental consciousness.
While the primary objectives of the event are the vehicle showcase and recruitment for law enforcement careers, it also generates funds to support various causes. Funds raised from the event are directed towards the welfare and education of law enforcement personnel and their families, helping to bridge the gap between aspiring officers and their desired jobs.