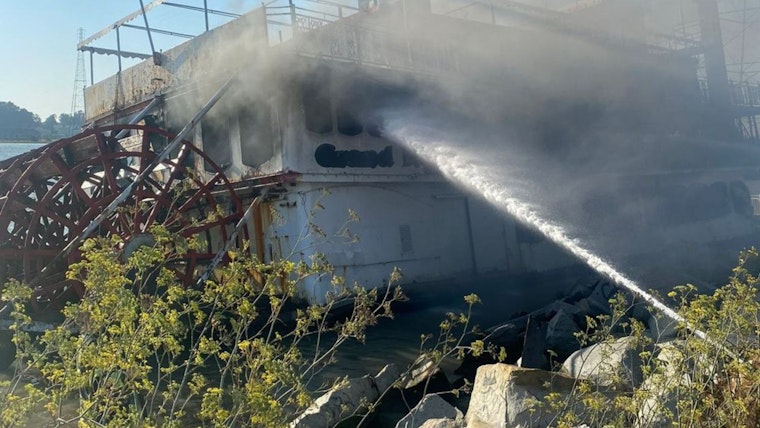 Published on September 18, 2023
Yesterday, at around 4:45 p.m., the Grand Romance riverboat caught fire near the Vallejo waterfront. As firefighters rushed to the scene, the vessel had already partially sunk, with thick black smoke billowing from the engulfed vessel and sending occupants leaping into the water to seek refuge, according to NBC Bay Area report.
Four individuals were on the riverboat when the fire broke out, with two from the upper deck jumping into the water, while the others found their way directly to land. A passing boat assisted in rescuing the two who plunged into the water, and thankfully, no one was reported injured during this hair-raising ordeal. The Vallejo Fire Department declared the fire under control by 6 p.m., and the cause of the fire remains under investigation.
The Grand Romance, a majestic relic of bygone times, was a prominent dinner and murder mystery cruise entertainment venue in Long Beach, only to lose its license in 2018. Since then, it was brought to Vallejo, where it deteriorated over time, falling into disrepair and becoming a home for several occupants, as per the Vallejo Sun.
The riverboat's owner, William Barker, had planned to restore the vessel for dinner cruises but was hit with setbacks, including the COVID-19 shutdown, as well as California Air Resources Board requirements to replace the old diesel engine with a low-emission one. Recently having acquired the new engine, Barker now faces yet another challenge caused by the fire, as he searches for a suitable site to restore and make the vessel operational once more.
Vallejo city officials, such as Councilmember Tina Arriola, believed that the Grand Romance was in the queue to go to the Mare Island Dry Docks for repairs in the past.