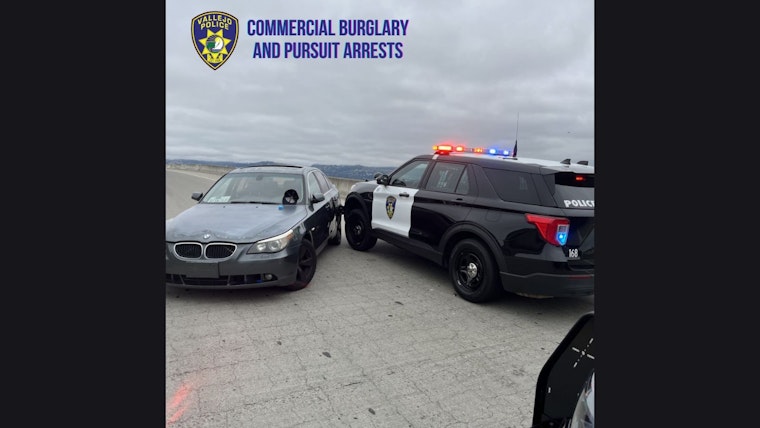 Published on September 19, 2023
On September 10, the Vallejo Police Department responded to a burglary call at a store on Admiral Callaghan Lane, where suspects had made off with more than $4,000 worth of merchandise. Surveillance footage from the scene proved invaluable in identifying the culprits and linking them to a silver BMW associated with several burglaries in Vallejo, according to the Vallejo Police Department's public statement.
On September 16, just six days after the initial event, officers patrolling near Solano Ave and Mariposa St. spotted the distinctive BMW. Inside the car were a male and female who matched the descriptions of the suspects.
Despite officers attempting to quickly apprehend and safely immobilize the suspects by initiating a traffic stop, the driver refused to pull over, opting instead to lead the police on a high-speed pursuit. Utilizing the Pursuit Intervention Technique, the officers successfully disabled the suspects' vehicle, quickly arresting them without causing harm to anyone involved.
The suspects' eventual confession provided the most chilling revelation: their criminal activities were driven by their desperate need to support their fentanyl addiction. A search of the male suspect revealed that he was indeed in possession of fentanyl. As a result, they were transported to the Solano County jail, and their vehicle was impounded.
The Vallejo Police Department has taken the opportunity to remind the public about available resources, such as the Substance Abuse and Mental Health Services Administration (SAMHSA). Their 24/7 hotline can connect those seeking help to treatment facilities, support groups, and community-based services. The SAMHSA hotline can be reached at 1-800-662-4357.