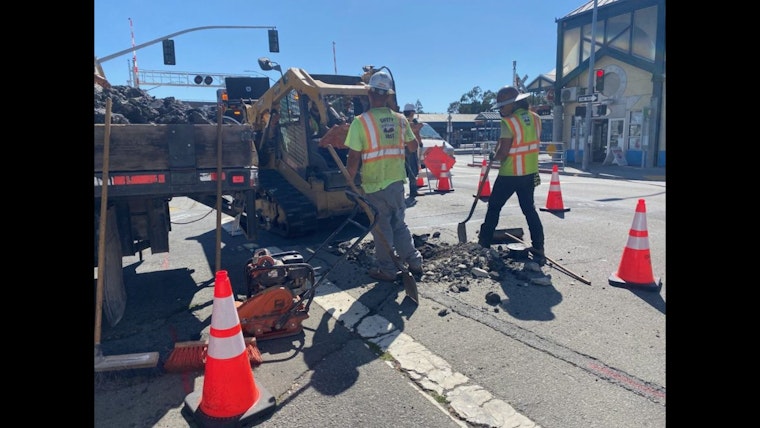 Published on September 15, 2023
Deeply rooted in the collective concerns about safety, infrastructure, and transportation, the Third Street Improvement Project unfolds in the heart of San Rafael. For 18 long months, residents and businesses along one of the city's most vital thoroughfares will experience various disruptions, ultimately working towards significant transformations that will dramatically impact their quality of life.
The City of San Rafael has laid out plans that divide the project into two parts: the Third Street Rehabilitation project, and the Third Street Safety project. The improvements encompass a wide range of elements, including traffic flow, bicycle and pedestrian safety, utility upgrades, pavement rehabilitation, and sidewalk enhancements, according to the information available on the City of San Rafael's website.
Funded by the Transportation Authority of Marin (TAM) through the Measure A program, as well as state and city funds, the Rehabilitation project seeks to address infrastructure from Lindaro Street to just east of Fourth Street. On the other hand, the Safety project, which is federally and locally funded, stretches from Grand Avenue to Lindaro Street, encompassing the replacement of major water lines for the Marin Municipal Water District (MMWD) and San Rafael Sanitation District (SRSD).
With the project approaching its critical stages, the city has begun night paving work in the area from Monday to Saturday, between 8 PM and 6 AM. In preparation for this, the construction crews have removed and replaced sections of failed pavement and lowered manhole frames and covers on Second Street and Third Street.
This week (September 18-September 22), crews will activate the new traffic signal at Third Street and Brooks Street. For motorists, this requires increased alertness as conditions change. Paving operations and surveying are expected on Second Street between Fourth Street and Shaver Street, causing lane closures in certain sections. Additional lane closures will be in place on Second Street and Third Street as crews continue to lower manhole covers and valve boxes in preparation for paving on September 22nd.
While these disruptions are bound to be an inconvenience for many, both residents and business owners are encouraged to remain patient in anticipation of the long-term benefits. The improvements presented by the Third Street Improvement Project will collectively lead to reduced traffic congestion, increased safety for vehicles, bicyclists, and pedestrians, rehabilitated pavement, accessible sidewalks, and upgraded traffic signal infrastructure.
Moreover, this comprehensive effort brings significant upgrades to San Rafael's aging infrastructure, providing necessary replacements for water lines under the purview of MMWD and SRSD.