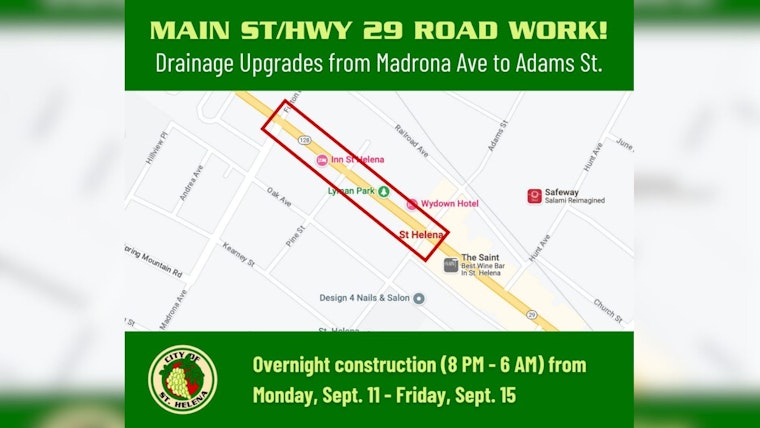 Published on September 12, 2023
In a strategic collaboration between the City of St. Helena and Caltrans, vital drainage and sewer infrastructure improvements are being carried out in a clime-sensitive vogue on Main Street/Highway 29 between Madrona Avenue and Adams Street. Operating overnight since yesterday to October 9, the $2.7M project seeks to quickly fortify the city against future flooding hazards and accelerate essential upgrades, minimizing disruption to local businesses, residents, and travelers, according to the City of St. Helena announcement.
The emergency repair project includes the installation of new 24" pipelines as well as enhanced drainage inlets to better protect the community from flood risks. In an effort to minimize both short-term impacts and long-term costs, the St. Helena Public Works Department has also joined forces with Caltrans to upgrade and replace five sewer laterals on this section of the street, harnessing additional State grant funds to hasten a project originally scheduled for 2024 or 2025, as per the community alert from the City of St. Helena.
Seeking to vigilantly mitigate inconvenience on hotel guests in the area, works closer to Adams Street will only take place on Mondays and Tuesdays. The remainder of the project will operate on a broader Monday to Friday overnight schedule, beginning at 8 PM and ending by 6 AM. St. Helena Public Works Director Joe Leach acknowledged the need to quickly yet considerately address infrastructure issues, stating, "This work will continue to help improve our infrastructure and gives our Public Works team an opportunity to begin work replacing sewer laterals earlier than planned that will help reduce any future closures for this section of Main Street".
With traffic controls in place during the construction period, St. Helena and Caltrans are diligently working together to swiftly reduce business downtime and future maintenance needs alike. Residents or businesses with questions are encouraged to contact Assistant Engineer Mario Traverso at (707) 204 9084 or [email protected].