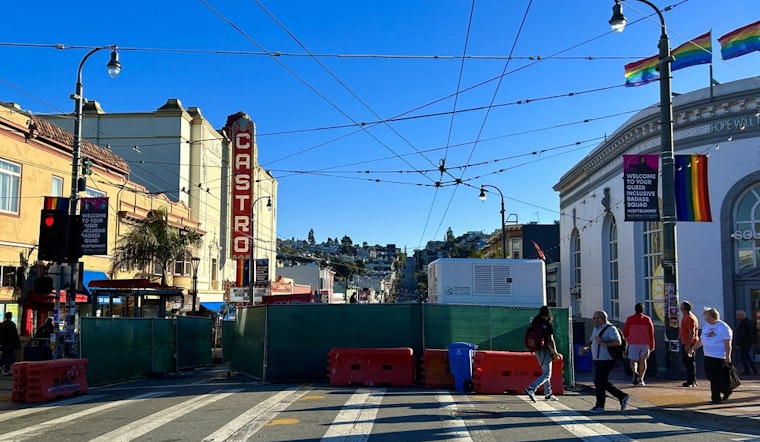 Published on November 07, 2023
The future of Castro's annual Lesbians Who Tech (LWT) Summit is in limbo after the Castro Merchants Association voted against the two-block-long street closure in future years.
The Castro Merchants formally called on LWT organizers to "reimagine" the summit after ongoing concerns with the street closure had not been addressed.
Last Thursday, the group considered either supporting the event in a "similar capacity" to previous years or inviting LWT to "reimagine how to hold their conference without the use of the middle of Castro Street."
Castro Merchants president Terry Asten-Bennett tells Hoodline that 24 members voted in support of LWT "reimagining" the event with eight members abstaining and no members voting in support of the current format.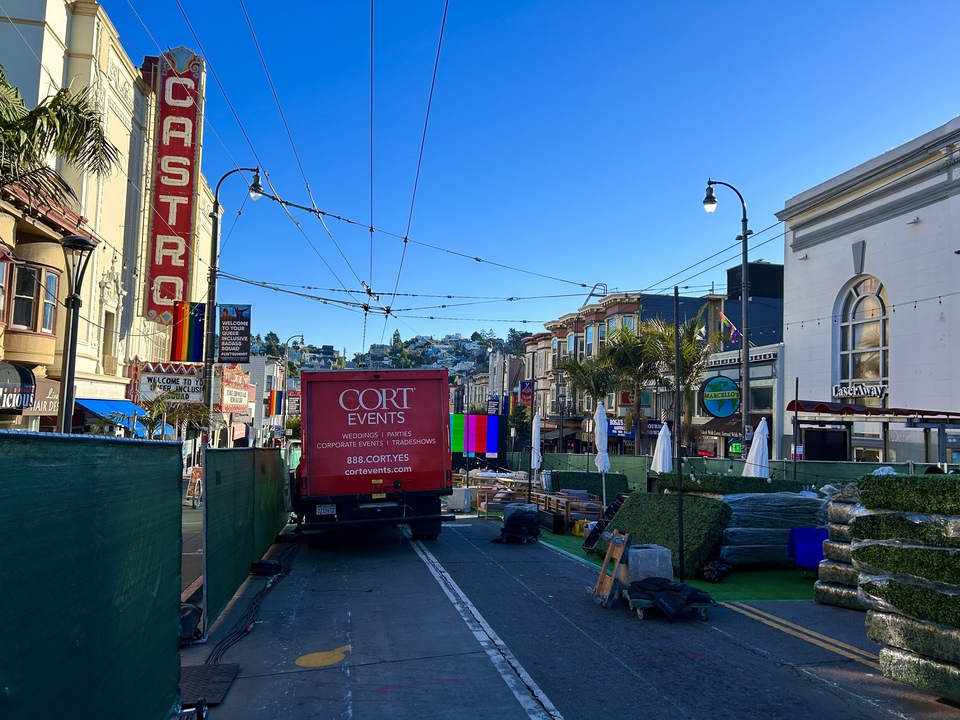 Photo: Steven Bracco/Hoodline
"Issues such as unimproved barriers segregating the community, inadequate delivery points, unreliable garbage and recycling pickup, insufficient bus rerouting information, and noise disturbances from overnight construction have negatively impacted our residents, businesses, and the overall well-being of our district," wrote Asten Bennett in a letter to city officials including Mayor London Breed, District Supervisor Rafael Mandelman, and the Interdepartmental Staff Committee on Traffic and Transportation (ISCOTT).
"Our members held a vote, with the majority expressing their view that the current format, which involves taking over the middle of Castro Street to host the conference, is not conducive to visitors or businesses," added Asten Bennett.
The 10th Annual LWT Summit was held in the Castro from October 16 to October 20. Crews began setting up the event infrastructure on Monday, October 16, utilizing the same footprint for the event as in 2022.
This year marked the second time the event shut down two blocks of Castro Street. In the years prior to COVID, the conference used a smaller, one-block footprint on 18th St. between Castro and Collingwood streets.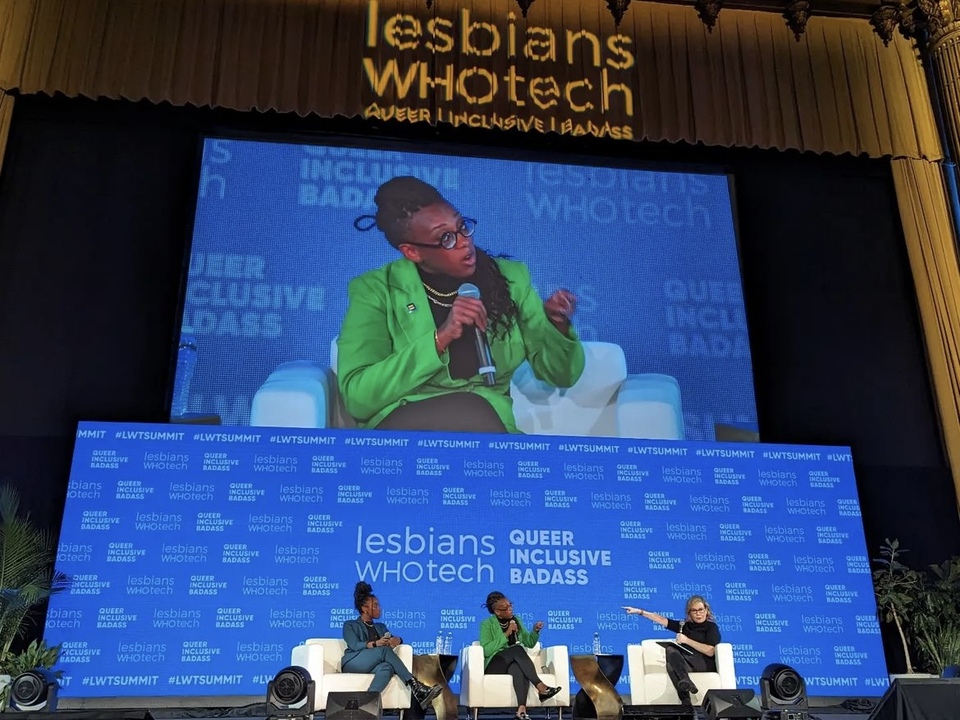 Photo: Cat Kozlowski/Instagram
LWT founder and CEO Leanne Pittsford tells Hoodline that approximately 2,000 in-person attendees were at this year's summit.
In response to the vote, Pittsford questioned why LWT was not made aware of or invited to the meeting. Pittsford explained she only first heard about it after a Hoodline reporter informed her.
Pittsford, who lives in Washington D.C., tells Hoodline two people were able to attend the meeting and spoke in support of LWT. However, event producer Audrey Joseph was not in attendance as she was traveling home to Palm Springs.
When asked why LWT was not invited to the meeting Asten Bennett stated, "After months of inviting LWT to give us an update and Leanne informing me before the October meeting 'it was never in my plan' to come back and give us an update, followed by a total disregard for every area of concern, I did not feel it was necessary to have their input. This vote was about what was best for us as a merchant organization."
Patrick Batt, owner of gay memorabilia store AutoErotica, has been one of the most vocal opponents of the event and previously told Hoodline he closed his shop and went on vacation during the event.
"It was clear, based upon the extensive discussion, the wound was self-inflicted," said Batt about the vote. "The consensus was overall damage to a variety of businesses. Primarily due to a lack of real involvement with the neighborhood."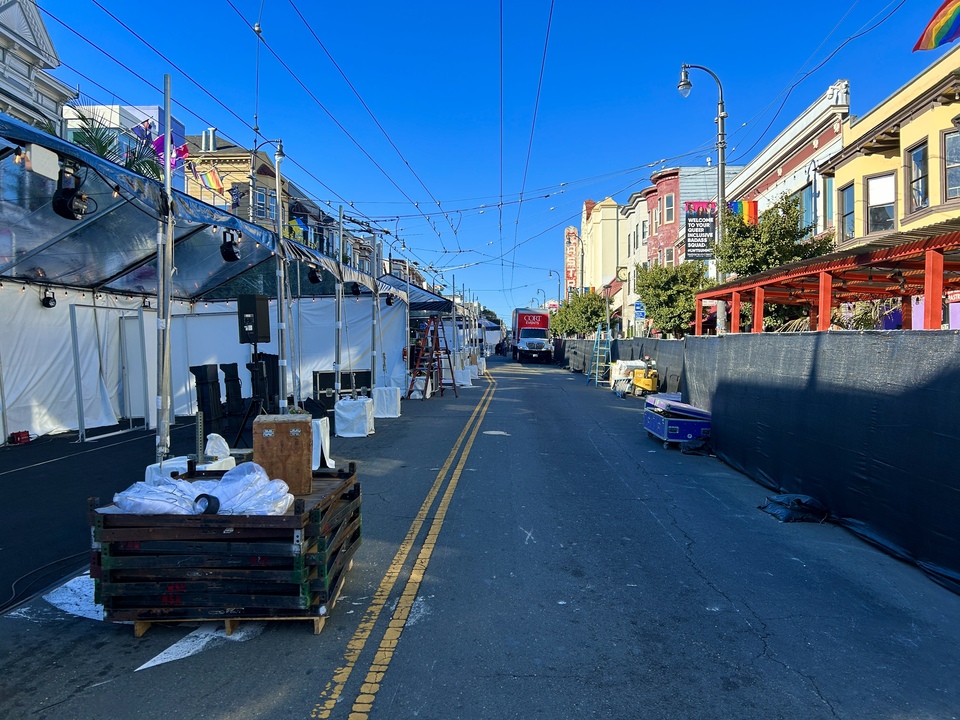 Photo: Steven Bracco/Hoodline
Nate Bourg, Castro Merchants treasurer and co-owner of LGBTQ+ social club The Academy, tells Hoodline he voted to abstain.
"The Castro needs to do more to promote diversity and inclusivity, and Lesbians Who Tech has been very successful in making queer women feel welcome here, which is why I think it's a shame we have this impasse," said Bourg. "However, because my business is outside the event's footprint, and also because we hosted the after-party and benefitted financially, I felt it was best to abstain."
"I hope there's a solution that can bring back the event in a way that benefits everyone," added Bourg.
In response to the vote, Supervisor Mandelman tells Hoodline, "I take the perspective of the merchants seriously. I think they have been over time quite supportive of Lesbians Who Tech. I very much would like to have Lesbians Who Tech continue to happen in the neighborhood. But I do think that the merchants' concerns are legitimate and I've heard similar concerns from residents."
"We can't do it the same way again," said Mandelman. Mandelman says he'll be in discussions with LWT and its plans for next year.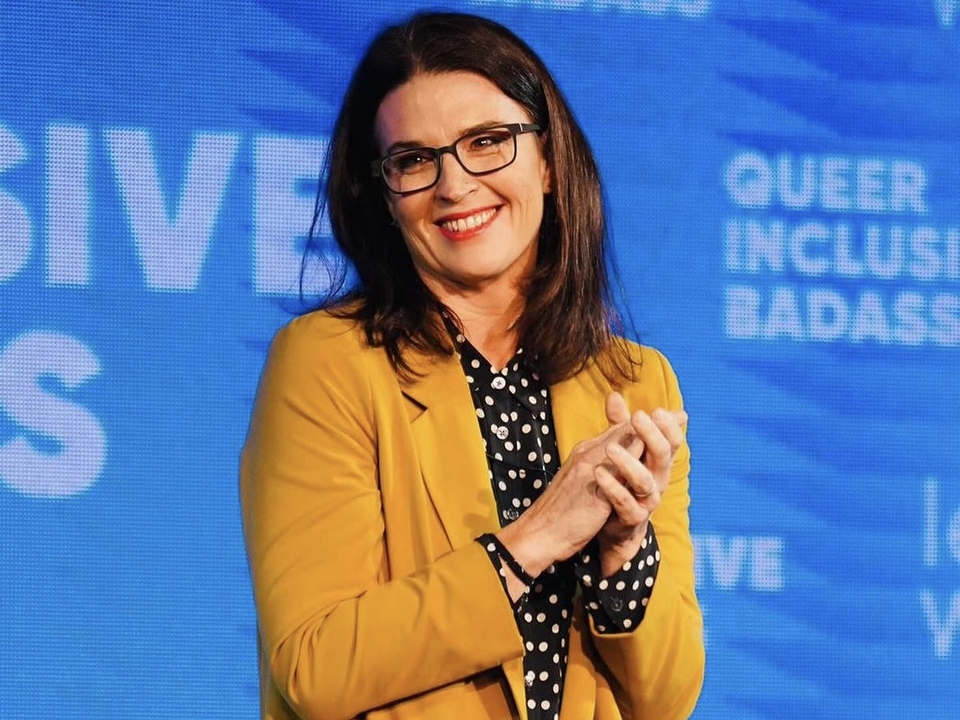 LWT founder and CEO Leanne Pittsford. | Photo: LWT/Instagram
"Overall this event is always very difficult from a production standpoint," said Pittsford. "It's not a typical space, we're not a very big team so producing this type of event for a community that faces a lot of barriers is always pretty challenging."
Adding to the challenges, LWT's full-time event producer Bryan Biello quit six weeks before the event. Biello did not respond to Hoodline's request for comment.
While Pittsford could not share why Biello left she did state, "working with Castro Merchants was definitely a part of what made his job very challenging."
While many residents and merchants believe LWT has outgrown the neighborhood, Pittsford said, "The Castro is just a perfect home for us in terms of size, experience, and energy."
"The Castro Theatre is just historic and powerful," added Pittsford. "For a lot of our members, it's the only time they really see themselves in a queer historic district."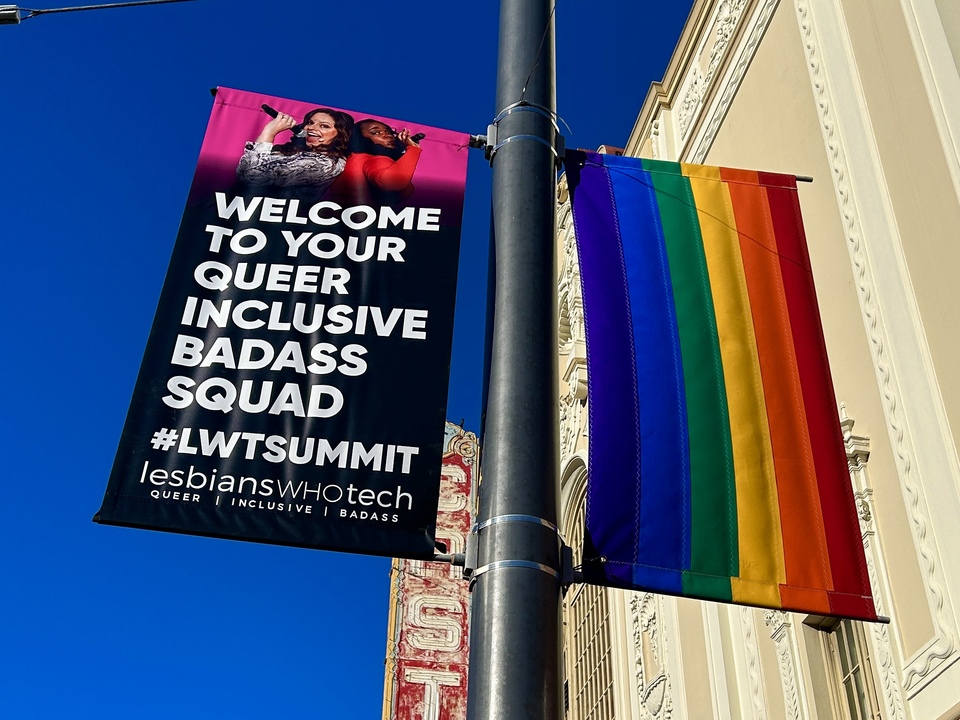 Photo: Steven Bracco/Hoodline
"So many of these neighborhoods are more male and more white and that's because of economics," said Pittsford. "That's something we're really working hard to change and I think we've been a part of a lot of positive growth in that regard."
Looking towards next year Pittsford said, "We are going to host the event somewhere, we are evaluating everything right now," while not committing to the Castro. The Castro Theatre renovation plans might factor into next year says Pittsford.
"We feel like we've progressed a lot from the Castro Merchants' feedback," explained Pittsford. "There was a lot of miscommunication and assuming the worst."
"If we were a different group, I think a lot of this would be different," added Pittsford.
Pittsford explained that the fencing is a necessity of the event's permits, equipment security, and ability to serve alcohol. "This is not Pride or Castro Street Fair," said Pittsford. "This is a three-day professional conference that costs millions of dollars to put on." Alternatives to the green mesh were considered but ultimately nothing made sense says Pittsford.
"Having 2,000 queer women, queer women of color, and non-binary leaders walking around spending a million dollars during the weekdays is pretty impactful," added Pittsford.
Pittsford estimated the economic impact of the event was about $3 million for the city and about $1 million for Castro businesses.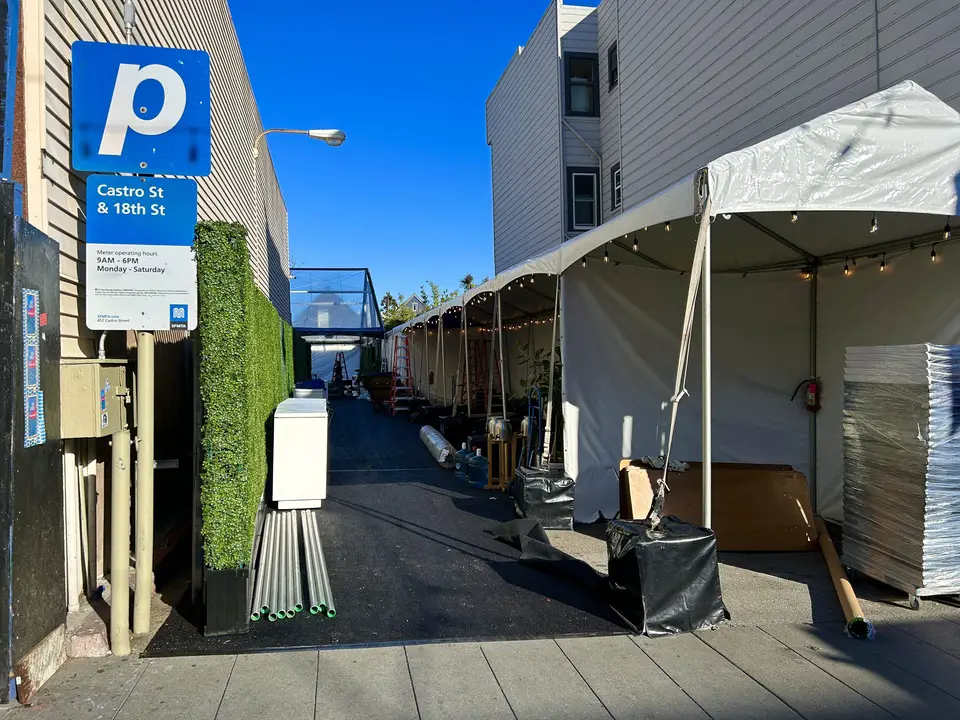 Photo: Steven Bracco/Hoodline
Pittsford said her staff diligently worked with merchants to ensure trash was picked up and delivery access point and Muni rerouting signs were posted
"I'm not in control of SFMTA putting up signage in time," said Pittsford. Moving forward, Pittsford wants to work together to improve communication.
"We designed the space differently so people went up on the second block more," explained Pittsford about improving foot traffic.
"We used every vendor we could," said Pittsford about supporting local merchants. "Many of the bars were completely ecstatic."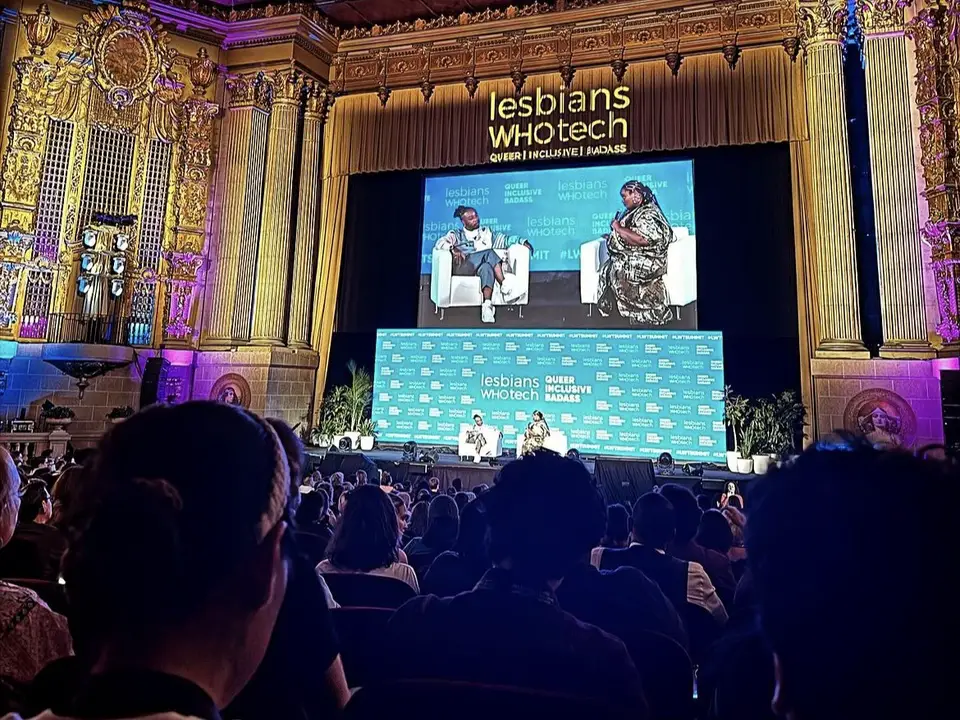 Photo: Amber Britton/Instagram
Reimagining the event isn't possible says Pittsford. "We need the physical space and the proximity to the Castro Theatre," said Pittsford. The street closure allows for breakout stages and sponsorship booths explained Pittsford.
"It's just not economically viable for us to not have the street closure," explained Pittsford.
Moving the event to a place like the Moscone Center or Bill Graham Civic Auditorium isn't a possibility because they are either too large or too expensive says Pittsford. "We think the Castro is the perfect size for us," said Pittsford.
"I wish we were talking about how do we make this area thrive," added Pittsford.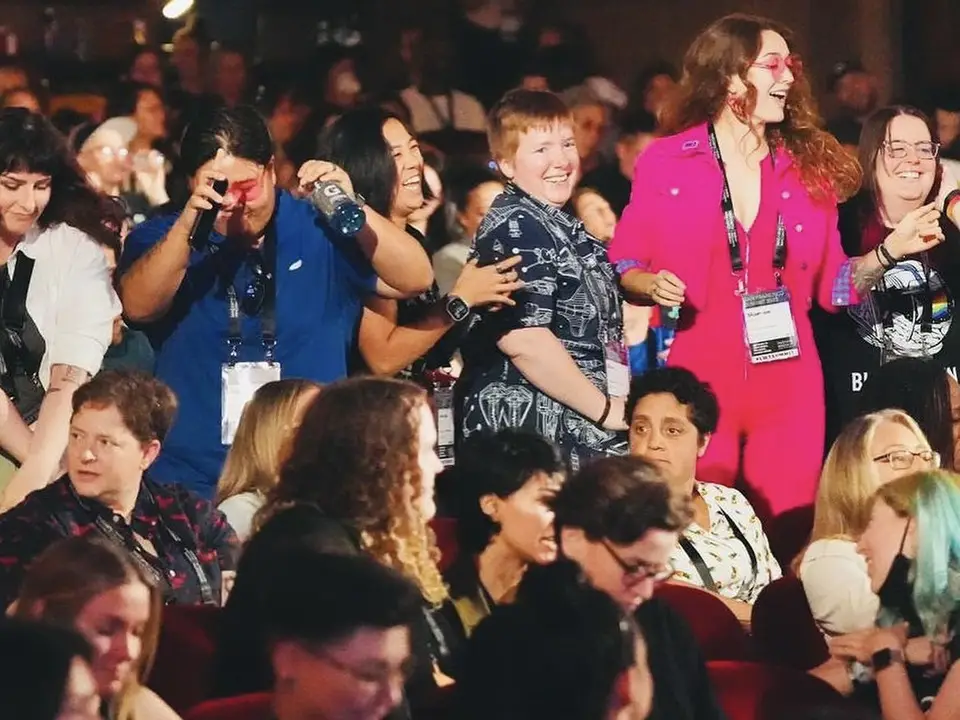 Photo: LWT/Instagram
While many have questioned how LWT can improve Pittsford asked, "How can the Castro Merchants be more supportive of queer women, queer women of color, and non-binary leaders?"
"We are bringing money into a neighborhood that is struggling," explained Pittsford. "We are being treated like we are out to get someone. We are not, we want businesses to thrive."
Looking towards next year, Pittsford said LWT is considering hiring a liaison who lives in the neighborhood to help consult all year round. Pittsford said LWT will work with government officials and leaders to address some of these issues.
"Clearly the Castro Merchants voted that they don't want us there in the way that works for us and our event," said Pittsford. "They are not even willing to have a conversation."