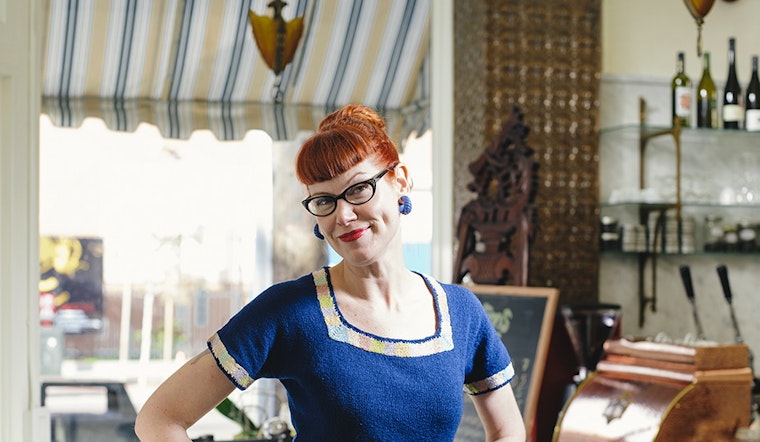 Published on March 10, 2014
Chef/owner Michelle Polzine of
20th Century Café
(198 Gough) transformed a lonely Hayes Valley corner into a bustling Central European-inspired spot.
From the sought-after strudel to the popular kale and Hungarian red pepper sandwiches, sweet and savories prepared in the open kitchen have a loyal following. Polzine's restaurant experience, eye for the perfect vintage details, and enthusiasm for pastry-off-the-beaten-path, makes this a San Francisco cafe destination like no other. We got a chance to meet with Michelle recently and she told us all about her experience opening and running 20th Century Cafe.
Hayeswire: When did you open?
Michelle: July 5, 2013.
What can people expect to find on the menu?
There's always a soup and a salad and some pastries. We make everything. We make our own bagels. We make our own bread that we serve the sandwiches on.
Are you selling loaves of bread?
Yes. It's a pumpkin seed rye bread. It's all natural fermentation. There's no yeast in it.
Where does your wine list come from?
I tried very hard to focus on the [Central European] region and stay in there. We have a lot of cool Hungarian wines and some Austrian wines, a Slovenian wine. Beer was harder so I have German and Belgian beer. And one from Santa Cruz. I also have this local cider that I think goes really well with the food. It's from Devoto Orchards, which is where I've been getting my apples from for the past ten or eleven years.
Is there a most popular item that people come in for?
Honey cake. When we first opened people would say, "I want knish and honey cake."
What's the underdog pastry?
My favorite thing is a poppy seed babka. For me, it's definitely the most interesting, unique thing. It's a $3.50 plane trip to Budapest. It is your cheapest little vacation. It's crazy. It's not like a little bit of poppy seed. It's filled with ground poppy seeds. It is so delicious.
Are you self-taught? Did you grow up baking?
My stepfather is a third-generation baker but the bakery didn't really interest me at all. I worked there for one day when I was eleven. They made me work in the front, which is not very interesting. I had no interest in working in the bakery. I would always ask, "Mom, can you bring home brownies? Can you bring home some éclairs?" Getting as many pastries as I could was my involvement with the bakery.
How did you get your pastry and restaurant experience?
I was a pastry chef at Range for seven years. I was a pastry chef at Delfina. I was a pastry chef at LuLu. And I worked at Bacar when I first moved to the city. I had my first pastry chef job in North Carolina in 1998. And I was baking bread and cooking before that.
How many people work here?
It's pretty big now. Seven.
Can you tell us about the amazing transformation of this space from laundromat to café?
The floor is pretty much an exact copy of a floor in Vienna at a restaurant called Zum Schwarzen Kameel. I took pictures of it when I was there. The tiles came from a place in San Jose called
Fireclay Tile
. It's similar to Heath Ceramics. It's super sustainable but they specialize in historic kinds of tile.
And what about the light fixtures?
I searched for a long time because I didn't want something like Rejuvenation, ones that everyone has when they're trying to go for a vintage look. And I was told backwards and forward that you can't use vintage fixtures because they won't pass [inspection]. I found the fixtures [reproductions and originals] from Lincoln of Chicago.
How did you source your great collection of dishes and silverware?
I did a mixture of flea markets, stuff at yard sales, antique stores, eBay.
Where do you get all of the great vintage aprons you wear?
I've been collecting them over the years. People have figured out that I like them so sometimes they bring them in as a gift.
How has it been having your business in Hayes Valley?
I love this neighborhood. It's really good to me. I don't feel as much a part of my own neighborhood [the Mission] anymore. It has changed in a way that I'm not in love with and I'm very happy with my husband who insisted that I not open in the Mission. I get the [Hayes Valley] neighborhood people. We have pierogi now and this awesome Polish woman, Monica, comes in. She just moved here and she misses Poland. She had my pierogi yesterday and she loved them. I was very excited.