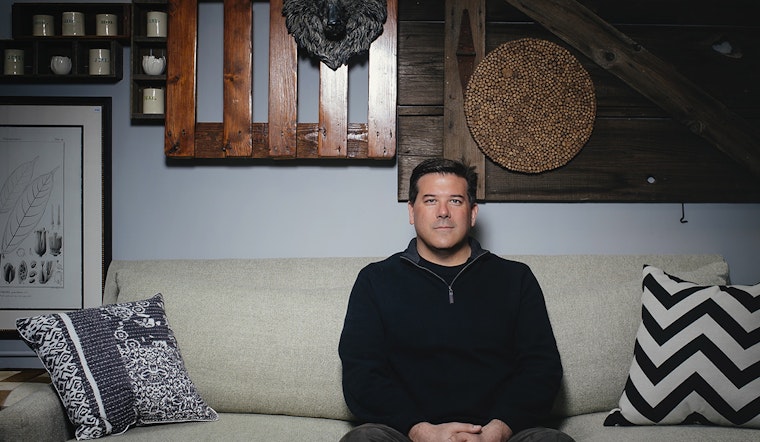 Published on March 25, 2014
Whether it's a three-dimensional map of San Francisco carved out of Baltic birch, a handcrafted sofa from LEE or a semi-precious stone necklace from SF jewelry line Frolick,
Maker & Moss
(364 Hayes) offers up art, furniture, accessories (and more), with an emphasis on local and handmade.
Coming from a background in photography, art and non-profit fundraising, owner Matt Bissinger's keen sense of design and unrelenting enthusiasm for the city comes shining through in his latest endeavor. We got a chance to meet up with him and learn more about his new store.
Hoodline: Why did you open your shop in Hayes Valley?
Matt: It's a very vibrant neighborhood and for what we do, the look we have, the product we're selling, I feel like it's a good fit for us. We opened the doors and I think at some point, every single merchant on the street has come by to say hello. They have all been warm, friendly, and excited to see someone go in this space. I can walk around the corner and talk to someone and ask questions. You're not solo.
How many people are on staff?
We have two full-time employees, one part-time, and then there's me.

This is an amazing space.
I remember walking through here and the skylight and these open beams just sell this place. And then the brick wall. It's really nice for us to just have a big footprint that we can play with. I'm so in love with this space.
Do you live in the neighborhood?
I live over in NoPa. Ten or fifteen blocks away.

Many of the items here are inspired by nature. Is this your main influence when buying for the store?
One of the things I love about San Francisco is that in a number of minutes you can really be somewhere that's green, whether it's in the Presidio, or across the bridge. I've also always had a great affinity for a lot of Asian design, which incorporates nature. And I really love, from a design point of view, being able to see the materials that have a slightly unfinished edge. You really have a feeling for where the object came from.
How do you find the artists and pieces you work with?
I've built a history with a lot of artists. The origins of this business really started from going to a lot of open studios and artist spaces. Over the years, you see something you like and you engage that artist, so I've built up relationships that way. I go to shows, and people come in. I also work very closely with [staffer] Brodie Silva. He's brought in a lot of stuff, which is great. Sometimes someone else sees something that you don't see.
When you walk in the store, hopefully people like the experience, and love what we have. If someone sees something they like, but want a different color or the size, we are working with a lot of the artists, so we might be able to get it.
You were the co-owner of Bea on Sacramento Street, right?
Sacramento Street was my first shop [2005-13]. That was training wheels in a way. It was a wonderful, cute little shop and the neighborhood was very supportive.
Is it true that you're a native San Franciscan?
Yes, I grew up here. I went to New York for college, went to Seattle for a while. I tried out other places and came back to San Francisco because it's so great. It doesn't hurt that family is here. I'm fourth-generation. It doesn't make any difference in terms of who you are, in terms of on a day-to-day basis, but it's nice to feel that connection to the city. But one of the things that I love about San Francisco is that it is very international. People come from all over. That's what keeps it interesting.