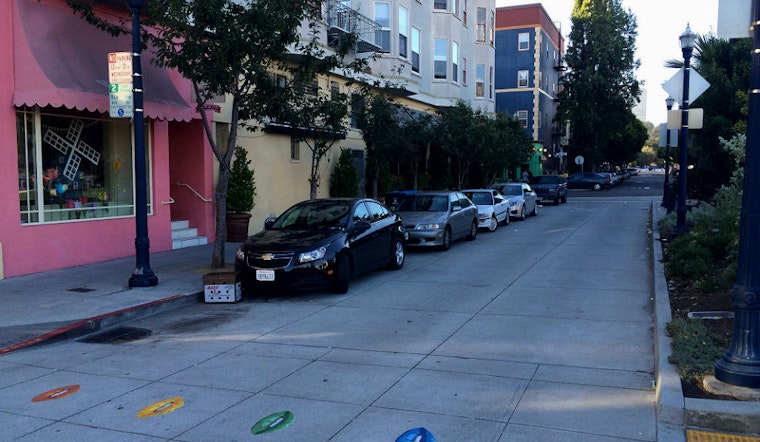 Published on July 07, 2014
As we're speeding back into the work week after the long holiday weekend, we've discovered
an effort by a Hayes Valley resident who wants to slow things down. Specifically, we're talking about cars as they drive down Octavia Boulevard.
Yesterday we came across a
petition
on change.org entitled "Installation of speed bumps on both sides of Octavia Boulevard extensions running along Patricia's Green."
Created by local resident Brian Wickersham, the goal of the movement is to get SFMTA to add several speed bumps on Octavia Boulevard (on each side of Patricia's Green) between Hayes and Fell Streets.
According to the petition, it all comes down to safety:
Daily I see near misses with pedestrians, bicyclists, people walking their pets, and even strollers. Car after car enters this street at a high speed as an extension of the freeway off ramp coming from Market St. Around 5 pm to 7pm, there are multiple vehicles that race down to Hayes St. It is only a matter of time before a person is killed or hit.
We spoke to Brian, founding member of the
Hayes Valley Dog Buddies Group
on Facebook, who said he's already seen animals get hit by cars speeding by Patricia's Green.
"I personally have already seen three dogs get
hit by cars at the park," Brian told us. "All were okay ... but terrifying moments not only for
the owners but the drivers who were flying down the street."
Brian took on the endeavor because of his love for Patricia's Green and his hope to prevent a possible fatality before it actually happens. He says he wrote to the Parks and Recreation Department about this issue last year. He was told they were doing a "traffic flow" study but hasn't heard back since then.
"I am simply a person who
loves 'the green', wants it to be safe, clean, and shared by all. I want
to prevent a death or major accident/injury before it's too late," he stated.
The petition hopes to get 1,000 signatures of support and has collected 56 so far (as of this morning). If you agree with the mission and want to help this move forward, you can sign the petition on its
change.org page
.
This comes a few days after we reviewed
all the changes
coming soon to the rest of Octavia Boulevard. Given the new buildings being constructed, and issues brought up in the petition description, do you think we need speed bumps to slow cars down in this area? Have you noticed people driving too fast? Let us know in the comments.