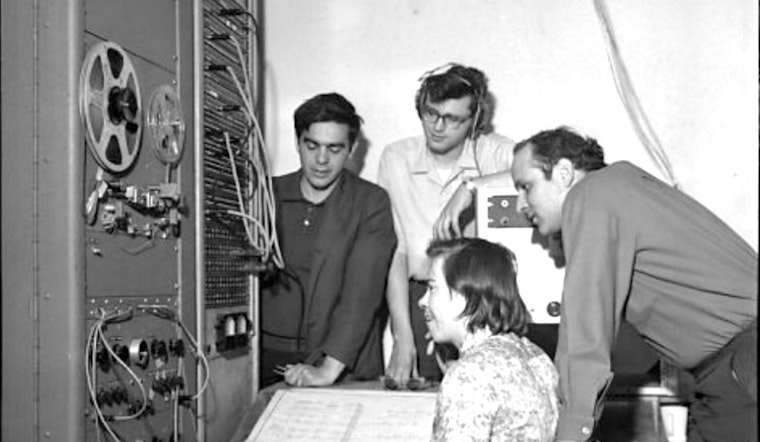 Published on August 11, 2014
San Francisco in 1961 was a hotbed of ideas, political movements, art and music. Albums were recorded, protests were held, and amidst all of it, a group of electronic composers started a revolutionary music space located at 321 Divisadero Street.
According to William Maginnis
, a technician and composer, the space was a "nonprofit cultural and educational corporation, the aim of which was to present concerts and offer a place to learn about work within the tape music medium." During its tenure on Divisadero, it became one of the most progressive avant-garde music spaces in San Francisco, pushing the envelope of recording and electronic noise.
The building (which was
most recently
the Yoga Loft) had two auditoriums, which were shared with radio station KPFA and the Dancer's Workshop.
The group pooled together their equipment, which initially added up to only six audio oscillators and some tape recorders—hardly enough to push the edges of electronic music. But in keeping with San Francisco's entrepreneurial spirit, they created some of their own equipment.
One of the most famous items to emerge from their collaboration at 321 Divisadero Street was
the Buchla synthesizer
. Although the final product wouldn't be completed until 1966, it was built piece by piece by engineers Donald Buchla, Morton Subotnick and Ramon Sender.
Aside from technological advancements in electronic music, the Tape Music Center also hosted a vibrant artist community.
Neighbor Richard Brautigan
did poetry readings there, and it was there, in 1965, that he held the release party for his book
A Confederate General from Big Sur
. That year, the group had achieved national recognition, and had even been awarded $200k from the Rockefeller Foundation. The group, however, had run its course.
After three vibrant and innovative years, the creators of the San Francisco Tape Music Center began pursuing their own projects, and the mission of the organization became blurry. The space shut its doors, and the
equipment was donated
to the music department at Mills College. This donation opened a whole new world for women in electronic music, resulting in revolutionary work by former Mills student and composer
Suzanne Ciani
.
As for 321 Divisadero Street, it's
still up for rent
. Formerly the site of Yoga Loft, the space was victim to a
fire last year
, and is currently available for a new business (or avant-garde electronic music movement) to move in.