By
Roy
- Published on December 30, 2014.
Jessie Young
has lived in the Castro-Duboce area for five years and has eaten at the same handful of Castro-area restaurants for just about as long. Recently, she and her boyfriend realized that though they eat out in the neighborhood frequently, they've rarely branched out from their regular places. To introduce a bit of variety into their diets, the couple decided they would eat out at every restaurant, cafe, and bakery they could find in the Castro.
Young told Hoodline that the Castro has a lot of dining options, but that it was hard to find a list of them all. So, to aid in their dining safari, Young created "the definitive map of dining options" for the Castro. 
"What better way to support small businesses in our neighborhood than to give them all a chance?" said Young. The couple placed the map on their fridge and is checking options off one-by-one as they explore. So far Young and her boyfriend have been to about 50 of the dining options marked on the map, with 10 or so more to go.
Young and her boyfriend wouldn't name any particular favorites, but she did say that she loved how many accessible food options there were in the Castro, "You can eat somewhere different every night of the week without breaking the bank."
The map is missing a few options like Hi Tops, which is mostly a bar, but also serves lunch, dinner, and brunch on weekends. All told, though, it seems to be pretty comprehensive.
Want to take on the challenge to "Eat Out The Castro," too? Download the map (
PDF
) below and try it out for yourself.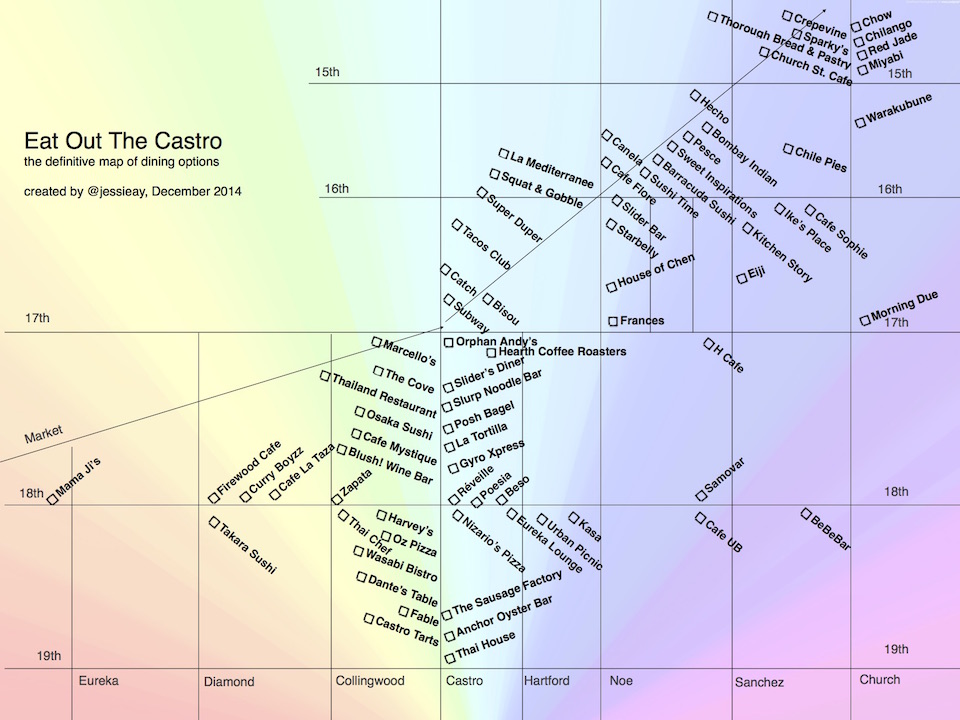 Let us know if you see any eateries missing from the list and we'll pass it along to be added to the map.