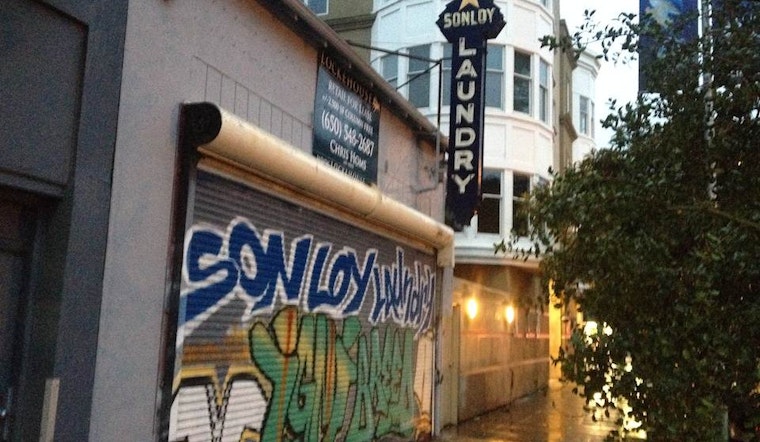 Published on December 18, 2014
Straddling the border between Upper Haight and Cole Valley,
Son Loy Laundry
operated on Stanyan Street for more than 50 years. Since it closed several months ago, neighbors and passers-by have speculated about who'll move into the 2,500 square feet commercial listing described as "wide open warehouse space."
Yesterday, Hoodline learned that 784 Stanyan is coming off the market. According to Chris Homs, an agent with
Lockehouse Retail Group
, a new tenant is in the final stages of signing a lease. Homs wouldn't say who's moving in, but he said it won't be a restaurant or a bar. "It's a good local use," said Homs, adding that his client already has a connection to the neighborhood.
After the laundry closed, contractors stripped the building down to the studs. Several skylights brighten up the now-cavernous interior; with 15-foot ceilings and no support columns, the space could accommodate nearly any retailer or service provider.
Built in 1940, a
Sanborn map
describes the building as a Japanese laundry, which jibes with a 1941 directory listing for Tomoyuki Nozawa at this address. Following the attack on Pearl Harbor in 1942, the US government
deported or incarcerated
many Japanese-Americans. In a sobering reminder of that dark chapter of American history,
records
from the
Topaz War Relocation Center
in Utah indicate that a Nozawa family from Upper Haight/Cole Valley was held there.
A 1942 directory lists a VP Beck as the operator of a hand laundry at 784 Stanyan St. The following year, Starlight Laundry moved into the space, and by 1954, the operation was doing business as Forest Hill & Stanyan French Laundry.
In 1961, Son Loy Laundry moved from 315 Broderick St. to the Stanyan building. According to a 1915 summary of a Board of Supervisors meeting, Son Loy Laundry had received approval to install a 6-horsepower boiler on Broderick way back in 1914, making it one of San Francisco's oldest laundries by the time it closed.
A century later, neighbors are wondering about the new tenant. Julianne Walsh owns
Green Pawz
, an environmentally-friendly pet shop at 772 Stanyan. "I would like to see ideally a local restaurant," she said. "Another place to go to and dine after work. This neighborhood could use some more options."
Katy Hooks manages the front desk at
Yoga Tree
, next door to the former laundry. She'd like to see a coffee shop. "Yogis can always use some caffeine intake before and after class."
Zoning requirements narrow down the mystery tenant's options, as 784 Stanyan is inside a buffer zone that restricts new restaurants and check-cashing establishments. We'll let you know when we learn more about the next occupant of the space.
What type of business would you like to see move into the former Son Loy Laundry? Share your hopes (and predictions) in the comments.