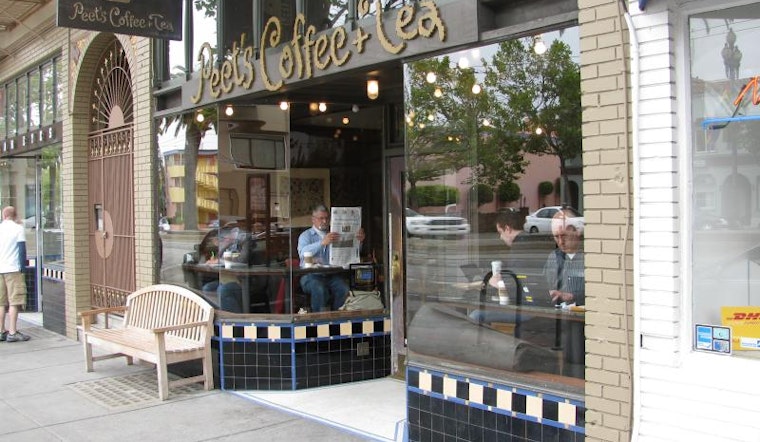 Published on January 03, 2015
Around 10am on the morning of New Year's Eve, the body of a homeless transgender woman was found on the bench in front of the Castro's Peet's Coffee & Tea at 2257 Market St. According to neighbors, she identified as Anastasia. (Warning: readers may find the image below disturbing.)
It was not immediately clear how long she had been deceased as people passed in and out of the Peet's location, which opened at 6:30am that morning. However, Hoodline learned that an employee of Peet's did call an ambulance around 6am, before the coffee shop opened. Emergency services came out to offer assistance, but left without taking the woman away, according to eyewitnesses.
This Hoodline reporter was walking by Peet's around 10am that morning with another friend. We both noticed how still Anastasia was and feared the worst, as she is usually up by then with coffee in hand. I shook her and found her stiff. We immediately called 911 and paramedics responded within five minutes. People looked on from the Peet's window as paramedics performed chest compressions, but they could not revive her. It was surreal and heartbreaking.
Photo: Roy McKenzie/Hoodline
Anastasia had been a neighborhood fixture over the past year in the Castro. She frequently wore a scarf over her head with a long dark jacket. She could often be seen outside of Peet's in the early mornings and would move on after receiving a cup of coffee from willing cafe-goers.
We've including some thoughts about what happened from friends and neighbors. Pronouns have been changed to reflect Anastasia's preferences.
Harvest Market, the market just a few doors up from Peet's coffee, was another frequent stop for Anastasia. One Harvest employee, Ken Holley,
noted
on Facebook that Anastasia was a friend, and recounted his experience with her the night before she died:
I considered Anastasia my friend. I came home last night at 12:30am and saw [her] on the Peet's bench. I offered [her] a sandwich, which [she] refused. [She] asked for a Coke instead, and I said I didn't have that. Rest in Peace my friend. Your trials are over now.
Another neighbor, who wished to remain anonymous, mentioned that Anastasia had started coming into the Castro in February and that she had recently been complaining about how cold she was and that she was not feeling well.
Temperatures in the days leading up to New Year's reached lows in the high 30s, with Jan. 1st the coldest New Year's Day morning in San Francisco since 1961. We've reached out to the Medical Examiner's office, but so far have not received an official cause of death.
William Salit another neighbor,
recounted
his experience the morning she was found dead,
If you visit Peets on Market or Harvest, you've seen a homeless [woman] sitting there, often with a scarf or shawl wrapped around [her] head, and a long black coat. [She] was usually talking to [herself], and had an air of both craziness and put-on regality. [She] referred to [herself] as Anastasia.

[She] was laying on the bench, barely moving, at Peets this morning, and looked unwell. [She] more typically sat and babbled. I asked Victor, who was working, if he might call 911 to get Anastasia some help, and Victor told me he'd called an ambulance earlier, which came and then left without Anastasia. He then did the same with the police.

I guess they can't compel someone to get help if that person refuses. Victor said he would call again, and I walked back home, passing Anastasia, still laying on the bench in the freezing cold.

I just heard that Anastasia died there on the bench, not long after I left, from illness and exposure, I suppose. I don't know why [she] wasn't taken somewhere today for the help [she] sorely needed.

I'm not processing this well.
Brian Bassinger, Director at AIDS Housing Alliance/SF, wrote on Facebook:
I'd like to see an analysis of formerly housed people who die on the streets of the Castro vs. other neighborhoods. It seems to be disproportionate. If so, we need our fair share of services. It is also terribly important that we have culturally competent LGBTQ services. Too often, the LGBTQ side is crappy on homelessness issues and the homelessness side isn't able to connect with LGBTQ people in the way that is required to help get people off the street. Especially if they are working with paranoia, trauma, and homophobic trauma. If they don't interact with people who get them, they're not going to feel safe accessing services.



Another long time Castro resident dies of exposure from being unhoused.
As you might remember, 53-year-old homeless man Barry LeBlanc died in the Castro on January 18th, 2014.
We've reached out to Bevan Dufty, Director of the Mayor's Office for Housing Opportunity, Partnerships & Engagement (HOPE) for comment, but have not yet heard back. HOPE is tasked with addressing the city's homeless issues and providing services and opportunity for the homeless in San Francisco.
Please feel free to share memories of Anastasia in the comments.
Update, 2:45pm:
Downtown Donna had shared this photo of Anastasia via Twitter:
@Castro_Biscuit This story breaks my 💔 Anastasia was a special soul pic.twitter.com/DEgSjXNB8a

— DowntownDonna (@DowntownDonna69) January 3, 2015