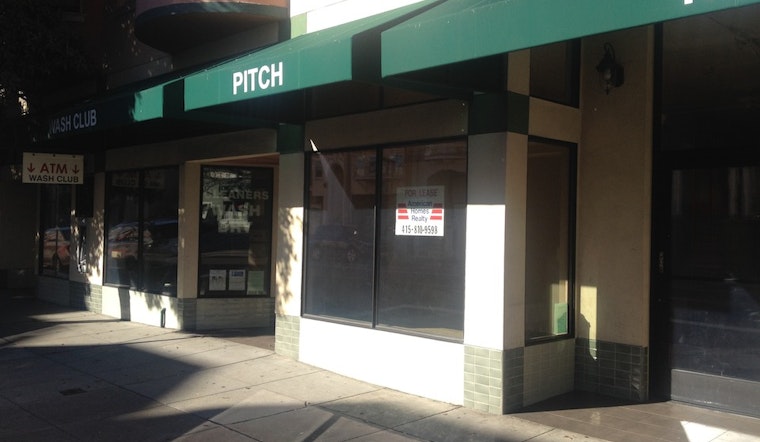 Published on January 15, 2015
The intersection at Frederick & Stanyan has an 4-story apartment building, two Muni stops and a tech shuttle route. A traffic study for the former Son Loy Laundry around the corner claims average daily traffic of 12,000 people per day. So why has the area seen so much turnover in retail tenants?
For seven years, Curtis Looney operated Pitch Salon out of 514 Frederick, a 1,000-square-foot space on the ground floor of the Frederick Apartments. Last fall, Pitch Salon decamped for the Mission, and its former space remains empty. Hoodline interviewed Looney and partner Lisa Pomo to learn more about their decision to leave the area.
"I'm saving a lot of money, and it's a lot less stress for me here," said Looney, gesturing at a renovated loft space inside
Zoe Bikini
at the corner of 18th & Mission. On Frederick Street, "there isn't a lot of foot traffic, so we didn't get a ton of walk-ins." Pomo said tinted front windows also prevented passers-by from seeing inside. "You couldn't tell what it was, so we relied on Yelp mostly," said Looney.
Before 514 Frederick was home to Pitch Salon, it had been a different salon, a sugar-free bakery and a photography studio. "I thought it was going to be really busy because of the corner, but we've been busier over here," said Looney, who added that he and Pomo are handling many more walk-in customers.
Their new digs consist of a few hundred square feet with two salon chairs and a shampoo station, compared to their former 1,000-square-foot space, which had three chairs, a separate shampoo room, and a soundproofed basement configured for office and storage space. "It was just too big," said Looney.
Looney and Pomo described a lot of turnover on their old corner as various businesses tried to make a run at success. Stumasa, a store with unfinished wood furniture, moved from 515 Frederick to Oakland and was replaced with
Midline
, a personal fitness studio.
Past Perfect
, an antique/vintage shop, replaced a nail salon at 854 Stanyan.
There's data suggesting that
tech shuttle bus stops create pockets of affluence
that attract service businesses, but Looney said Pitch didn't see any bump from two stops on their corner. "We had people who worked for Google, but they also lived in the neighborhood and came to us, but not people getting off the bus," said Pomo.
Pomo and Looney say that for the next tenant of their former space, located between The Wash Club laundromat and Cole Valley Salon, getting noticed is key. "Maybe if it could be more visible somehow," said Looney, referring to the tinted windows and subtle signage on an awning out front.
"Whenever new businesses came in, we were always hoping for restaurants," said Looney. A new eatery isn't an option, however, as the neighborhood lies within a restaurant exclusion zone. The space's
real estate listing
, which offers the space for $3,500/month, suggests eye doctors, chiropractors, photographers and clothiers specifically for this "Plug and Play Retail Space."
Pitch Salon is now located at 3386 18th St. inside Zoe Bikini and is open Tuesday - Saturday from 11am- 7pm.