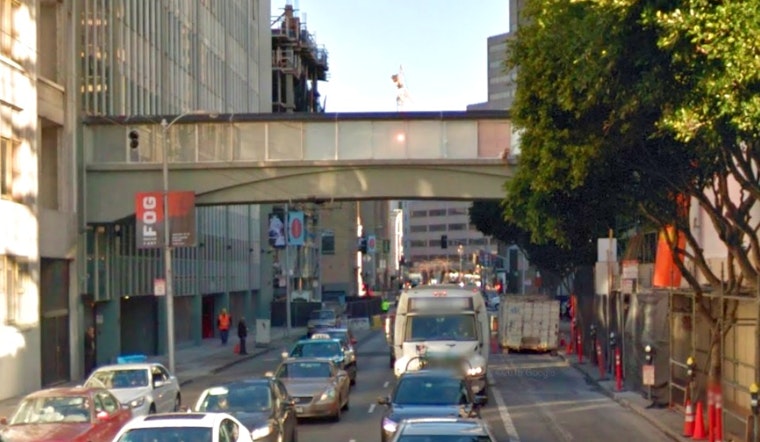 Published on March 07, 2015
The retro pedestrian bridge across Hayes Street at Van Ness may soon be taken down, along with a couple aging office buildings at 150 Van Ness Avenue.
Real estate developer Emerald Fund is looking to demolish the buildings along with four parking lots and construct a 12-story mostly-residential structure that would run along Hayes Street from Van Ness to Polk. According to plans filed for that address in 2013, the new building would hold approximately 420 dwelling units, and 9,000 square feet of retail space would be available on the first floor. 
The developer is slated to ask the Planning Commission for a number of modifications to these plans at an April 2nd hearing, indicating that redevelopment could start soon.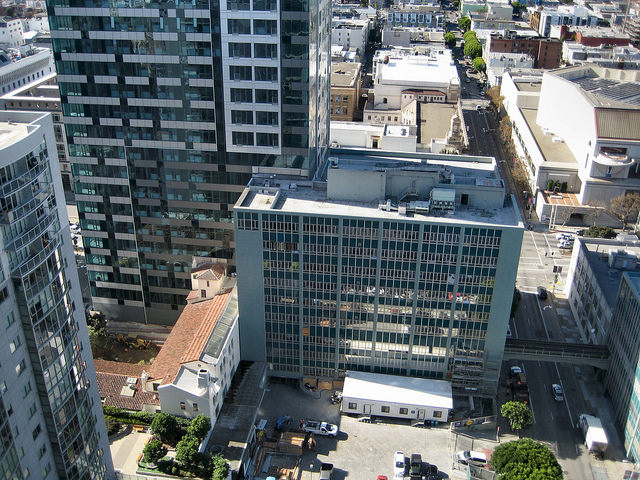 Photo via Apollo's Light/Flickr.
Emerald Fund President Oz Erickson shared his real estate firm's desire to revitalize that corner with The Chronicle last year. "Market and Van Ness has the most valuable infrastructure in San Francisco and many of the most important cultural institutions – it is absolutely essential that these things get built," he said. "It used to be that you left Civic Center at 5:30 and when you came back at 8 to go to a show, it was a wasteland." 
SPUR, a civic planning nonprofit, gave the project a ringing endorsement last year, and provided more details about the plans here. 
As for the pedestrian bridge, its mismatched windows and state of disrepair might be called an eyesore by some, while others might see it as an icon of Hayes Street from another era. Either way, its days appear numbered. 
We'll keep you updated on the changes happening here.  
Update: Reader Shotwellian tipped us to this great photo of 150 Van Ness before it received an unfortunate remodel decades ago.