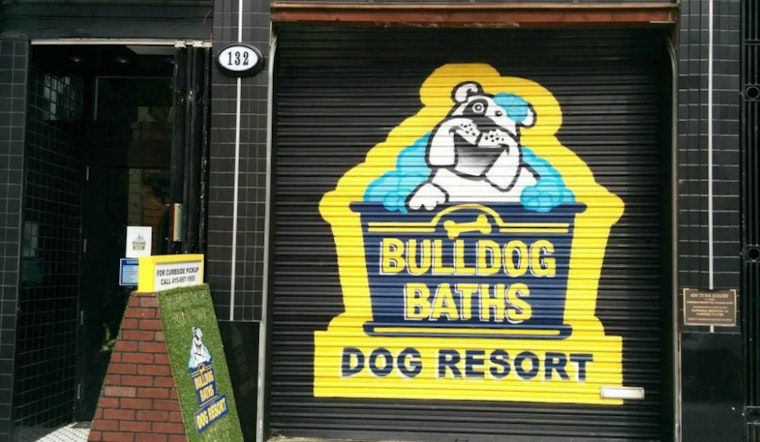 Published on March 23, 2015
David Nale always wanted to do something for dogs. Once he found 130-132 Turk St. in 2005, he knew he'd found the right opportunity.
Gutted by the previous owner, the building was a blank canvas, Nale said. But it was also full of history. From 1932 to 1983, the building housed the city's largest and oldest gay bathhouses, The Club Turkish Bath House and later renamed Bulldog Baths.
After 30 years of vacancy, Bulldog Baths is a sanctuary again—but this time for dogs. Softly opened back in December, and with an official launch planned soon, Bulldog Baths Dog Resort aims to provide doggie daycare and overnight lodging services for canines.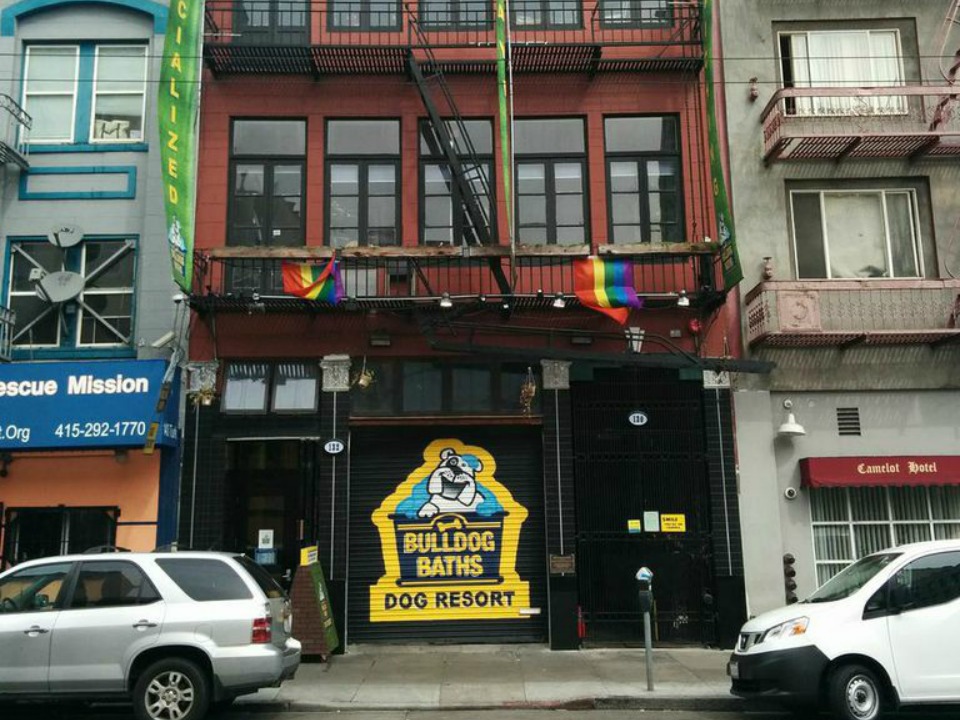 (Photo: Brittany Hopkins / Hoodline)
With expertise in dog psychology, Operations Manager Lindesay Greene leads a team of "pack leaders" at Bulldog Baths who focus on "engaging, not supervising" four-legged guests in a cage-free environment. The dogs are split into play groups based on temperament, size and age, and enjoy directed activities with their packs. 
"To give them a sense of adventure, pack leaders are always engaged, moving them around from indoor playrooms to the chill lounge to outdoor play," Greene said. "This adds stimulation, and balances energetic activity with relaxing and then more energy throughout the day."
Greene stresses the importance of forming packs based on temperament and age—not just size. "It's important for dogs that are more comfortable around people to get with other dogs. We want to make it positive to interact with other dogs, even if the dog is older or more timid."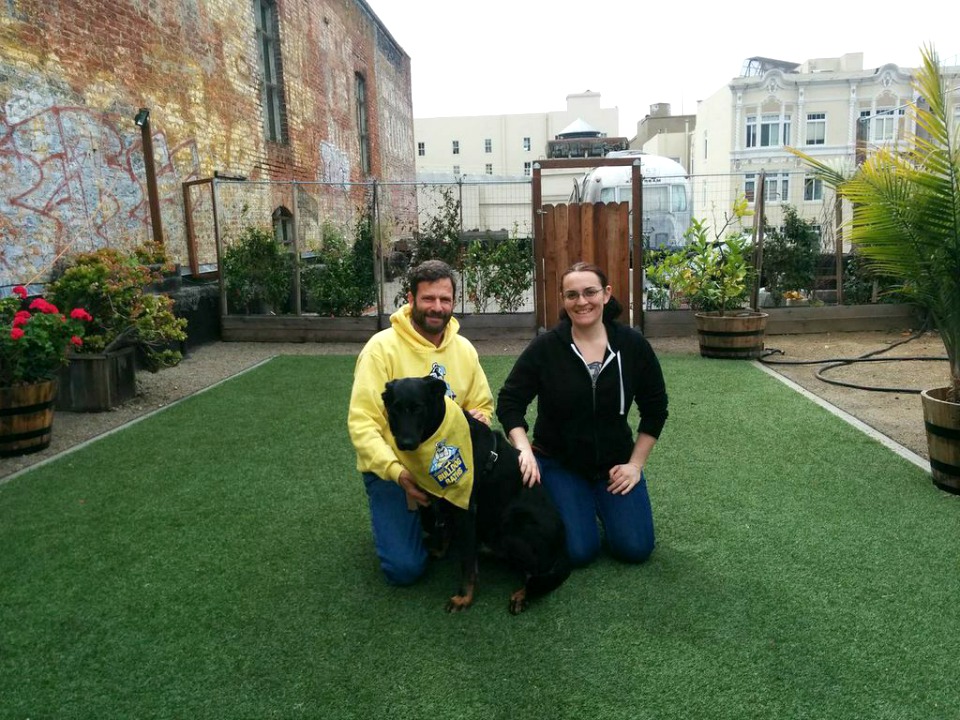 (David Nale, Lindesay Greene and Nila on the resort's rooftoop playground. Photo: Brittany Hopkins / Hoodline)
Bulldog Baths has partnered with Rocket Dog Rescue and Grateful Dogs Rescue to take in fosters seeking new homes. Many apartment and foster dogs they meet are under-socialized, Greene said. Princess, a Chihuahua-mix in foster care, spent three weeks behind a toilet in her previous foster home. "Now she's spending more time on the couch than behind it."
Of the dogs that Bulldog Baths services, 99 percent engage with other dogs during their stay, but private "casitas" and one-on-one activities are available for dogs that prefer to be by themselves, Nale said. Owners receive a report card with photos of their pup by email, and can add on services like a midday walk to the owner's office.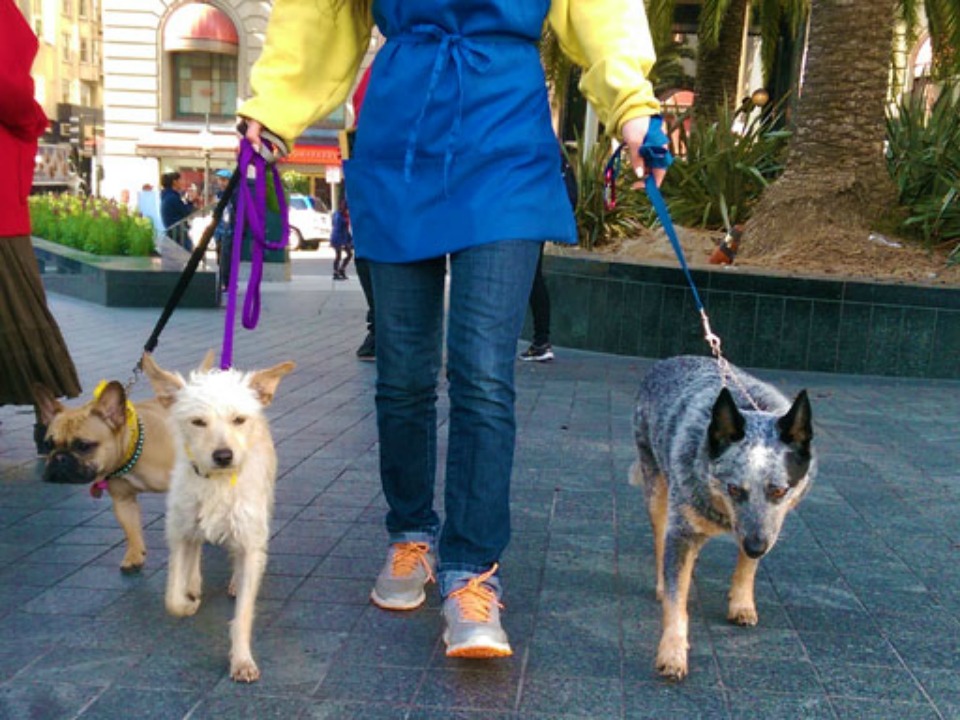 The Bulldog Baths team said their efforts are already changing the landscape of their block at Turk and Taylor streets, where new business activity has been dormant for the past 10 years.
"We are very visible," Greene said, pointing to the staff's yellow T-shirts. "We clean trash, hose messes and it makes a difference. Other businesses and people see us and it becomes a community habit." Bulldog Baths is also partnering with Tenderloin-based nonprofit Hospitality House to grow its staff with candidates from the local community.
What does Nale say to dog owners who are still wary of the neighborhood? "The Tenderloin is changing and they can be part of that change. This is your opportunity to make it safer and participate." 
But for those still on the fence, Nale assured that pick-up and drop-off service is available for clients in the Tenderloin, Mid-Market and Financial District, and curbside service allows clients to drop off their pups without getting out of the car.
More information on the services Bulldog Baths Dog Resort offers is available on their site, along with a detailed history of the original bathhouse.