Tadu, a new family-owned Ethiopian restaurant, has occupied the 700-square foot space between Chico's pizza and Jessica Silverman Gallery on Ellis and Leavenworth since December 2014.
Co-owned by husband-and-wife team Nani Tsegaye and Elias Shawel, the restaurant at 484 Ellis St. is named in memory of their late grandmother, Tadelech Oda. Also known as Tirumama, (which translates to "the good mother"), she is remembered by the family for her authentic cooking and warm hospitality.
"We keep the meals and recipes as authentic as possible," says Nani, who prides herself in using authentic ingredients, some of which are imported from Ethiopia. "Everyone has their own style and way of cooking, there are so many different cultures within the country, and you can cook one Ethiopian dish in so many ways," she says. "We use a lot of spices, garlic, and ginger to give our dishes flavors contributing to the authentic flavor." 
"The Kitfo, is the most common and specialty dish in the Gurage region," says Nani, which is where Elias' family hails from. Other specialty dishes include kitfo (steak tartar) and the vegetarian combination. Tibs (lamb, beef, chicken) are also popular among their clients. (You can view Tadu's full menu here.)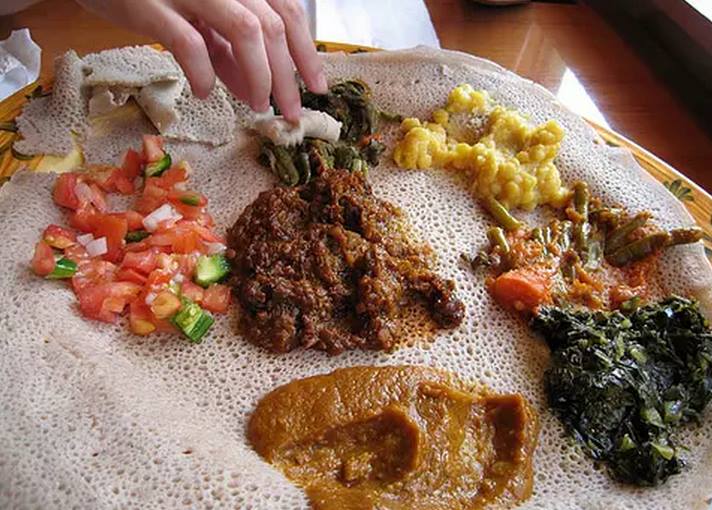 Photo: Tadu/Facebook
With the closest Ethiopian option in the area located on 9th and Minna, and few options in the northeast quadrant for taxi drivers transporting tourists to and from hotels and Fisherman's Wharf, Tadu has been a welcome addition to the neighborhood.
Elias , who used to work as a Yellow Cab taxi driver, recalls getting countless requests for advice on where to find Ethiopian food in the city. "When I used to drive, people would ask me about my accent. They would ask me where I am from and where they can get food."
To establish their business, Elias and Nani got help from Mercy Housing, which has helped to get locally owned, mom-and-pop businesses (like Leland Tea Company) up and running. "A restaurant [in this space] will bring more people to a block that needs more healthy pedestrian traffic," says Nance Conover of Mercy Housing. "This is the fabric of our city, we are very committed to revitalizing the TL."
"The mom and pop business is what makes San Francisco so great, especially in neighborhoods that are struggling," Conover adds. "We support businesses that can bring healthy street traffic to our storefronts." 
Tadu has also teamed with Tenderloin Economic Development Project for post-development support. "Our organization's mission is equitable development and we want to ensure that businesses like Tadu grow and succeed," says Anh Ngyugen, Executive Director of Tenderloin Economic Development Project.
Through the 10Tech business retention program, Tadu receives support around social media marketing and events like Tasting the Tenderloin, which gives restaurants opportunities to host lunches and market their businesses. 
"Not everyone has the capital to start their own business, and being a part of the TL ... we love it, we really enjoy it," says Elias. "With opportunities from organizations like Mercy housing, we can kill two birds with one stone," says Nani. "We are contributing to the economy and the community by making our dreams come true."
In addition to the pair's drive to provide Ethiopian cuisine to the community, Elias has a background in business, and his wife has been working in the hospitality industry for over 10 years. "We were able to blend our experience and passion to make it happen," says Nani.
"We came a long way," says Elias. "Coming from a different culture there was a point where we didn't have anything, and then we were given a chance."
Tadu is open at 484 Ellis St. from 11:30am to 9pm seven days a week, and if you've never eater Ethiopian food before, they've also got a handy primer on etiquette.