The Tenderloin has long been considered one of the city's last affordable neighborhoods, but Anh Nguyen, executive director of the Tenderloin Economic Development Project, says many of its small, largely immigrant-owned businesses are struggling to stay afloat amid the neighborhood's rising rents and changing demographics.
Nguyen and her small team of part-time staff members are working furiously to help the neighborhood's diverse array of small businesses take advantage of technology to grow their customer bases, build revenue and create opportunities to hire and train members of their communities.
While retention and attraction programs for neighborhood business owners are increasing, Nguyen says they are not leveling the playing field for the Tenderloin's low-income, minority- , immigrant- and refugee-owned business owners because they lack cultural competency. For example, business owners who do not speak English cannot take advantage of most city and nonprofit services and technologies — like crowdfunding platforms, credit card systems and online catering dispatchers — that could help them reach new customers and generate more revenue.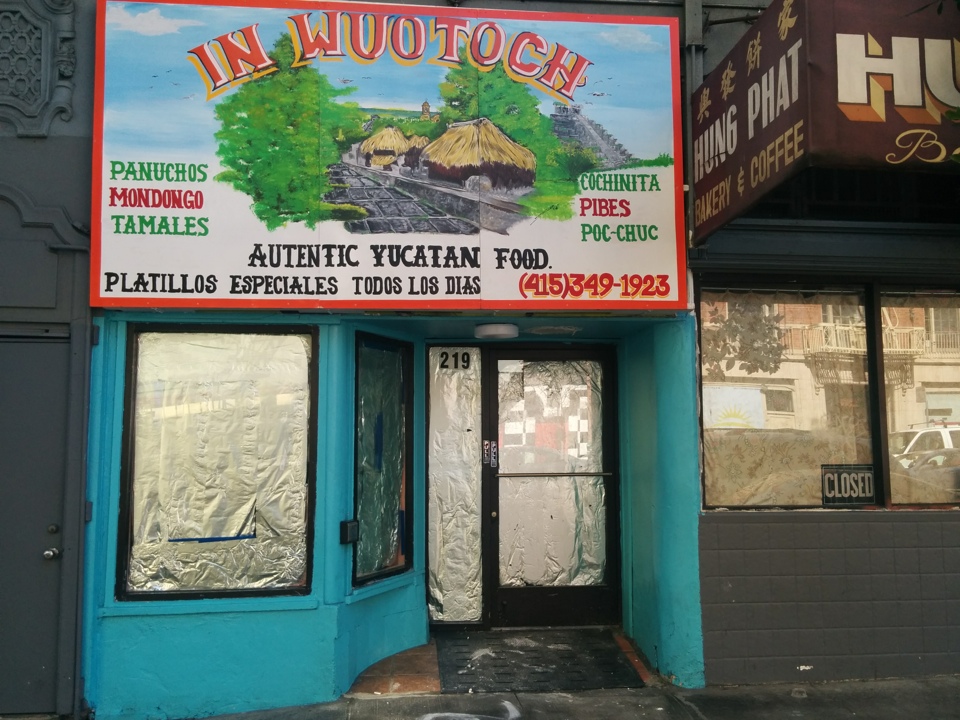 A former Yucatan restaurant at 219 Jones St. (Photo: Brittany Hopkins / Hoodline)
Many immigrant business owners in the neighborhood also lack the cultural competency they need to grow their bottom lines, she says. There are 90 restaurants in the Tenderloin serving everything from Vietnamese to Mayan cuisine, and many were "born out of the need to provide jobs for themselves and feed their communities." But the neighborhood's demographics are changing. "Their friends and neighbors are being evicted," she says, but they're afraid to attract new customer bases, like tech workers and tourists, that could help them increase sales.
One way TEDP is trying bridge this gap is helping the Tenderloin's disadvantaged business owners secure micro-loans with zero percent interest through
Kiva Zip
, which is a small project run by Kiva.org that aims to "expand financial opportunities and access for borrowers who otherwise lack them" and "reduce the cost of capital for borrowers who need it." TEDP has helped 18 Tenderloin businesses run by immigrants and refugees navigate the fundraising process — which includes drafting a narrative in English to tell their story; completing Kiva Zip's private fundraising period, which requires potential borrowers to secure contributions from 15 friends and family members "to build credibility" before they can be listed on the public site; and vigorously marketing the businesses to reach their fundraising goals — plus many more are in the pipeline.
Vietnamese House
at 642 Eddy St., which was purchased and reopened in January by a Vietnamese-Chinese family that immigrated to San Francisco in 1989, is currently raising funds to support its expansion goals. Solely due to the city's speculative market, the restaurant's landlord has doubled the rent, Nguyen said. To increase the business's revenue, the family is seeking a $5,000 loan to fund marketing initiatives and kitchen equipment that will make a catering or delivery service possible.
The family behind Vietnamese House (Photo: TEDP / Kiva Zip)
In addition to fundraising, Nguyen says they simply try to "meet people where they're at", such as revealing ADA-compliance issues in their shops before they threaten their businesses, assisting with lease negotiations, connecting them with local services and grant opportunities like SF Shines, and providing free Square Readers so they can begin accepting credit cards and offer catering to local tech companies.
The Tenderloin has "always been for immigrants", Nguyen says, and TEDP is working to make sure that remains true as new businesses, like Ethiopian restaurant Tadu and noodle and BBQ spot Kyu 3, set up shop in the neighborhood as well.
With the goal of bringing in 50 new retail businesses to build a substantial retail corridor in the neighborhood, TEDP is focusing on bringing in new minority-owned businesses that will reflect, serve and hire the current community, which is 70 percent people of color, she said. They're also working closely with John Akins, who plans to run a Southern restaurant and large-scale baked goods production out of 210 Jones St.
To view and support immigrant- and refugee-owned businesses currently seeking micro-loans, visit TEDP's Kiva Zip profile. Startups that are bored of their same old catering options can also contact TEDP to host a 'Tasting the Tenderloin' lunch at a restaurant in the neighborhood.