Since 2000, the Hamilton Family Center has existed quietly on Hayes Street between Central and Lyon. The pale tan exterior blends in with the street so well that it's easy to miss the entrance, but behind the glass doors there's a busy program in place that helps to house homeless families.
We met up with Program Director Devra Edelman, who showed us around the Center and gave us a little background on the organization, which has outposts in NoPa and the Tenderloin.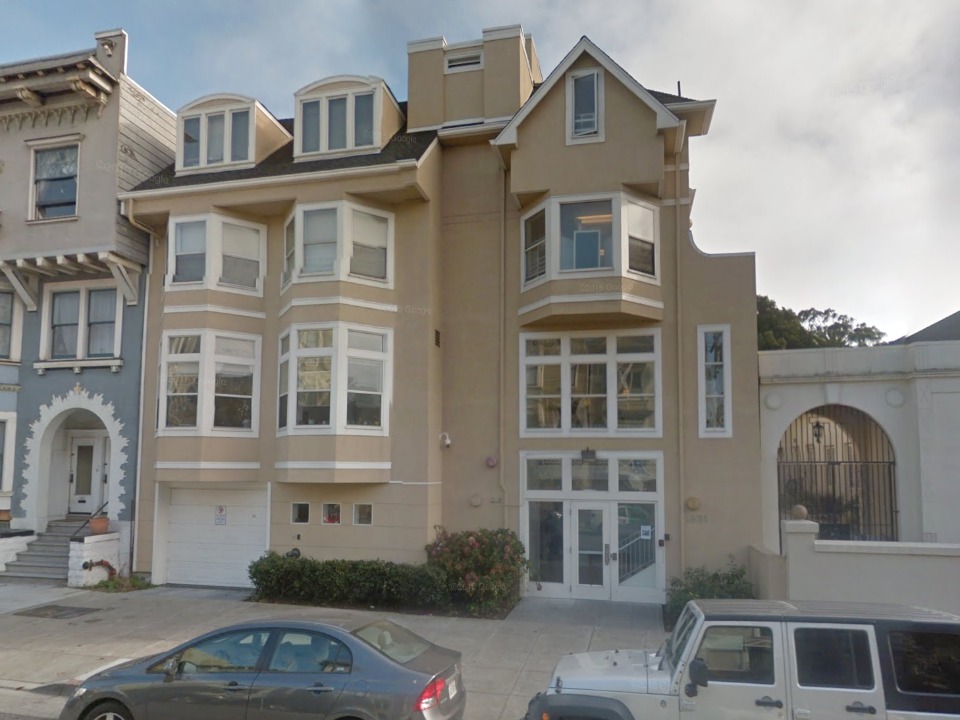 The Hamilton Family Center at 1631 Hayes Street. (Photo: Google)
Hamilton has two key facilities in San Francisco that help homeless families find a bed, be it for a night or for up to two years. The Family Emergency Center is located at 260 Golden Gate Ave., and offers emergency beds for families for up to 60 days. In the same building, the Hamilton Family Residences can house families for up to 6 months while a more permanent living situation is scouted for them.
The Hamilton Transitional Housing Center on Hayes Street, however, is capable of housing 20 families in transition, for up to two years. Apartments in the Center can accommodate families with as few as two members and as many as 10. Families who are accepted into this program are often in need of not only a place to live, but also time to deal with and manage other aspects of their lives before being able to take on full-time work. Many are parents who are reclaiming custody of their children after time apart, working through a drug addiction program, stabilizing mental health issues, or finishing school.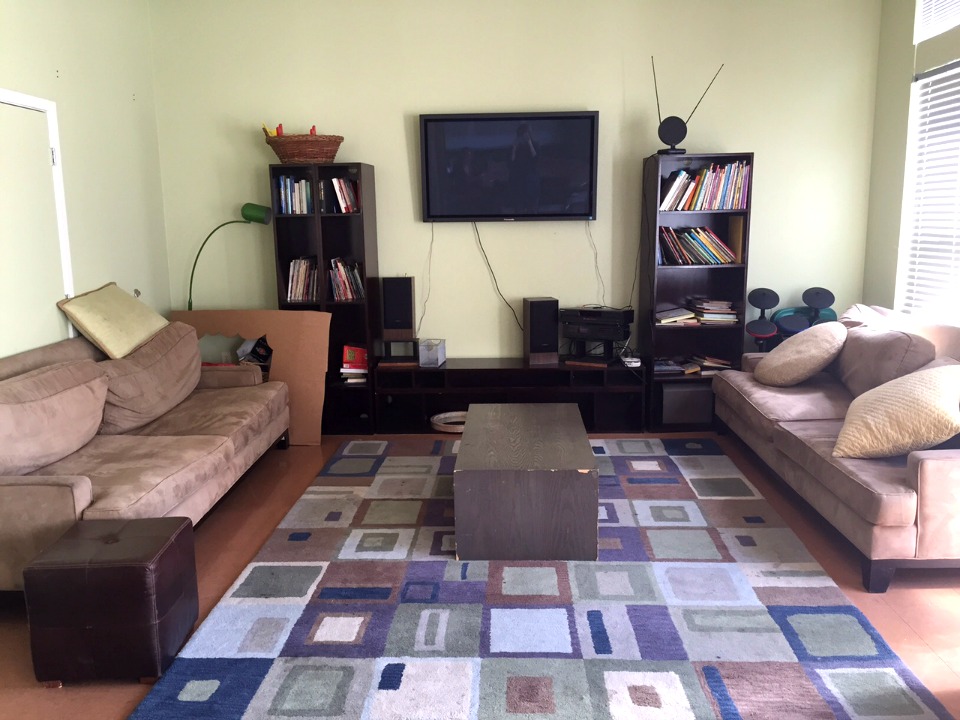 A community room in the Hamilton Family Transitional Housing Center. (Photo: Nuala Sawyer / Hoodline)
On the afternoon that we visited the Hamilton Family Transitional Housing Program it was quiet, with most residents at school or work. A large central courtyard separates the two apartment buildings, with smaller units in the front of the lot, and larger ones that can accommodate larger families in the rear. A children's center and playground sit next to a freshly-planted garden.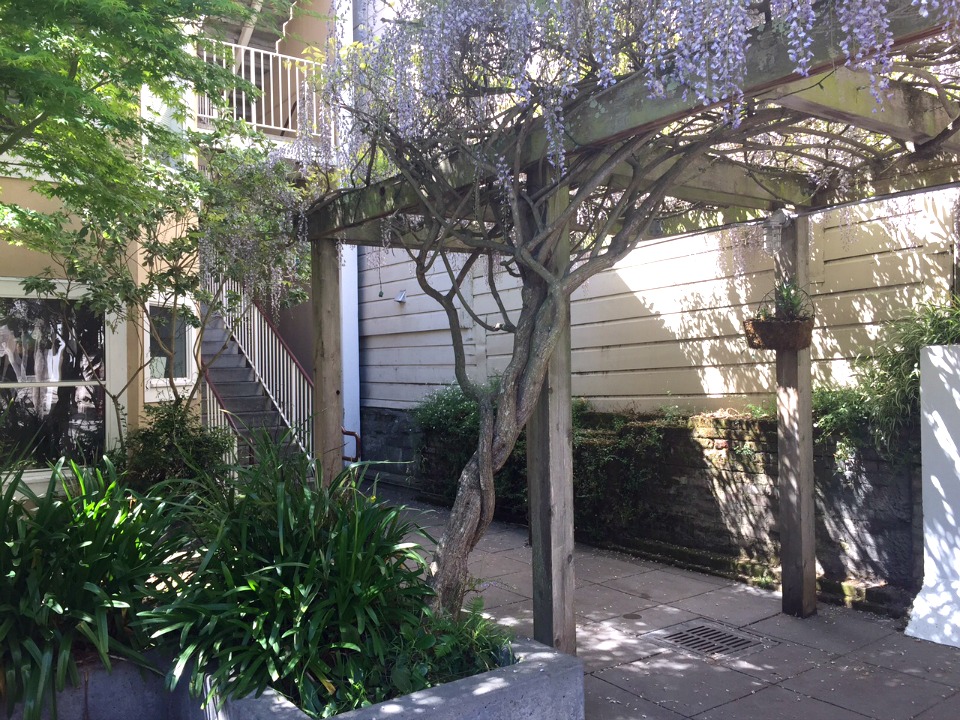 Interior courtyard at Hamilton Family Center. (Photo: Nuala Sawyer / Hoodline)
It's important to note that the transitional housing program doesn't come for free. Residents must contribute 30 percent of their income towards rent, and 20 percent towards a savings account (which will then be given back to them when they leave). Parents are required to attend one workshop a week, which could range from budgeting guidelines to mindfulness-based parenting. 
The climate for homeless families in need of housing in San Francisco has changed drastically over the past few years, with a centralized wait list which adds homeless families to the list for families at Hamilton, Compass Family Services and Catholic Charities. While the list is in no way a fully accurate representation of the number of homeless families in San Francisco, it does help the city determine the state of need.
When Hamilton's transitional housing was built in 2000 there were approximately 80 families on the centralized wait list for temporary or permanent housing. In 2011 that number started to rise, and the highest Devra had seen it was about six months ago, when the waiting list reached 287 families. But there's good news in all of this: last week, the list had 137 families on it. Still a large number, but a significant drop from months prior.
One way this number is dropping is a new hotline that the San Francisco Unified School District (SFUSD) can use to contact Hamilton Family Center directly. By identifying families that are at risk of being homeless and contacting Hamilton, SFUSD is able to help house families who have lost their homes and prevent evictions for those who are at risk. Since the program launched in December, 35 families were referred to Hamilton, 12 evictions were prevented, and nine families were rehoused. "Before [the hotline], it was months before families were making it to our front doors," Kositsky told the Examiner yesterday.
If you'd like to get involved with Hamilton Family Center, there are a number of volunteer opportunities available, mostly working with resident children. The Hamilton Family Center in NoPa needs tech-savvy volunteers to work directly with children in the digital learning center, and at 260 Golden Gate, volunteers are needed to help spiff up the rooftop garden and children's play space. If you're interested in helping out at either location, you can email  volunteer[at]hamiltonfamilycenter[dot]org.