In the wake of an Uber driver arrested after allegedly hitting and injuring a cyclist in Fisherman's Wharf on Sunday, more questions are being raised about driver safety requirements.
Specifically, taxis are regulated by SFMTA and are required to take 28 hours of classes through one of four approved private driving schools, and another day of training through the SFMTA. An hour of the SFMTA training includes instruction on sharing the road with bicyclists and pedestrians, is taught by a member of the San Francisco Bicycle Coalition. At least two hours of testing is required. And as part of the city's Vision Zero plan, which aims to eliminate traffic deaths by 2024, SFMTA is instituting a large vehicle urban driving safety program for all large vehicle drivers who work for the city.
All told, as Central City Extra covered in their latest issue (PDF), there are 71 pages of dense regulations for cab drivers to follow. 
Not so for drivers working for Uber, Lyft, Sidecar or limo companies, which are not regulated by the SFMTA – they only have 28 simple regulations to follow.
And the San Francisco Bicycle Coalition, among others, is concerned about this gap in safety mandates. "We need to ensure everyone knows how to share the road safely," said Tyler Frisbee, policy director at the organization. Many of the drivers, she said, aren't used to driving in a city as busy as San Francisco.
"Whether cab, Uber, Lyft—they're pulling over to the side frequently, they're loading and unloading, they're driving through crowded areas" such as Market Street, SoMa and the FiDi, Frisbee said. "The reason SFMTA hires us is they want to protect peoples' lives," she added. "There's no similar training for Uber. Their drivers take a couple of very short safety classes that are taught online."
And most of the training, Frisbee said, involves learning to use Uber's system, which many have accused of being a driving distraction. Uber was in the headlines after a driver hit and killed a six-year-old girl, Sofia Liu, on New Year's Eve 2013. He was allegedly using the Uber system to find a fare when he struck her, and was later charged with misdemeanor vehicular manslaughter.
Taxi drivers also have to pass a background check, show 10 years of driving records, get fingerprinted and more. All of the requirements are listed on the SFMTA website under How to Become a Taxi Driver. Though Uber and Lyft drivers aren't required to complete the SFMTA's mandated safety training, the companies' web sites list other requirements. Uber's safety page says drivers have to pass criminal background checks and their driving records are reviewed. Lyft's safety page includes information on its insurance plan, background and DMV checks, and vehicle inspections.
Messages to Uber and Lyft to get details about their training videos, including length, content and whether testing was required, were not returned. But Lyft's communication manager sent an email reading, "Safety is our top priority and all drivers complete safety education videos before being approved on the platform. We are also in conversations with the San Francisco Bicycle Coalition to develop ways to ensure drivers are aware of cyclists' rights on the roadways."
Frisbee confirmed that the San Francisco Bicycle Coalition is in talks with Lyft to include online safety training. What about Uber? "At this point, Uber has decided that our safety training is not worth their investment," Frisbee said. She said Uber told the San Francisco Bicycle Coalition the company "found someone else to do it," but when it asked for details, including who was giving the training, how long it lasted and what was included, "they said 'we're not sharing it'," she said.
Frisbee acknowledged that the San Francisco Bicycle Coalition does get complaints about unsafe cab drivers, but added, "We hear dozens of complaints weekly about Uber and Lyft drivers." They claim drivers pull over the bike lane, pass too fast and drive too quickly or unsafely. "You can talk to anyone in the city who has biked and they'll say they've had these experiences," she said.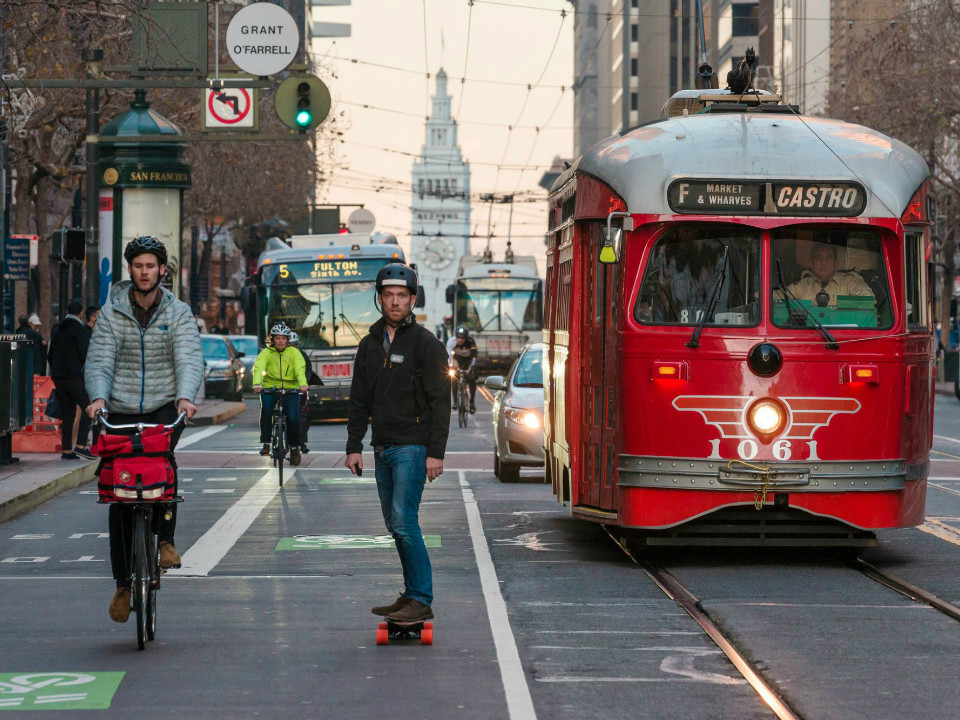 Photo: Sergio Ruiz/flickr
Ruach Graffis, owner/operator of Taxi Driver Institute, one of SFMTA's four approved driving schools in order to become a taxi driver, said she always includes information about watching for bicycles in her classes. One of the most dangerous situations, she said, happens when a driver is turning right and a cyclist is coming up alongside. "You can't rely on your side mirrors to see what's coming down the street to your right," she said. "You really need to turn your head."

Graffis said she also teaches stress reduction techniques, including exercises drivers can do in a cab or on breaks. She also suggests that they take up a breathing instrument, like a flute, and to get a pet. Not to mention, she advocates regulating drivers themselves even if companies such as Uber and Lyft aren't regulated.
She also had a few words of wisdom for any commercial driver:
"As far as this road rage thing, if you're a professional driver, traffic is the air you breathe. Traffic is what you're there for. If there wasn't traffic, you wouldn't have passengers," she said. "If there weren't a bunch of people around, there wouldn't be any economic value for you to drive for Uber or a taxi. If traffic itself causes you stress and gives you road rage, you should move to New Zealand and herd sheep."