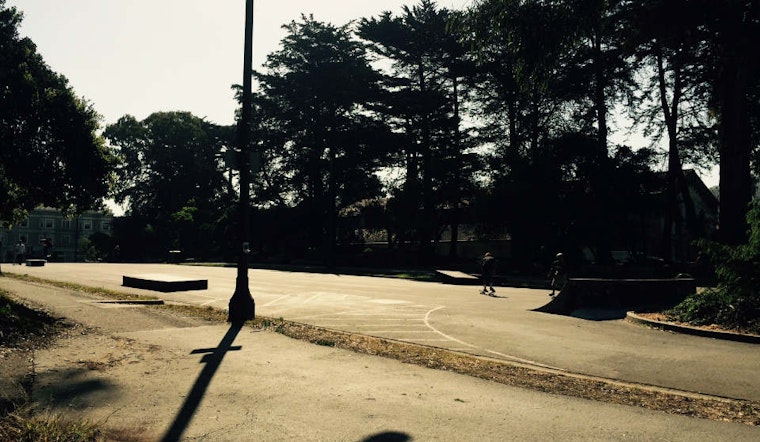 Published on April 03, 2015
The city's "skateboard plaza" at Waller and Stanyan, also known as the slightly modified asphalt apron that also hosts Off The Grid and the Upper Haight Farmers Market, might be about to get a facelift.
Following a community meeting last week, the San Francisco Skateboarding Association, with assistance from FTC owner Kent Uyehara, is filing this week for a Community Opportunity Fund grant to finance the project.
Updates to the area, which was first made-over with the current skate elements back in 2012, would still accommodate other uses like the farmers market and Off The Grid, but would also offer a more ample skate structure, according to FTC employee Aaron, who is collaborating with the designer on the project.
"It would be more of a sculpture or a structure," Aaron said, "and less of a skate park. What's there now, trucks from Off The Grid drive into the benches and break them." No renderings or design specifics are available at this time, but Aaron said that the designer is the same who had worked on the backyard skatescape the past two years that FTC has hosted a local skate competition.
Long-term, said Aaron, if the skate structure goes through at Waller it would be an opportunity for FTC to host the competition offsite, which would reduce the cost of rebuilding a temporary structure every year, and be less of a hassle for the neighbors.
Haight Ashbury Neighborhood Council board member Rupert Clayton said the project is a mild surprise for community members outside of the skateboarding community. "To be honest," he said, "I think almost nobody in the neighborhood had heard anything about it until the middle of last week."
Clayton, who was present at the meeting last week about the phase two skate makeover, said "they want to build something that's bigger and more permanent, and to take the western half of the site exclusively for skating, and the eastern part of the area with some skate elements that can be used for other purposes," like the farmers market and Off The Grid.
"Right now," Clayton said, "HANC doesn't have a specific position on this. Everyone encouraged them to talk more to the community and to slow down a little bit. Specifically, I said I'd like to see them have some public presentations before they try to get money for a specific proposal."
Clayton emphasized that these were his opinions, and that he wasn't speaking on behalf of HANC or communicating a HANC position.
Uyehara said that any progress on the area would be contingent on funding from the city; the results of the application for a grant will be in sometime this fall, and if all goes well construction could proceed some six to 12 months after that.