What's in a name? William Shakespeare might say that which we call Justin Herman Plaza by any other name would still be as much fun. Brett and Michelle Harris Anderson agree.
They're on a mission to rename it Maya Angelou Plaza, and they've started a Change.org petition to see it through. They've been out at the plaza to pass out flyers about the petition and ask people to sign it, and they plan to present it to the Board of Supervisors in hopes that they'll take action. The pair say it will be a much-needed and long-awaited apology, and a small but hugely symbolic step to correct past wrongs. But there are many public buildings, plazas and monuments named after leaders who might not be (or might never have been) popular. Why this plaza, and why now? 
M. Justin Herman was a city planner who was the executive director of the SF Redevelopment Agency from 1959 until his death in 1971. The plaza opened in 1972 with his name. Under his tenure, Herman was in charge of urban redevelopment efforts, including the area now home to the Embarcadero Center, which is adjacent to the plaza. But he also oversaw the destruction of a giant swath of the Fillmore, which was populated predominantly by African Americans, Japanese Americans and Jewish people. People lost their homes, businesses and community in the name of urban renewal. Brett's mother—who'd moved to the city in advance of her children—often talked about this era, and he had the mistaken notion she was forced out because she'd lived in a slum. But these were no slums. (For more history, visit the Fillmore page, a companion site to the 2001 PBS documentary The Fillmore.)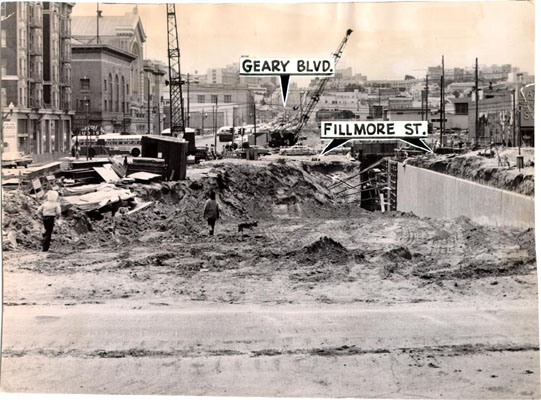 Widening of Geary Street, 1960. (Photo: San Francisco Public Library photo archives)
"[My mother] said redevelopment reduced a close-knit social structure to tatters and strangers. How do you reward a man for such a tremendous failure?" Brett Harris Anderson said. "It was beyond me. I was insulted somebody felt this place was worthy of honoring him ... This is a way to say we're sorry; we acknowledge we were wrong. I feel that's the first step to trying to heal this thing."
The Harris Andersons, who live in Bayview, also think the time is ripe for bringing attention to those who are currently being displaced due to economic reasons rather than urban redevelopment. Different era, different circumstances, same outcome. "I can't imagine owning something and being told all the work you've done on something is no longer yours," Brett said, referring to the 2,500 Victorians and numerous businesses that were razed under Herman. "I don't think the conditions these people are being evicted under are the same," he added, "but it's the same fight." He said if people don't speak up for longtime renters getting asked to leave and businesses losing their leases, "we're all kind of culpable."
Just as people who get evicted today often have nowhere else in the city to go, African Americans in the 1960s were often forced to move away. Brett said his mother told him that "being forced to move was hard to take, but having nowhere to move was even harder." She recalled that African Americans were only "allowed" to live in the Western Addition, Hunters Point, and parts of Ingleside, but after redevelopment of the Western Addition, the other two neighborhoods quickly filled up and rents nearly doubled. Thousands were left with no other options. Brett's mother told most of her friends who received payments from redevelopment failed to find any housing and reluctantly moved out of their beloved city. 
Like many, Brett, who grew up in the Western Addition, recalled the plaza for its fun times. It hosts food festivals, holiday ice rinks, Valentine's Day pillow fights and numerous special events. But then his eight-year-old son, who had frolicked in the plaza's Vaillancourt Fountain one weekend, asked his dad who Herman was and why the plaza was named after him. Brett did some research and was shocked to realize a name he'd said out loud throughout his life had such a sordid history. "I can remember having fun in that plaza; I can remember telling people to meet me in that plaza," Brett said. He wants future generations to reference a more positive person when they enjoy the space.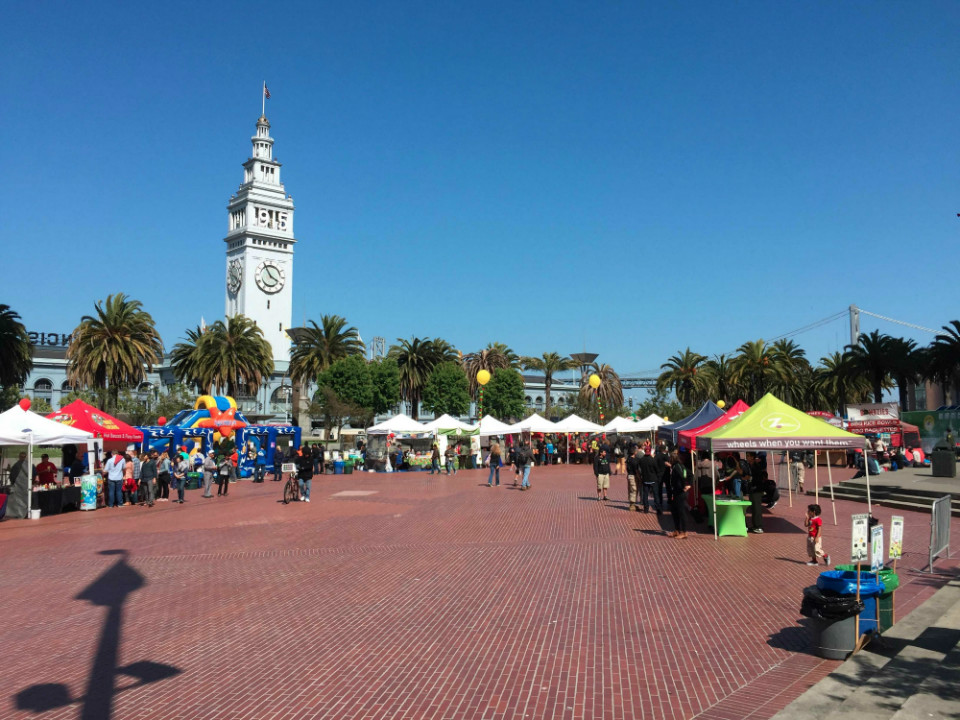 Spicy Unlimited food festival, Justin Herman Plaza, May 9th. (Photo: Geri Koeppel/Hoodline)
After some discussion, he and Michelle chose Angelou for her status as a role model and leader and her loving nature. She was the first best-selling African American female author and the city's first African American cable car conductor. "She broke barriers, and she did it not to divide people but to bring people together," Brett said. Michelle added, "You never know how many lives it could change if the name was changed to someone else."
"We tried to find someone who would fit a place that size," Brett said. "It deserves a name that's worthy of a space like that. I don't think [Herman's] worthy of a building. History should forget people like that."