If you haven't noticed already, Hayes Valley is hiring – or at least trying to. Job postings on Craigslist and signs in windows show a boom in business along Hayes and its neighboring streets, but a lack of prospective employees. Many signs have been up for weeks, with little to no relevant candidates competing for open positions.
A recent article from SF Chronicle addressed the issue of retailers struggling to find entry-level employees, and focused on one particular Hayes Valley business. Elizabeth Leu from Fiddlesticks at 540 Hayes St. told the Chronicle that whereas a few years ago she would have had 100+ applicants for a job opening, now "it's crickets."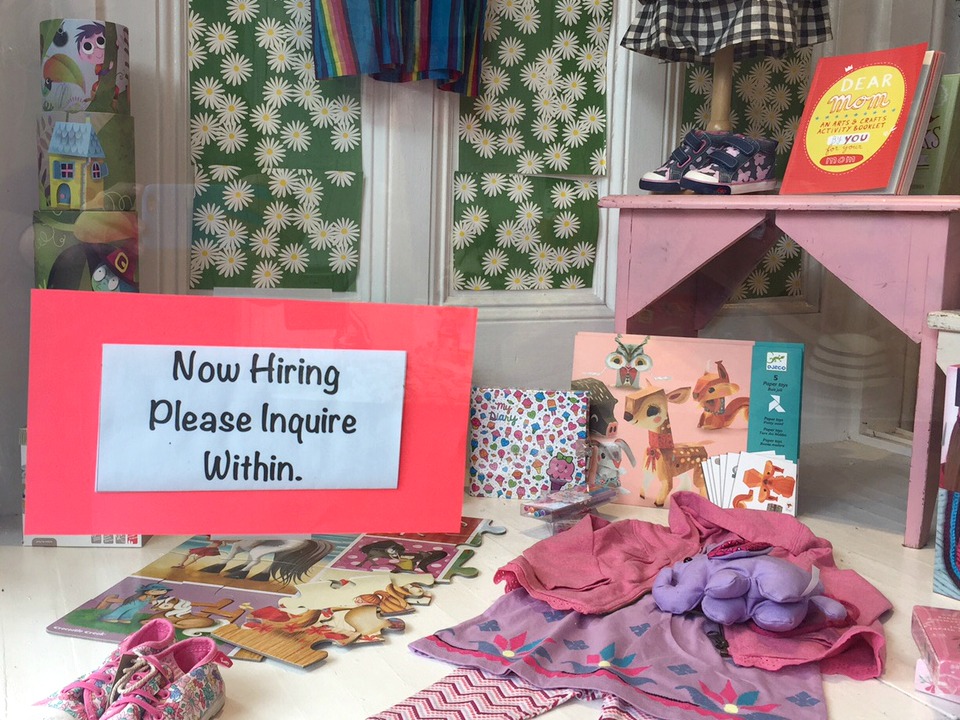 The window of Fiddlesticks. (Photo: Nuala Sawyer / Hoodline)
Alla Prima Lingerie posted several ads on Craigslist during the past three weeks, with the most recent one from eight days ago. According to the ad, candidates must have experience selling luxury brands, but other requirements are ones that are standard for any high-end boutique—availability on weekends and holidays, a "professional manner and appearance," and excellent customer service skills. 

Maggie at Alla Prima told us that she's always looking for good hires, but that she doesn't feel Alla Prima's extended job posting over the past few weeks is necessarily indicative of the rest of the neighborhood. She points out that it takes a while for her to find someone that's a great fit for a lingerie boutique, and that once people are in they tend to stay at the shop for a while. In exchange, Alla Prime offers a slightly higher pay rate (by $1 or $2 an hour) than many other retail jobs, making it not only a competitive place to work but also one that strives to treat its employees well to ensure a long-lasting match.
Also hiring in Hayes Valley is Welcome Stranger at 460 Gough St. The men's boutique posted a listing on Craigslist yesterday. As with Alla Prima above, Welcome Stranger is looking for a full-time employee with at least two years' experience selling luxury products. A positive attitude, problem-solving ability and great client skills are all an added plus.
Alternative Apparel around the corner at 424 Hayes St. is looking for salespeople. and Loving Cup at 535 Octavia St. is looking for new hires. No experience is necessary as the rice pudding and frozen yogurt shop does train new employees, though "cheerful" was mentioned as a key attribute when we stopped in for more information on the post.
As for Fiddlesticks, it's still hiring too. A salesperson at the store told us that they've been looking for weeks with no luck, and that next week things will start getting tight with more hours to be filled than there are employees.
The Chronicle states that no one interviewed for their article had contacted local job organizations to scout for new candidates. When local fixture Russell Pritchard closed his shop Zonal in January, he told us that he wanted to stay in the neighborhood and help to set up a mentoring program that connects merchants and young people in the neighborhood. Despite his hopes, however, Russell has since moved to Palm Springs, and there's no word on whether such a program is in the works.
For now, if you or anyone you know is looking for retail or service industry work, Hayes Valley might be a good bet right now.