If you've walked past 350 Bush St. between Kearny and Montgomery streets lately—or more likely, if you've walked the same block of Pine Street, which is behind it—you've seen a lot of construction taking place. Developers broke ground earlier this year and what's now a big hole in the ground should be a 19-story occupied office building by spring of 2017, said Jeffrey Heller, president of Heller Manus Architects and the lead designer on the project.
This is the site of the first office building to sprout in the already-packed FiDi since 2000, when 150 California went up. And it's probably the last into the foreseeable future unless another building is demolished, Heller said, as there are no other sites of this magnitude. The development actually includes not only about 380,000 square feet at 350 Bush St., but a 56,000-square-foot sister building at 500 Pine St. (This differs from what's stated on the website because square footage changes slightly as the building design is finalized.)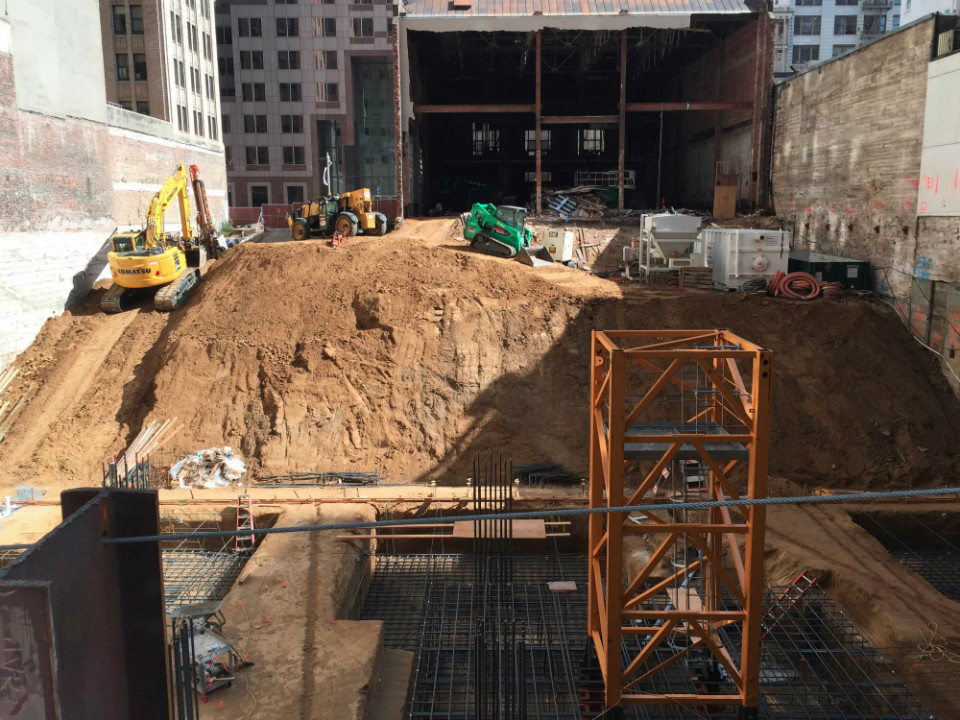 View of 350 Bush St. from Pine St. Photo: Geri Koeppel/Hoodline
That in itself is impressive, but plans are even more intriguing. The office tower at 350 Bush St. will incorporate the historic Mining Exchange, with its Beaux Arts architecture, as its facade. But it's not just a pretty face: In addition to serving as a grand lobby, "The Mining Exchange main space will be able to be used for all kinds of events," Heller said. "It's a very large space; a very exciting, attractive space; we're restoring it."
Integrating the Mining Exchange into the overall project is unique, Heller said. Originally constructed as the Mining Exchange in 1923, it was later used briefly as the Stock Exchange and subsequently as the Curb Exchange through the 1930s. The project has also been a long time in coming. "This was one of the most complex approvals I've ever done in my entire life," Heller said, "and I've done quite a few." That's because they had to do a shadow analysis (which is why 500 Pine is only four stories with a partial fifth floor) as well as get the OK from the Board of Supervisors, SF Recreation and Park and the Landmarks Preservation Advisory Board. "So it had to go everywhere for approvals," Heller added.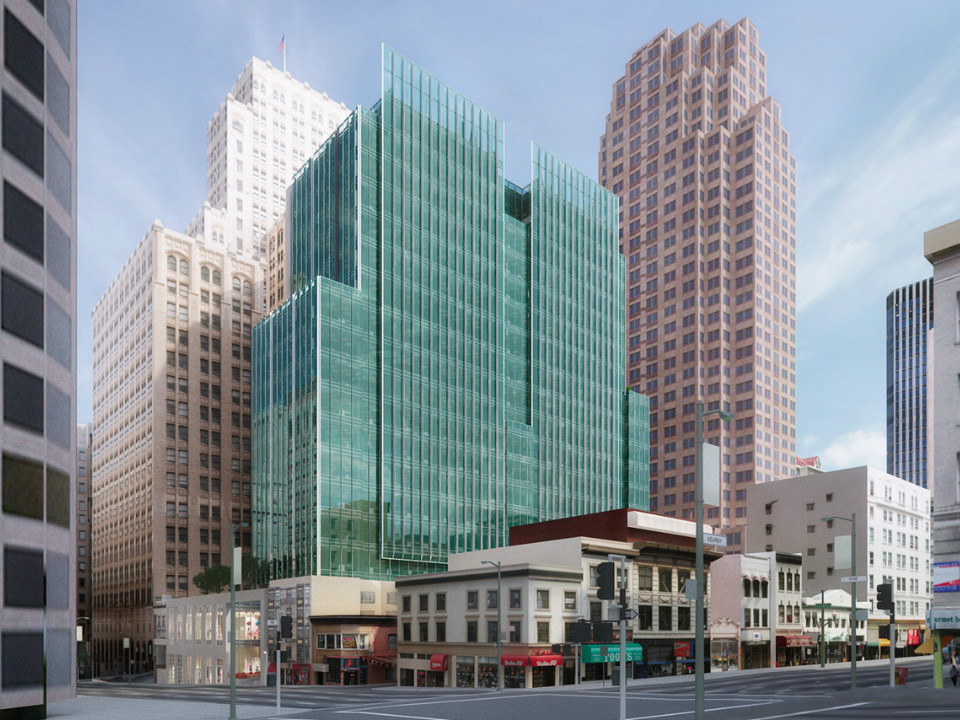 Image: Heller Manus Architects
Other than the Mining Exchange, which the city landmarked in 1980, the property had sat empty since the late 1970s. "The property was originally owned by the Shorenstein Company, by Walter Shorenstein," Heller said, "and he got into a feud about the use of the properties with the city back in the 1970s." Shorenstein demolished the buildings on both sites. Plans for a new building were approved in 2000, but due to the economy, things were put on hold. Lincoln Property Company is developing it with Chinese investor Gemdale.
So what will the building add to the neighborhood? The Heller Manus website touts a "dramatic galleria at the street level as well as a mid-block pedestrian link between Bush and Pine Streets." 500 Pine St. will include a rooftop public park, and 350 Bush St. will feature a plaza and an "urban room" that will qualify as Privately Owned Public Open Space (POPOS).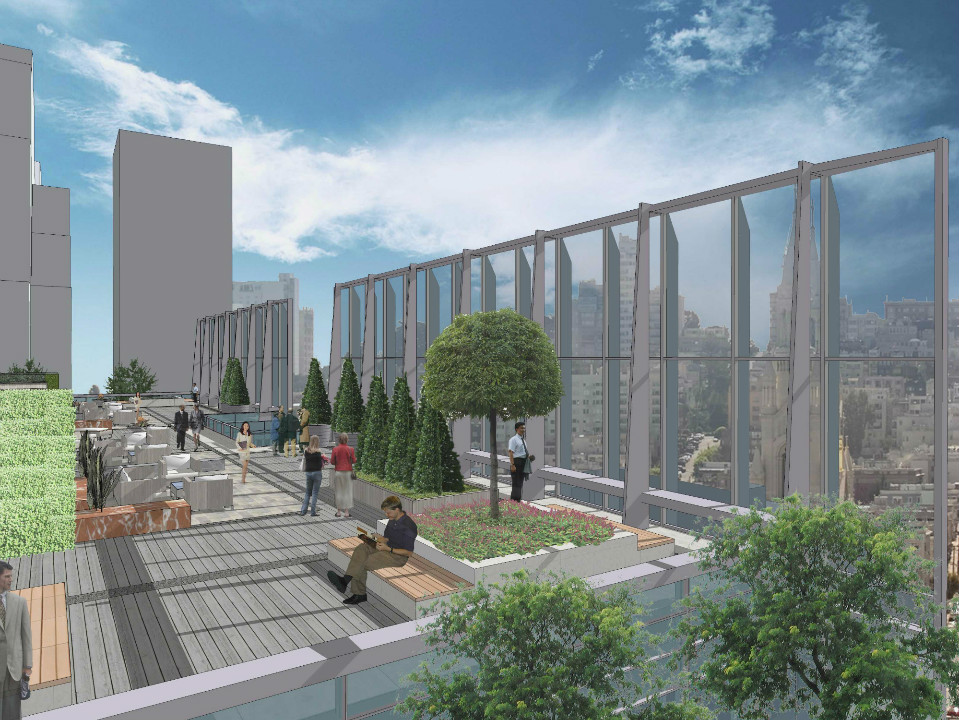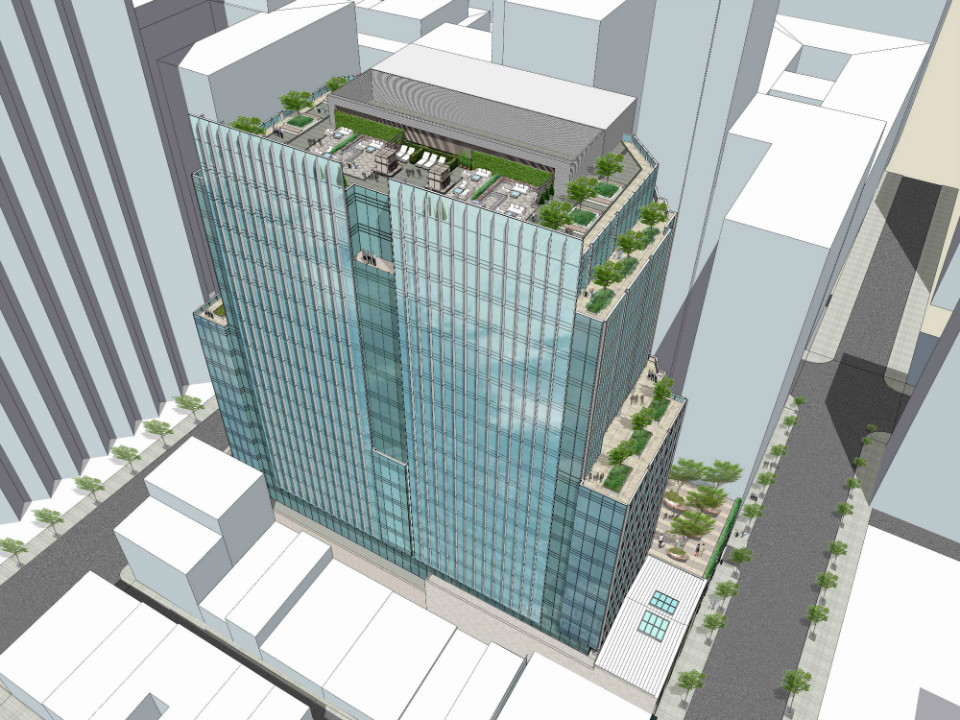 Images: Heller Manus Architects
Inside, the building was "considerably redesigned and changed to be more contemporaneous and attuned to the tech world," Heller said, although he added it could attract legal or financial tenants as well. Instead of putting elevators in the core of the structure, they're off to the side, allowing for big, open floor plates. The building will be energy efficient and have good daylighting and terraces on some floors. They're going for LEED Gold or Platinum, Heller said. Retail will be included, but it's way too early to say who might move in.