Telegraph Hill is usually associated with wild parrots more than any other animal. In recent years, a single coyote has joined them in taking up residence on the 275-foot hill in North Beach, part of a general increase in urbanized coyotes around San Francisco and across North America.
"For years any green space in or around San Francisco has had the ability to attract coyotes," said San Francisco Animal Care & Control spokesperson Deb Campbell. Since Canis latrans have shown they can survive in a surprisingly small territory provided there is enough food and shelter, that includes the 4.89-acre Pioneer Park, which surrounds Coit Tower at the top of Telegraph Hill.
Why the sudden increase? As previously reported on Hoodline, it likely started when coyotes ventured over the Golden Gate Bridge from Marin County, began thriving in the Presidio and migrated south towards Golden Gate Park. It's possible they made their way east from the Presidio towards Telegraph Hill and quietly took up residence around 2005. Today, it's believed there is one solitary coyote living in Pioneer Park, one that has become "habituated"—comfortable enough with humans—to cautiously appear before residents and walk around visibly during the day in an area ripe with foot traffic (as seen in this YouTube video).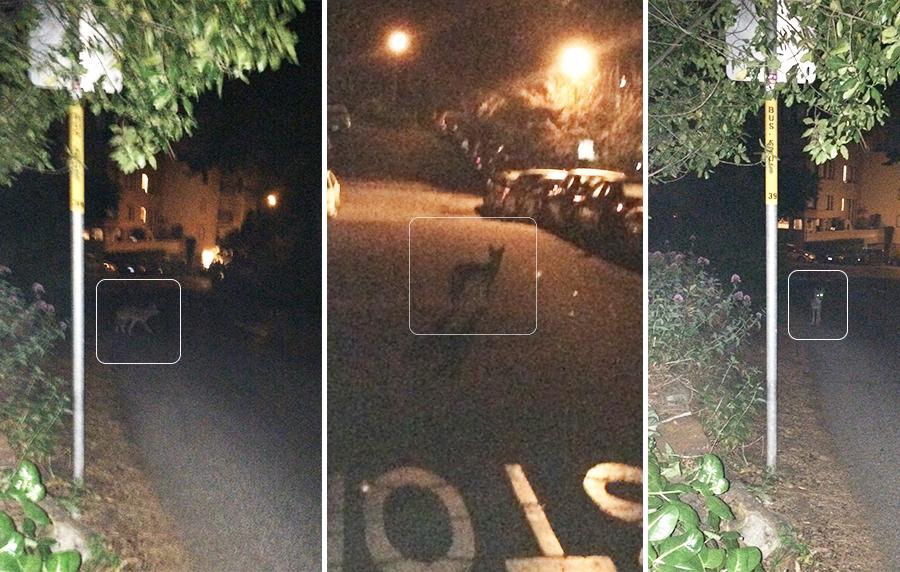 Photos: Mike Pinzuti/Hoodline
Campbell said the fruit trees adorning the surrounding streets, small rodents and residents leaving food out for animals all help keep the Telegraph Hill coyote sticking around. When locals do contact the city about coyote sightings, Animal Control canvasses the area, leaving helpful tips and information on door hangers as well as posting signs around Coit Tower. In select cases, they also work with the Project Coyote coalition and photographic evidence to gauge the well-being and dietary habits of the coyote.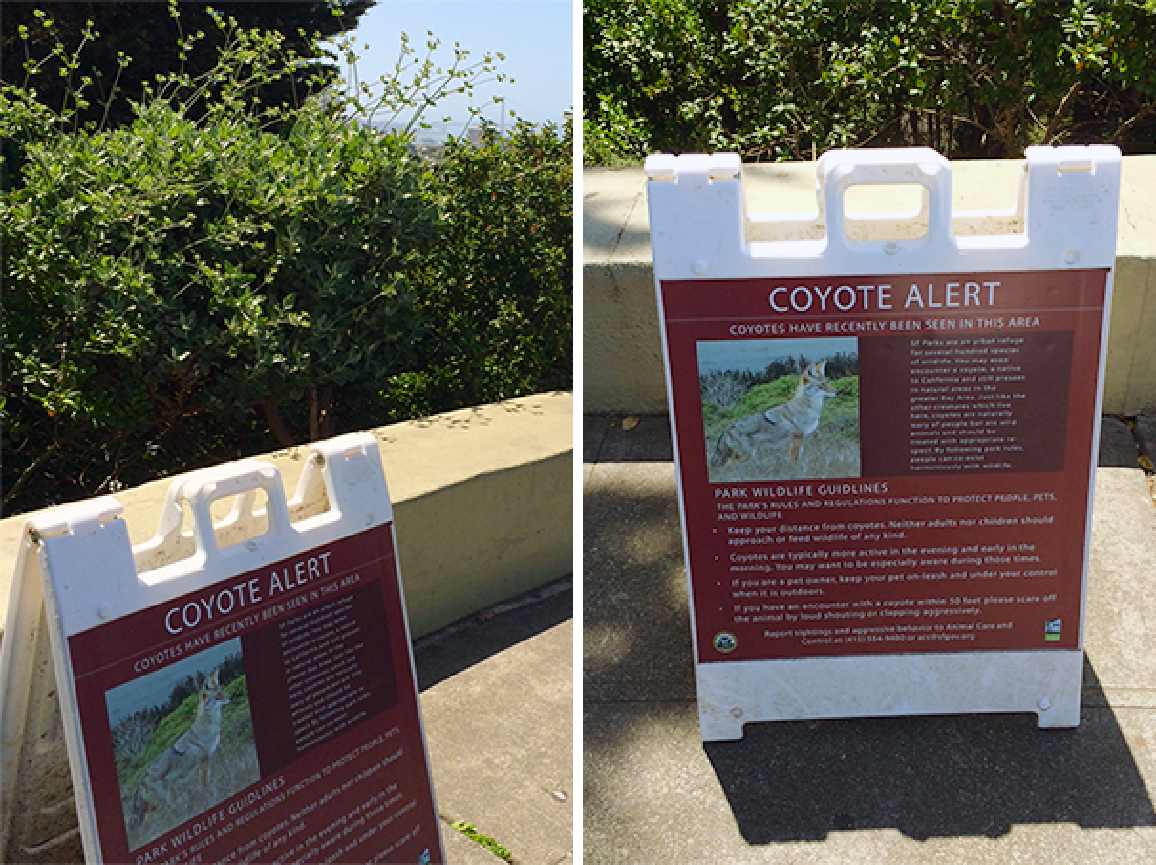 Photos: Mike Pinzuti
As with any natural predator, there's always a concern about proximity and what happens if coyotes come too close to their human neighbors. Already this year there have been reports of coyotes attacking dogs and livestock in New Jersey with similar incidents in Virginia, Florida and British Columbia. However, Campbell said that besides the possibility the coyote took a cat a few years ago, there have been no reports of the Telegraph Hill coyote acting aggressively. Moreover, the city points out that there have been no recorded coyote bites on humans in San Francisco.
Nevertheless, there are a few cautionary steps you can take should you encounter a coyote. Animal Care & Control, Project Coyote and the Humane Society of the United States all recommend various "hazing" techniques designed to make coyotes less comfortable around humans. Though not an issue with a solitary coyote, it's important to remember that pupping season is between March and April, a time when parents are more protective of their territories. Campbell also recommends keeping dogs on a leash and cats indoors, especially between dusk and dawn. Above all, don't purposely leave food out for the coyotes or approach them with food.
The general rule is to appreciate coyotes from a distance, and that's something that can be done with increasing ease across the city, in both big and small parks. If you do want to report a coyote sighting, you can email the city at acc [at] sfgov [dot] org, or to report an aggressive coyote, you should call (415) 554-9400. 
If you've seen the coyote, tell us in the comments section where and when you've spotted it.