Aficionados of luxurious omakase sushi meals can add a new spot to their rotation: the appropriately named Omakase, which made its debut last week at 665 Townsend St. (between 7th and 8th).
It's owned by Kash Feng, the restaurateur behind SoMa's Live Sushi Bistro and Potrero Hill's Live Sushi Bar, and features the talents of two top-notch sushi chefs: Jackson Yu, who's worked at Japan's three-Michelin-starred Ukai, and Ingi Son, a veteran of both New York's three-Michelin-starred Masa and Morimoto Napa. As if that wasn't enough sushi firepower, Masaki Sasaki, who earned a Michelin star last year at the Mission's Maruya, is serving as consulting chef.
Yu (left) and Son (right) behind the 14-seat counter.

Feng spared no expense to create a luxurious experience at Omakase, where three chef's-choice set meals are offered at $100, $150, and $200 price points. Guests are welcomed with glasses of Krug champagne, while a wide selection of sake is served in handmade vessels sourced directly from Japanese artisans, ranging from pewter to intricate cut crystal. Dishes are presented on hand-painted plates by servers attired in traditional kimonos.
Depending on the menu chosen, the meal may commence with appetizers like warm tofu with black truffle, housemade fish cakes with caviar sauce, and Japanese eggplant with fried bonito, made by chef Yoshihito "Gen" Yoshimoto. Omakase has only 14 seats, which allows guests to interact personally with Son and Yu as they personally prepare each piece of nigiri.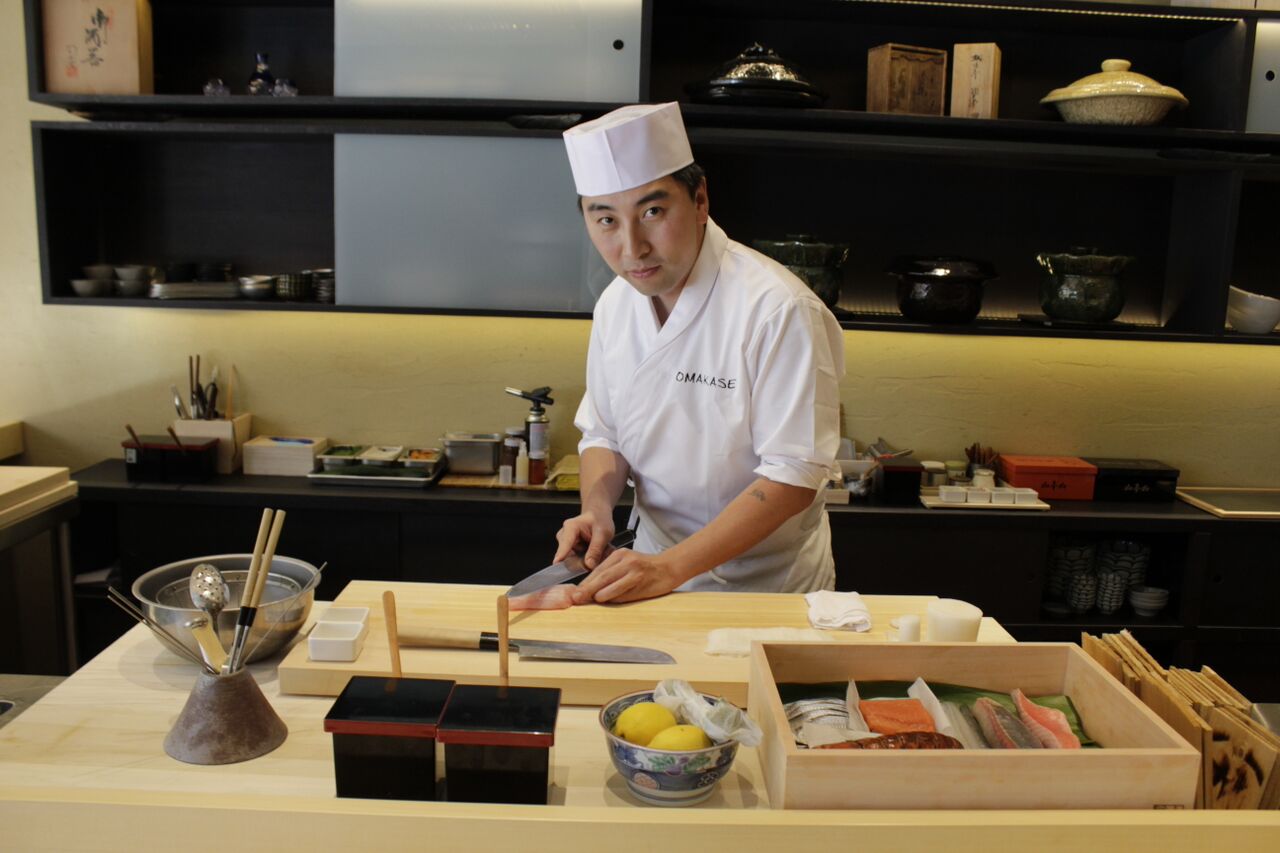 Chef Jackson Yu.

Omakase sources much of its fish straight from Japan, though some California delicacies are offered as well. The current nigiri selection includes Hokkaido uni, lobster with crab butter, live shrimp, needlefish, and squid, among other offerings. Many of the nigiri are topped with caviar or gold leaf.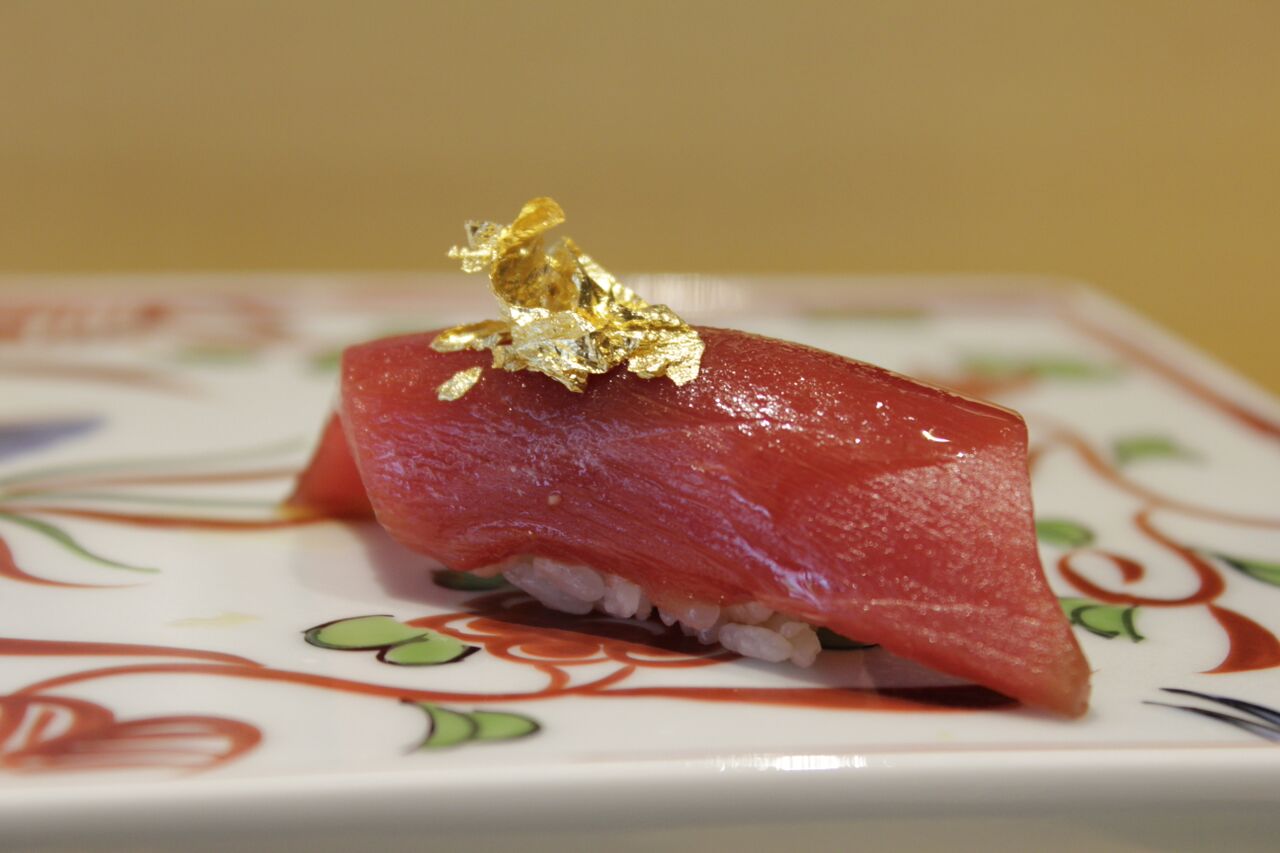 Omakase isn't the only project Feng has in the works: right next door, he's planning a more casual 68-seat bistro, Origami, focused on healthy dishes spanning a variety of Asian cuisines. Feng plans to make every dish on the menu gluten-free and organic, with offerings like kimchi fried rice made with brown rice and chicken pho. Origami will debut next month, once Omakase has hit its stride.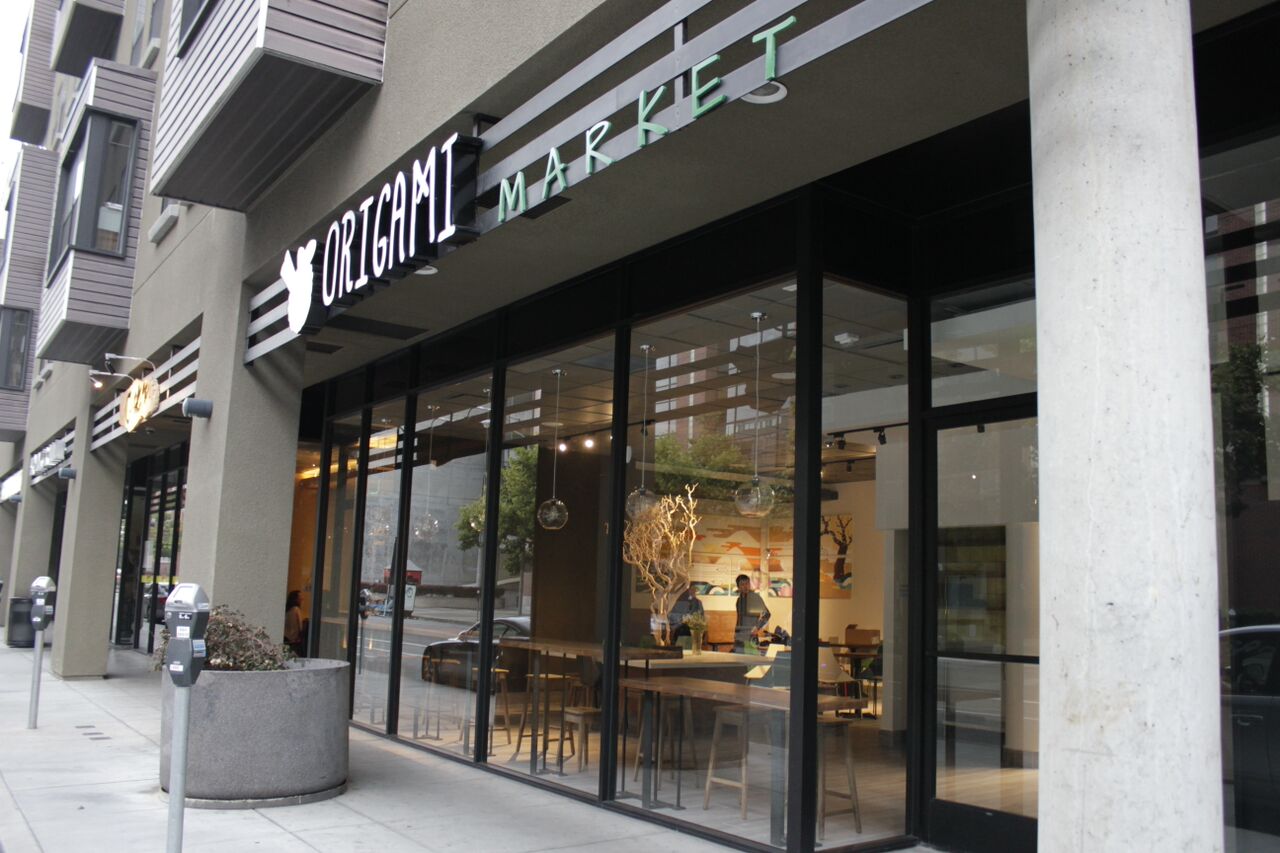 Next-door Origami.

Sasaki, who departed Maruya in October, is helping out at Omakase as he develops plans for his own omakase-style sushi restaurant in the city. (His fellow Maruya chef, Hide Sueyoshi, also left the restaurant, and is now at Umami in Cow Hollow.) He has yet to find a location, but is looking for something small, with around eight seats. 
Omakase is open Monday-Saturday, 5pm-9pm. Given its limited seating, reservations are recommended, and can be made by calling the restaurant at (415) 865-0633. Depending on demand, Feng says the restaurant may also open for lunch service down the line.