Back in December, we reported that the Inner Sunset's San Franpsycho location was plotting the addition of new treats to the neighborhood. Now, the ever-busy San Franpsycho team has unveiled their new coffee and ice cream bar at 1248 9th Avenue.
In fact, you may or may not have already enjoyed some tasty treats, as the project, named "Sundays," has been unofficially open for about a month or so to work out some menu and staff-training kinks.
For those who haven't yet checked it out, Sundays is located in the front of San Franpsycho's large retail space on 9th Avenue. They're serving Three Twins Ice Cream, coffee from De La Paz and Four Barrel, and baked goods from Devil's Teeth Baking Company, a popular destination in the Outer Sunset. They also offer cold brew from Joyride Coffee, a Bayview-based company that works with Four Barrel to make kegs of ice-cold java.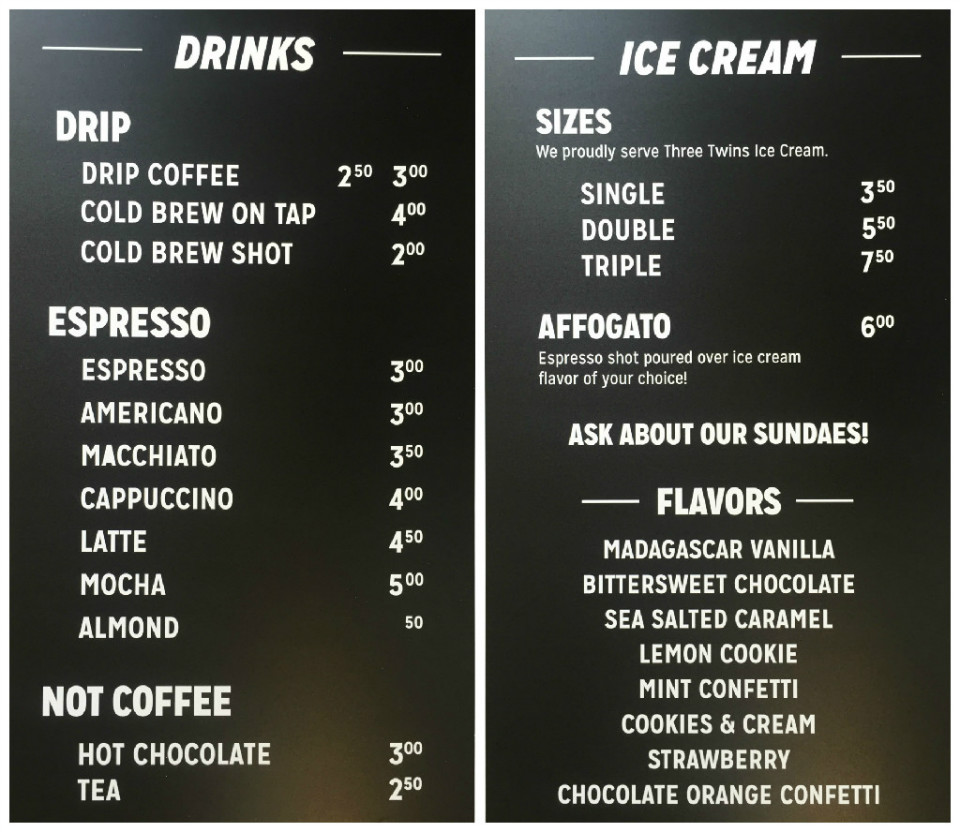 Photo: Courtesy of Sundays
Last night, we swung by a happy hour hosted by Sundays and Anchor Brewing and Distilling to get a sneak peek at the neighborhood's newest addition.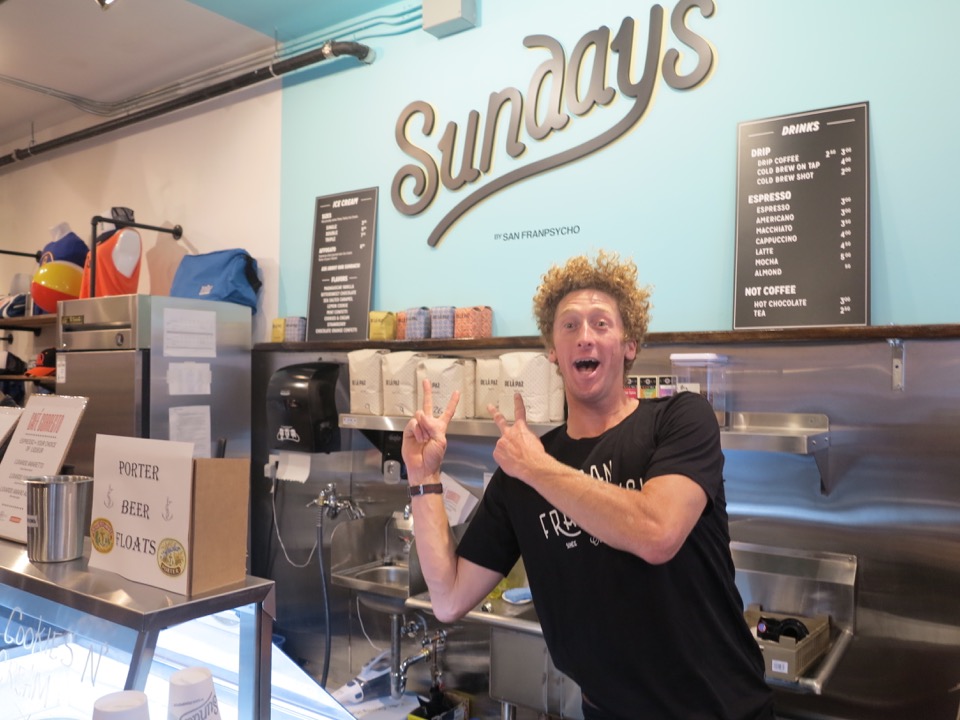 Co-founder Andy Olive having a blast behind the counter. (Photo: Stephen Jackson / Hoodline)
"I'm stoked on the  fact that we know everyone behind what we're selling," said Andy Olive, co-founder of San Franpsycho. "I know the people who made the muffins, I know the girl who made the granola bars we sell, and I got to meet the guys who make the ice cream. Also, today I took a six-hour training on how to make a cappuccino, and believe me, it took six hours."
There were many people in attendance to enjoy the intermingling of caffeine and iced sugar against the backdrop of surf apparel.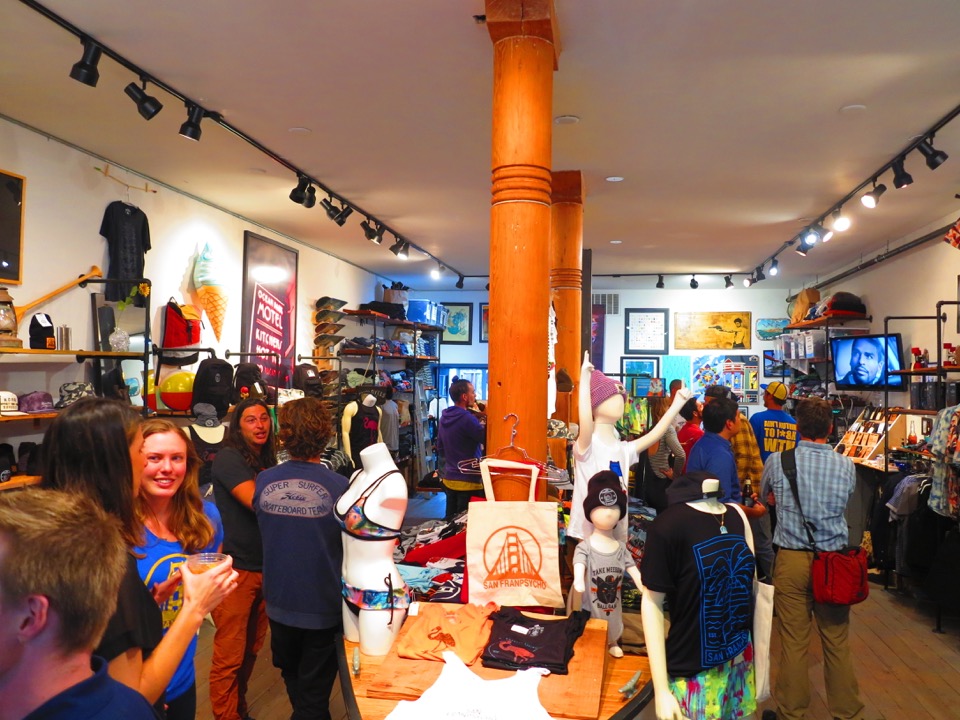 Photo: Stephen Jackson / Hoodline

"I'm most excited about the way the ice cream and coffee will help build community in the neighborhood," said Christian Routzen, who helped start San Franspycho with Olive. "Also, I'm excited for what this will provide for the youth. We're excited to create new experiences for them to have, too."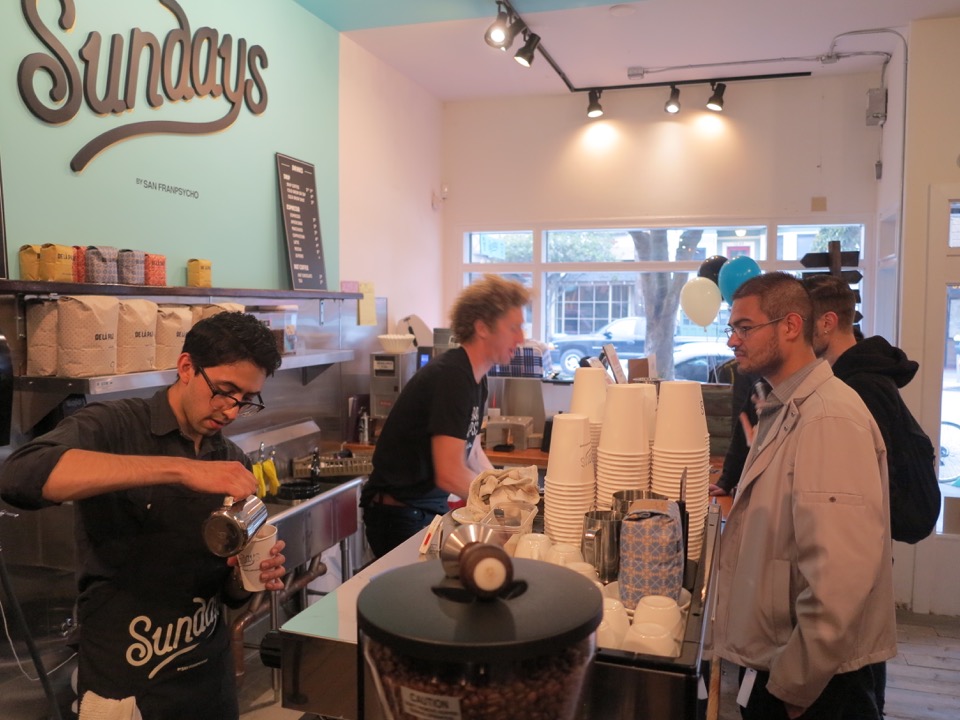 Photo: Stephen Jackson / Hoodline

"It's a new time and a new vibe for the neighborhood," he added. "I see the city moving out toward the edge of the western world. It's kind of like, 'Who are the people creating these experiences?'"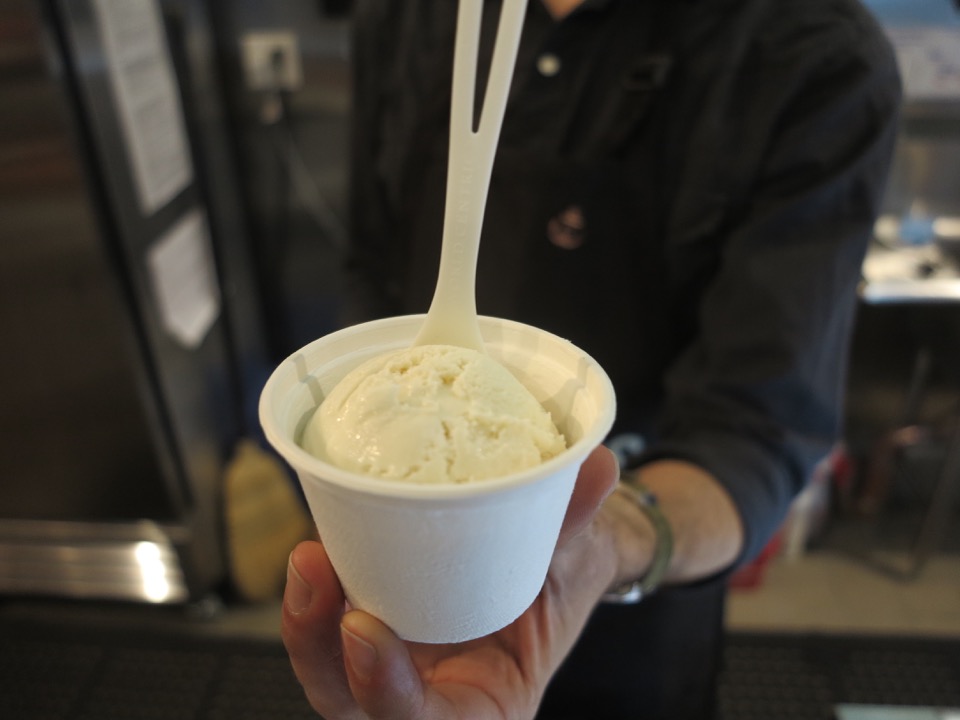 Photo: Stephen Jackson / Hoodline

Sundays will be open Monday-Thursday from 8am to 8pm, Fridays and Saturdays from 8am to 9pm, and Sundays from 8am to 7pm.
Also, don't miss the official grand opening event tomorrow (Saturday, June 13th) from noon to 6pm. The Three Twins Ice Cream truck will be out front serving free samples, Four Barrel will be inside serving espresso, and Hook Fish Co. will be selling sustainable seafood dishes. Anchor is providing beer for a suggested donation to Surf For Life, and local bands Coyote Trickster and Eagle Wolf Snake will play on the back patio, beginning at 2pm.
Welcome to the neighborhood, Sundays!