About 35 community members and 15 others, mainly architects and representatives of city agencies, turned out Tuesday night for a community meeting on an affordable housing project proposed for Broadway and Front streets. If the proposal goes through, it would be built on what is currently Port of San Francisco property that's being used as a parking lot. The meeting gave community members an opportunity to help shape the request for proposals that will go out when the Port and the Mayor's Office of Housing (MOH) seeks a developer.
Many community members are concerned about the scale of the building—height limits on the lot are 65 feet—as well as its aesthetic fit with the rest of the neighborhood. They want it to provide neighborhood-serving retail and services on the ground floor, and there's also been a push for middle-income housing to be included on the site, in addition to low-income units.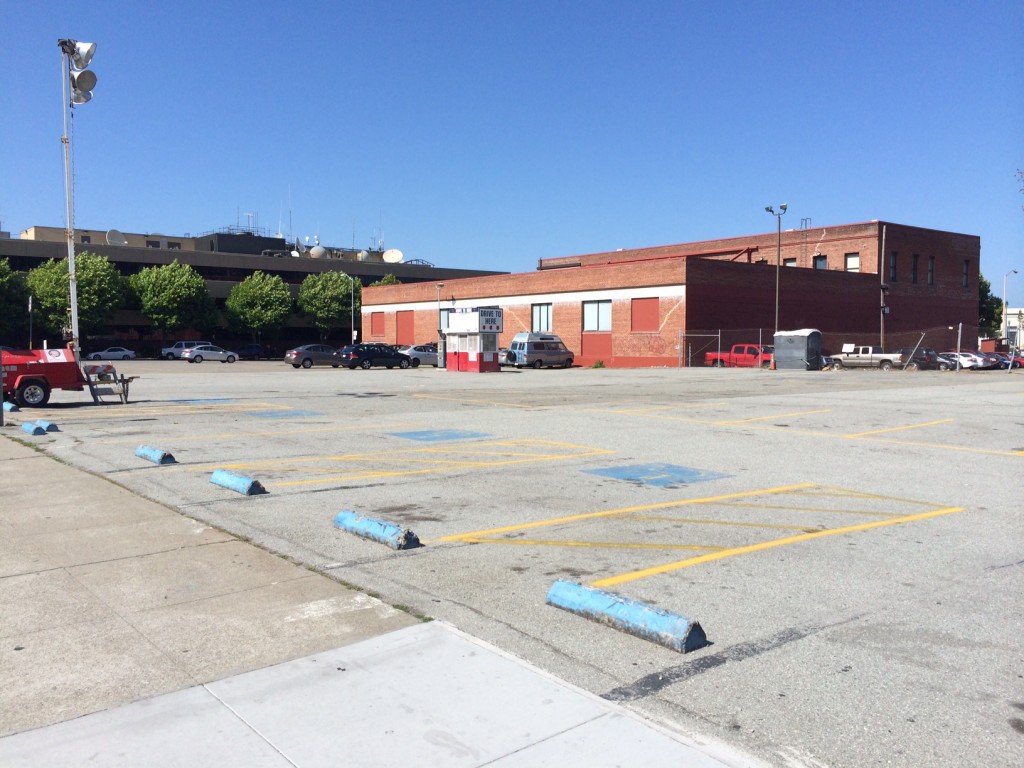 Seawall Lot 322-1. 
The meeting, held in the Bayside conference room at the Port of San Francisco's Pier 1 offices, included a presentation and breakout discussion groups. "The purpose is not to show a design per se; it's to show the possibilities on the site," said Teresa Yanga, director of housing development at MOH. The 3-D renderings displayed had no specific design details, but were intended to give an idea of the scale and massing of the building that could be done.
The meeting also included a surprise: the group was told that the Department of Public Works owns a parking lot adjacent to the Port parcel, Seawall Lot 322-1, that might be usable for senior housing in addition to the proposed low-income housing, if the city will make it part of the project. Thus, it was included in some of the massing options presented. This was a new development in the process; previously, only the seawall lot was discussed as a building site.
"They're not promising it to us," District 3 Supervisor Julie Christensen told Hoodline. "By federal regulation, we can't designate units of housing in a general complex for a specific age group. But if we build a connected but separate facility and we call it a senior housing center … those units can be for seniors in perpetuity." She added, "We might get anywhere from 40 to 60 units of senior housing, which would be amazing, with elevators and access to services." Many seniors in the area, she said, can no longer walk up stairs or hills, but don't want to leave their community and support network.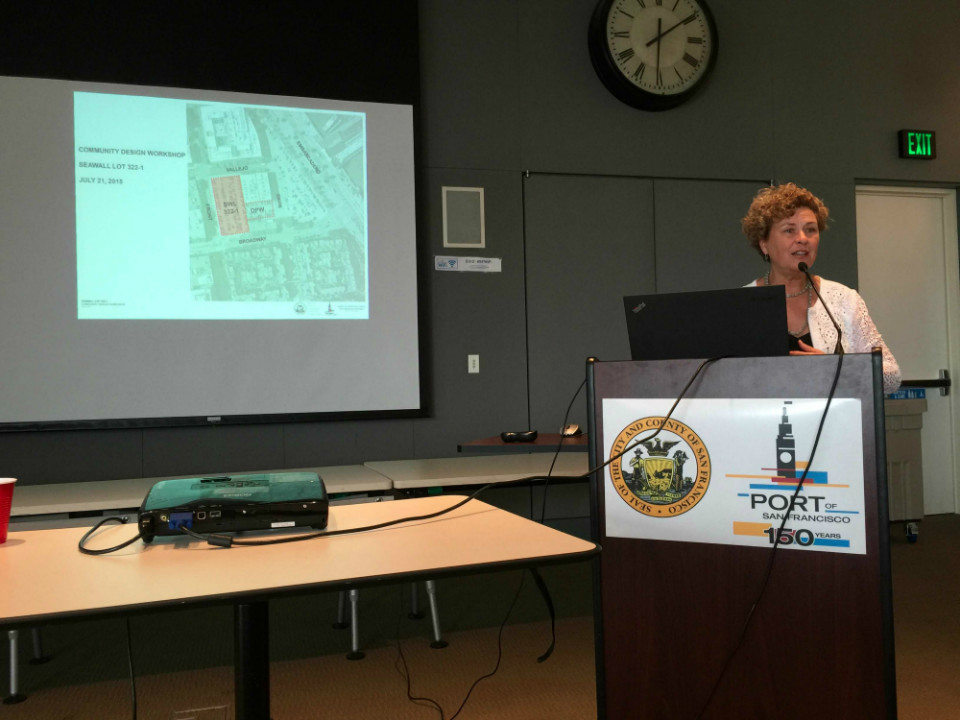 District 3 Supervisor Julie Christensen.
Christensen also said if the housing bond is passed in November, there could be an opportunity to include middle-income housing in the project. It's difficult to build, because it doesn't qualify for federal subsidies. But, she said, she lobbied for funding for middle-income subsidies in the mayor's housing bond and got it, so this project could be one of the locations for that. "What they would do is just designate some of the units in the main building as middle-income," she said.
The meeting included presentations by local architects Cary Bernstein and Mark Cavagnero, who were contracted to provide the massing studies. Bernstein began by discussing what kinds of buildings the neighborhood already includes, and how they were built. "Over 70 percent [of neighborhood buildings] are frame and infill construction," she said, versus bearing-wall, which were not seismically sound when built.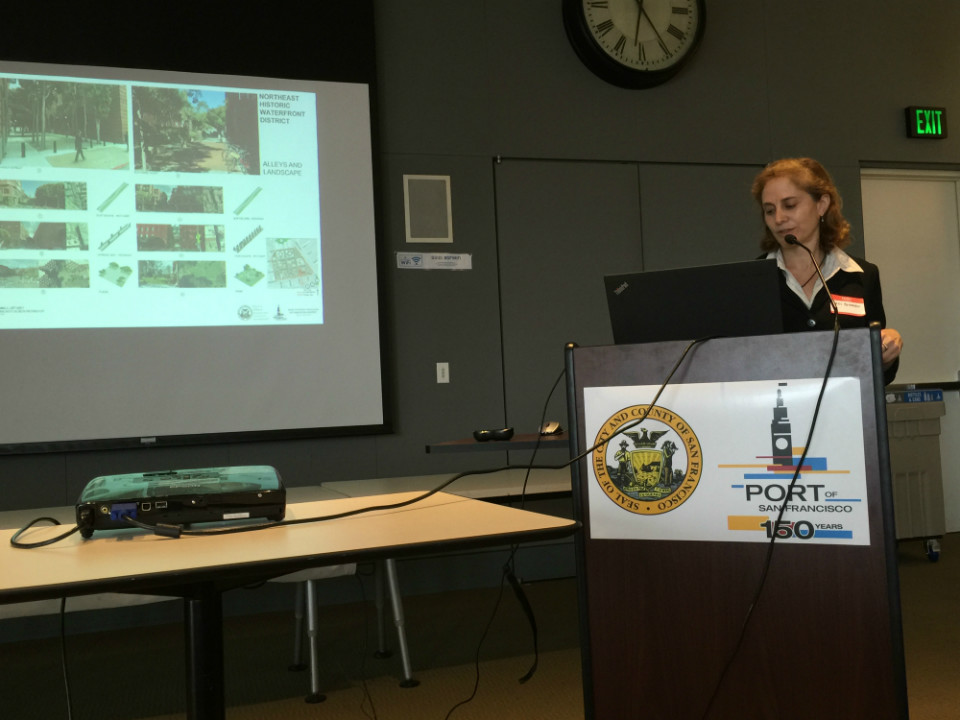 Architect Cary Bernstein.
Cavagnero spoke about respecting the look of the existing neighborhood, enhancing open space, creating mid-block passages and courtyards, and sculpting the building so that instead of a big block, it would include step-downs to break up the mass and let in more light and sun for residents. He said there's a tension between building the most units possible on the footprint (within the 65-foot height limits) and providing open space.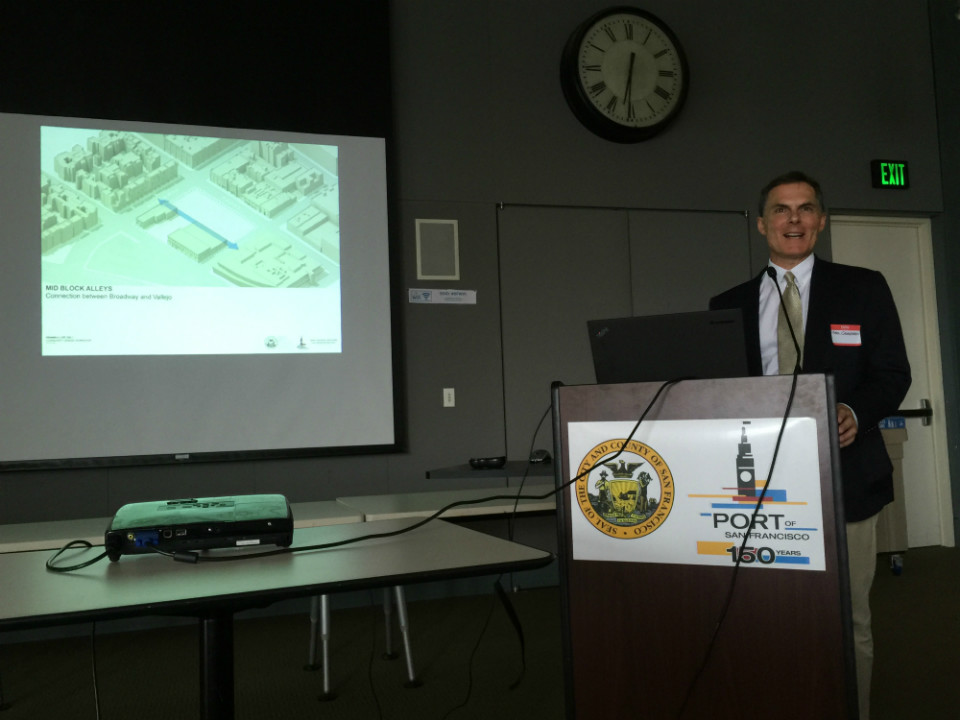 Architect Mark Cavagnero.
One attendee raised a concern that more open space and pathways could attract more homeless people. "There are a lot of ways that could be handled," Cavagnero said. "The city planners need to understand the reality of our neighborhood," the attendee replied.
After the presentation and a few questions and comments, participants broke up into four groups to discuss the project. Afterward, Dan Hodapp, the Port's senior waterfront planner, asked each group to designate a representative to give feedback on four topics: Height and massing, neighborhood context, ground floor, and "more." He took notes as each presenter spoke.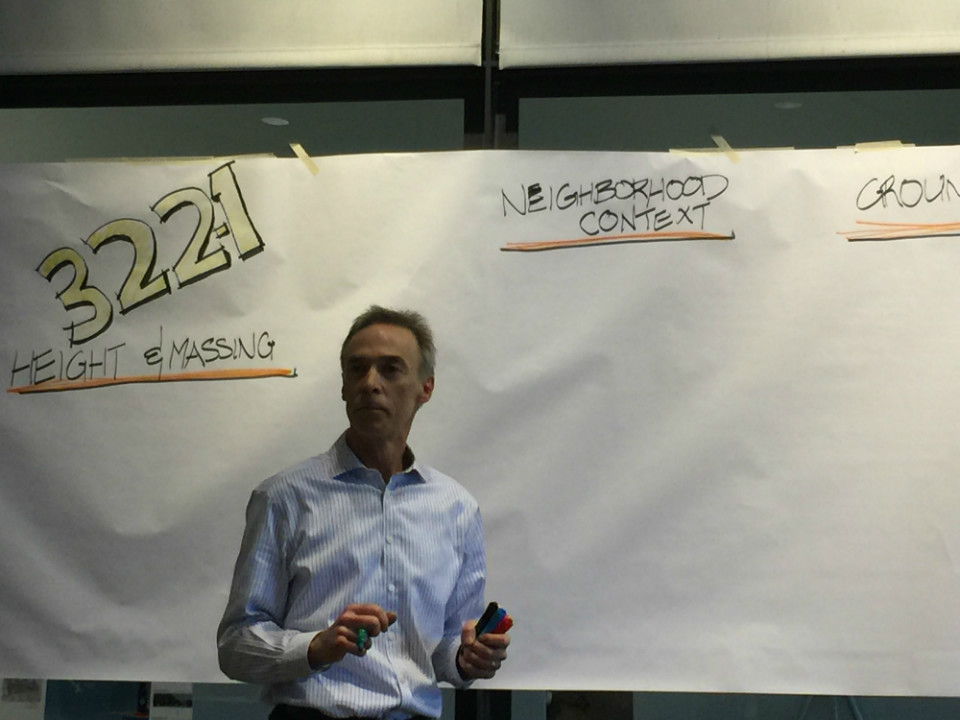 Senior waterfront planner Dan Hodapp.
Ricky Tijani, the Port's development project manager, spoke for group one. He said that his group "thought the alleyway is charming and inviting and creates the preferred, active street frontages." He added they'd like to see a mix of unit types, including microunits, and want to see "stores that support the residents," such as a Walgreens, on the ground level.
Tom Radulovich, executive director of Livable City, represented group two. His group wants the massing to step down, he said. "Can you break down the mass without it feeling too jumpy or busy?" He added they'd like to see "good-quality materials that complement the historic nature of the neighborhood" and as much retail as possible.
Bernstein, representing group three, said a member of her group wanted it noted that the site shouldn't be used for housing at all, but should be a park with parking below. "There was consensus that retail on the ground level was a good idea, but not chain retail," she said. "Subway was a particular demon."
The group also agreed there should be more building step-backs on the Broadway side, that Vallejo Street is the appropriate place to put the entrance for parking, and that hardscaping with a few trees is better for management of non-residents than lush landscaping. If parking is included, the group said they'd like to see it underground (provided the developer can swing it) to allow for more retail on the ground level.
"There was a discussion of maybe making them separate buildings and making them more compatible with the historic nature of the neighborhood, instead of a wedding-cake type of thing," said Judy Irving of Telegraph Hill Dwellers, representing group four. The group asked if it was possible to build lower than 65 feet at the maximum, and to step down to the waterfront. "From one of the renderings, to me, it looked like it popped back up," she said.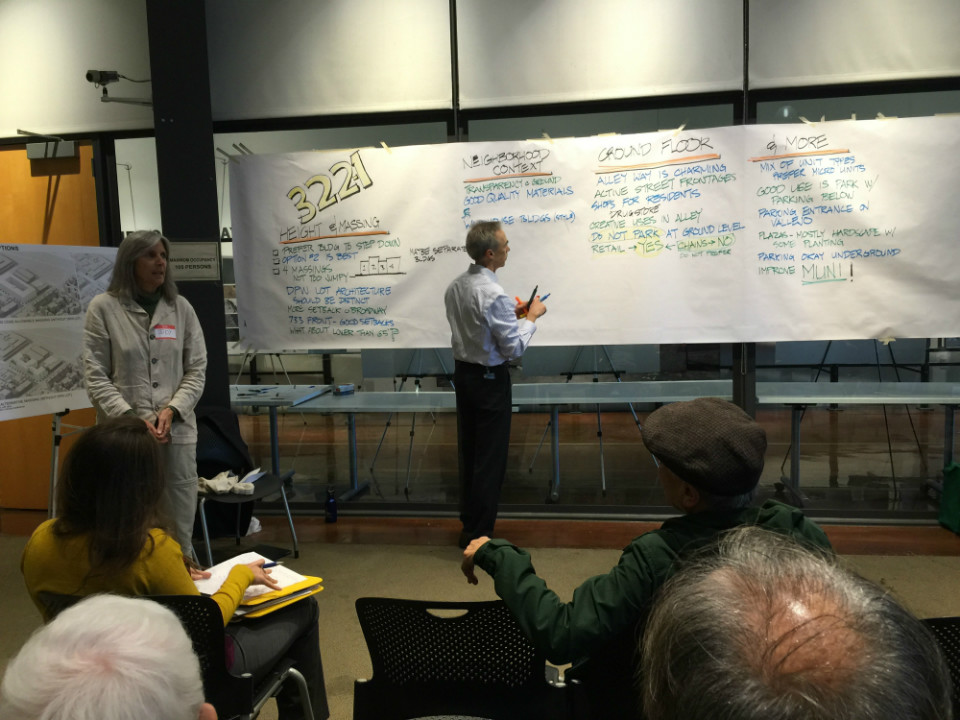 Telegraph Hill Dwellers' Judy Irving, with Dan Hodapp.
Group four was also opposed to parking on the first floor, and in favor of small, non-chain retail. Irving said the group suggested eliminating parking to reduce height, and reducing the size of units in order to increase the number of units in the building. Transit accessibility was also a concern. "This is a transit-first city," said Irving. "We need to improve Muni in this area. We've had bus lines cut back, we've had bus lines dropped. If we put in a big building like this and increase residents, we need to increase Muni."
After the meeting, Andy Katz of Telegraph Hill Dwellers said he wants to see more community meetings to consider the massing, transit, and parking options, as well as the possibility of including the DPW lot. "That needs to be considered further," he said.