The team behind the forthcoming China Live (644 and 660 Broadway) understands that it might seem a bit odd to bring an ambitious, multi-level Chinese food-centered retail and restaurant space to an already busy corridor of Chinatown. But they say they don't want to usurp Chinatown's culture—they want to preserve, protect and promote it. "We're trying to respect the past, but also look forward to the future," said Richard Miyashiro, managing partner and director of operations for China Live.
"We're going to augment the neighborhood, not compete," echoed Janine Shiota, China Live's director of programming and corporate communications. According to Shiota, China Live will offer a carefully curated selection of organic products, and focus on authentic types of Chinese cuisine, rather than Americanized Chinese food. They expect to hire at least 300 employees, and are aiming to hire a number of Chinatown locals. "We want people who will understand the products we're bringing and the products we're using," she said.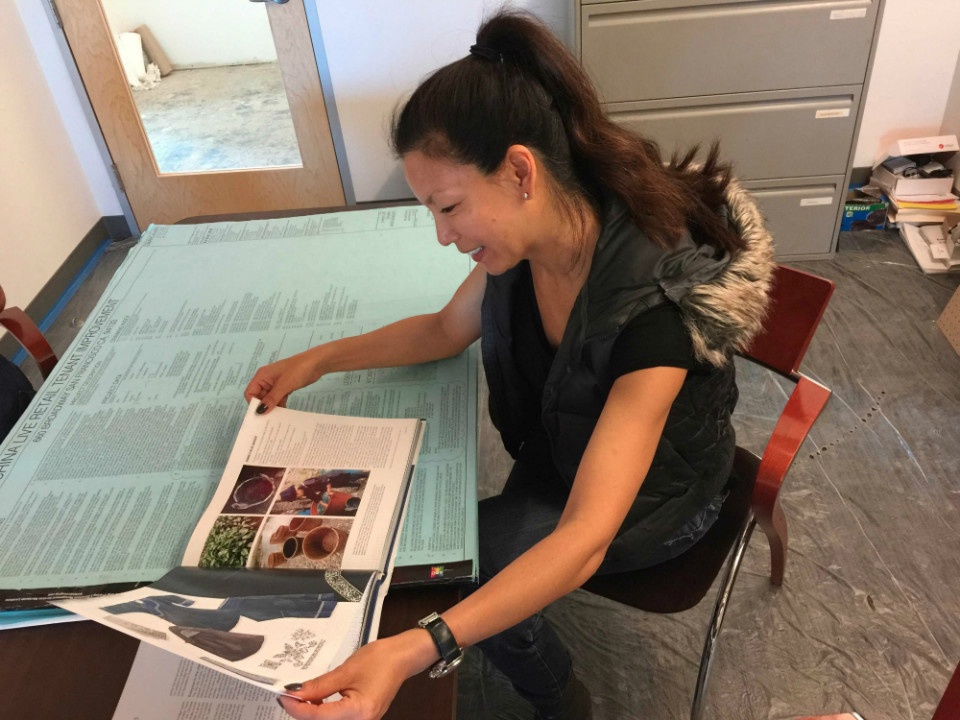 Janine Shiota reviews a book on Chinese culture. Photo: Geri Koeppel/Hoodline
China Live, which has been described as the "Eataly of Chinese food," is currently in the buildout stage, with a planned October opening. It'll include several concepts:
A public market on the first floor, including a retail shop selling kitchenware (woks, dishes) and pantry items (spices, herbs, sauces). All items will be organic, sustainable and locally sourced whenever possible.

The Market Restaurant: A 105-seat casual eatery and full bar on the first floor, with a variety of options prepared in exhibition kitchens

The Oolong Café: Chinese teas, specialty coffees, Asian pastries, small bites and counter seating

A casual cold drinks bar on the second floor with a "futuristic Asian dystopia" vibe

An intimate craft-cocktail bar, Gold Mountain Lounge (formerly known as Madame's Parlour), which will double as a private dining and lounge space

Eight Tables by George Chen, an elegant, 38-seat restaurant with an evolving, gourmet Chinese tasting menu that hopes to garner Michelin stars and James Beard nods

A roughly 180-seat banquet facility with audiovisual capability, for weddings, family events, corporate gatherings and other big parties

A flower and plant stand at the main entrance

Cold drinks bar. (Rendering: China Live)
China Live's husband-and-wife founders, George Chen and Cindy Wong-Chen, are aiming to raise consciousness about Chinese food with their new project. They formerly owned Cow Hollow's Betelnut and SoMa's Shanghai 1930, and currently own Roosevelt Prime Steakhouse, an American restaurant in Shanghai.
"George's depth of historical knowledge of Chinese cuisine and culture gives us a starting point," said managing partner Miyashiro, whose own resume includes Boulevard, Kitchen Door and Hakkasan. "It is one of the great cuisines of the world." Shiota added that China Live will explore all eight great styles of Chinese cooking. "He's going to get inspiration from everywhere," she said of Chen.

Eight Tables. (Rendering: China Live)
China Live is aiming to attract a wide swath of the community, including FiDi workers for lunch in the Market Restaurant and dinner at Eight Tables; neighbors looking for products they recognize but can't find elsewhere in Chinatown; locals who might not be familiar with Chinese cooking or products, and want to learn more; and of course, hungry tourists eager for a cultural experience. "We think we're going to serve everybody at different times of day," Shiota said. They plan to showcase local products like Red Blossom Tea Company teas, and offer walking tours of Chinatown.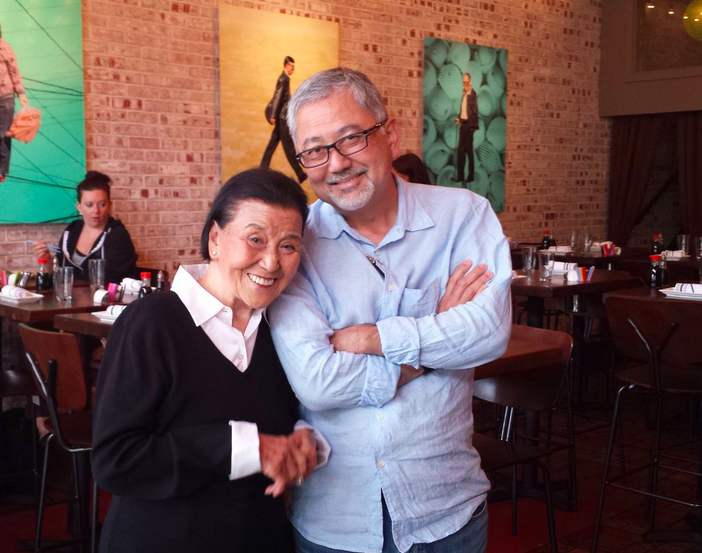 Miyashiro (right) with legendary SF restaurateur Cecilia Chiang. (Photo: China Live/Facebook)
Shiota said that China Live hopes to impart the nuances of Chinese cooking to younger generations who might have watched their grandmother prepare dishes, but didn't understand everything that went into them. It will be a "beautiful, modern platform for intergenerational conversation," she said. "We want people to be culturally curious," she added. "It's not just tea. It's not just food. It's about the culture itself." Even the dishes and uniforms have a story behind them, and the team has been in touch with the building's original architect, Phillip Choy.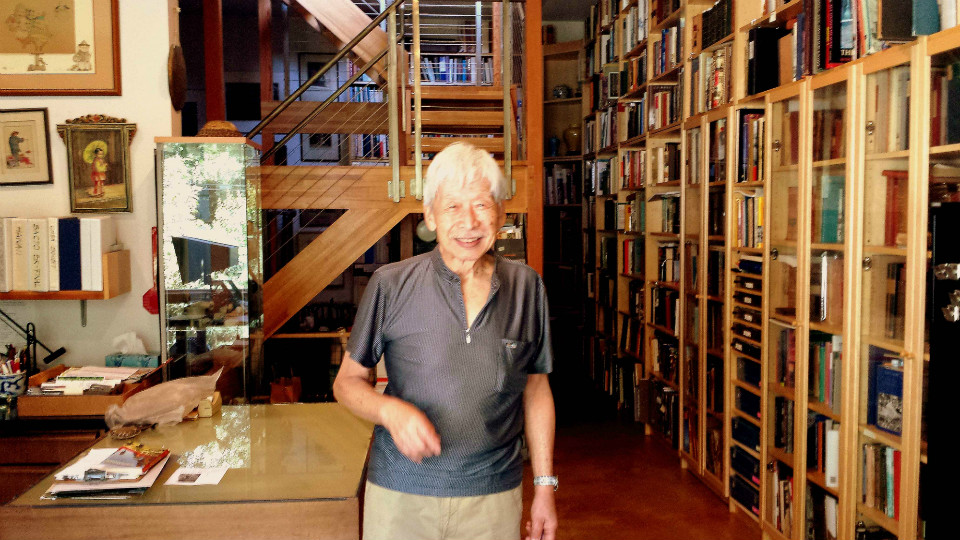 Phillip Choy. (Photo: Janine Shiota/China Live)
China Live is part of a larger 42,500-square-foot development that also houses the offices of the San Francisco Film Society (on the fourth floor), and will eventually include filmmaking offices and the Speakeasy interactive theater on the lower level.
The larger 644 Broadway building was originally the home of the Palace Theater, dating from 1909. It was torn down and rebuilt in 1984 as a four-story building on top of a 437-seat theater, called the World Theater. Most recently, three of the building's floors housed Gold Mountain Restaurant, one of the largest dim sum spaces in the country.
The building at 660 Broadway was most recently a pet store, but was once the Peppermint Lounge, which hosted musical acts like Paul Revere and the Raiders and Little Richard in the mid-1960s.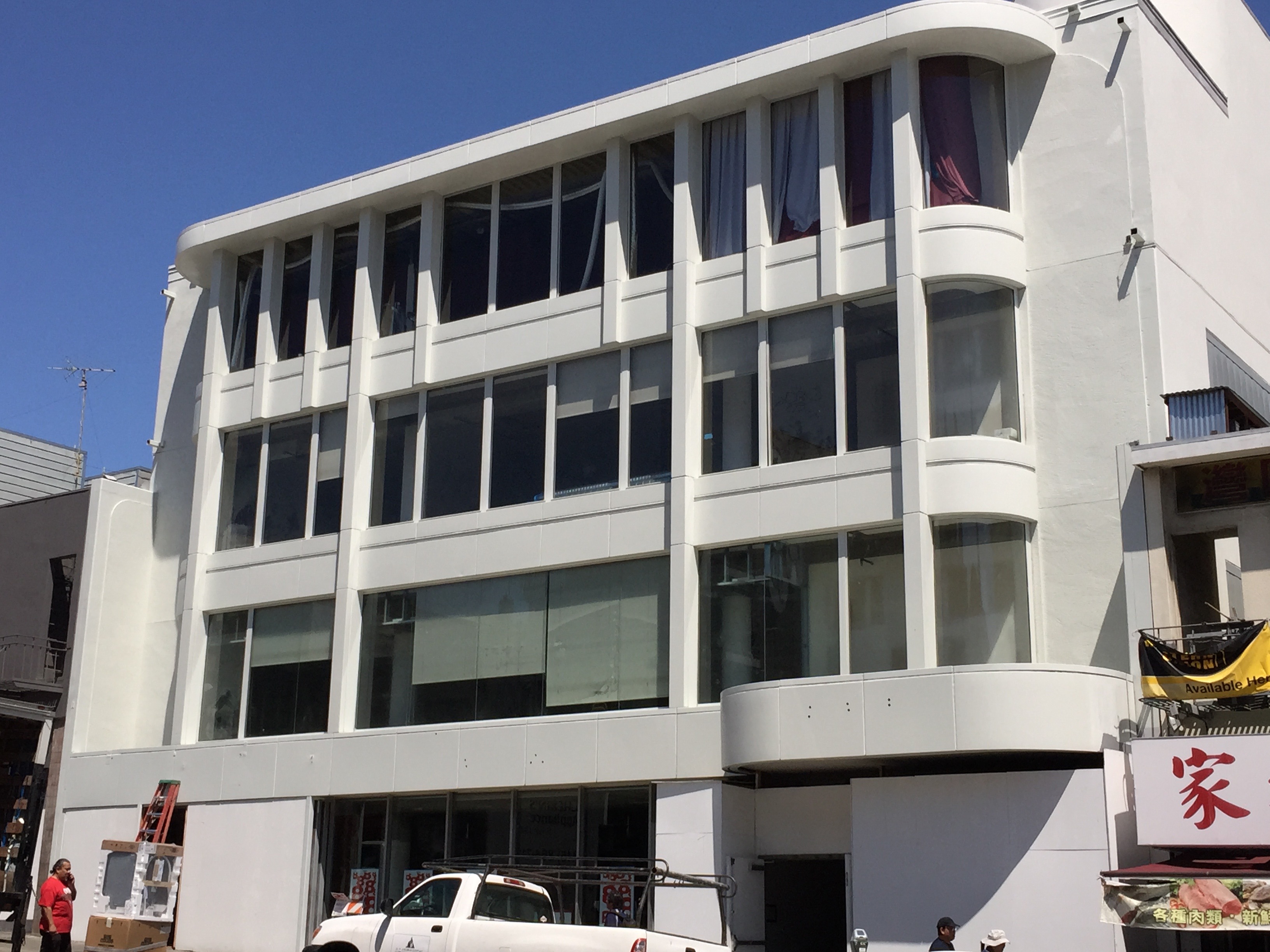 644 Broadway. (Photo: Geri Koeppel/Hoodline)
Cypress Properties Group, LLC is the developer for 644 and 660 Broadway. Principal Jeff Lee says the company wants to retain the "gut and essence and soul" of the buildings and expand upon them as a cultural and entertainment hub—and hopefully bring back a little nightlife to the area, which has suffered in that department in recent years. "It's almost like what was here is being recreated, but new and improved," he said.
Cypress bought 644 Broadway for $8.5 million, or about $200 per square foot, which Lee said allows the company to rent it to cultural and creative enterprises at reasonable rates. The building at 660 Broadway cost $3.5 million.
Lee's business partner, Chris Wight, said the idea is to promote synergy among the food, film and theater projects under one roof. "The hope is they get together for a beer in the cafe and come up with their next great idea," he said.