A recent meeting about Folsom Street's upcoming makeover provided an overview on the changes SoMa neighbors can expect to see on the strip of Folsom between Second and Spear streets.
The area's set to become more pedestrian- and bike-friendly, with wider and better sidewalks, protected bike lanes, bulb-outs at intersection crossings, more greenery and more places to sit, including rain gardens. It's also expected to get a bus line, with the proposed extension of the 12-Folsom/Pacific Muni line.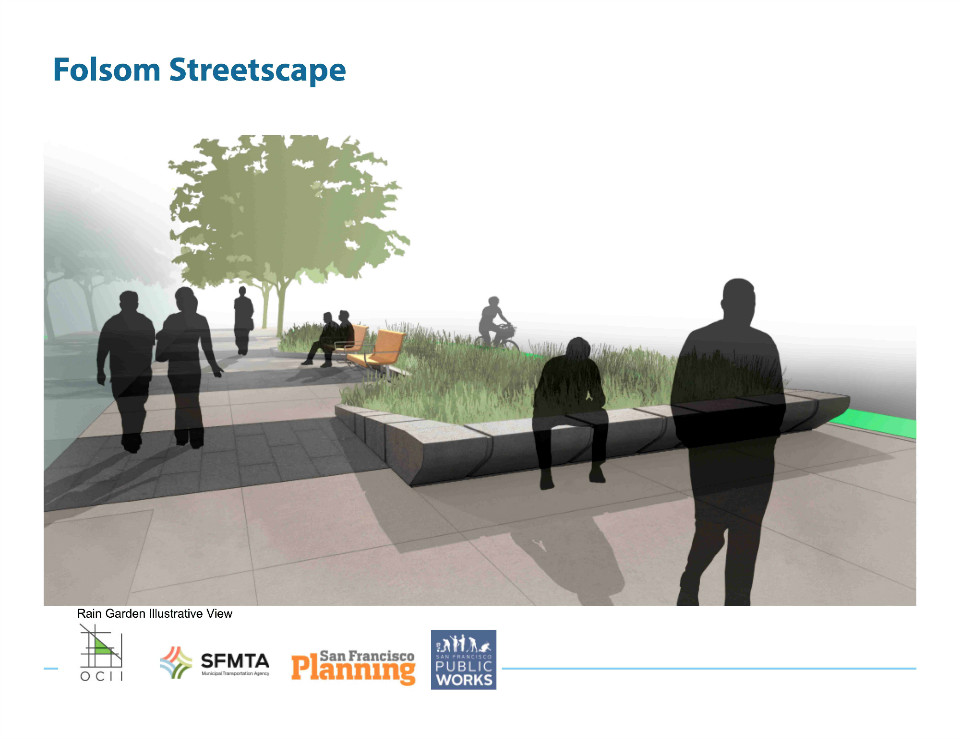 Representatives from several agencies, as well as about 45 neighbors, attended the meeting on July 16th at the Yerba Buena Center for the Arts. A slide presentation about the Transbay Folsom Streetscape gave a history, timeline and renderings, and Jamie Phillips of CMG Landscape Architecture also talked about specifics.

The project is a multi-agency coordinated effort, involving the Office of Community Investment and Infrastructure (OCII), the SFMTA, the SF Public Utilities Commission and SF Public Works. The OCII website has more historical information, while the SF Public Works site has ongoing project updates.

The Transbay Folsom Streetscape project is intended to be part of "the goal of making a more livable, walkable city," Oscar Gee, project manager for SF Public Works, told Hoodline after the meeting. "Part of the thought process of widening a sidewalk is to make the corridor a more walkable area. This is in line with the Better Streets Plan and Walk First plan." The design encourages people to walk and to sit on the benches and in the rain gardens. "It's meant to provide a sense of community," he added.
Gee said that outreach meetings have been held for community input, and the design is now about 50 percent complete; it'll be done by the end of the year. The project then will be put out for bids, and a contract will be awarded in July 2016, with completion slated for July 2017. Cost estimates are being reviewed, so the total cost is still up in the air, but it should be around $16 to $18 million, according to Shane Hart, project manager at the OCII.
Specific design elements include:
Sidewalk widening from 10 feet to anywhere from 15 to 25 feet
Removal of existing trees (because they'll fall in the center of the new sidewalks) and planting of about 48 new drought-resistant Brisbane box trees
Four custom benches
Three rain gardens for seating and storm water treatment
Colored concrete in a warmer gray, to be more appealing
Bulb-outs to shorten pedestrian crossing distance at intersections
Interim striping, as the driving lanes are reduced from four to two
Protected bike lanes with a four-foot buffer zone between cyclists and traffic, and bike lanes behind bus stops to prevent "leapfrogging"
Additional street lighting
Bike racks
Gee told Hoodline he's been impressed with "the coordinated approach we've been having with the other private developers. OCII is essentially the owner of these development plots, and they've enlisted a good team to try to create a unified design for the whole corridor," rather than a hodgepodge created by each developer.

Although this plan only encompasses six blocks, Gee said a Central SoMa area plan, involving Folsom past Second Street, is in the works. So far, neighbors appear to be pleased with the progress. "I think this is a new standard in streetscape and better street planning," said SoMa resident Alice Rogers after the meeting.