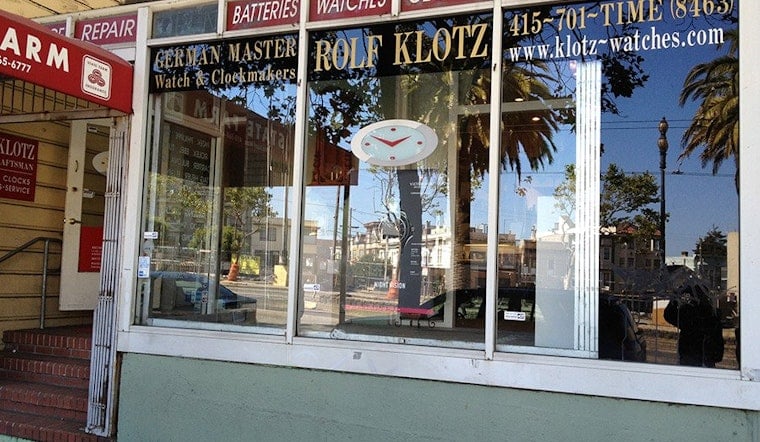 Published on July 21, 2015
Klotz Watches & Clocks, the longtime clockmaker and repair shop at 2166 Market St., will close its doors on Saturday after at least 14 years in the neighborhood.
Tipsters Ed R. and Mark C. both wrote in to mention the closure, with Ed calling the shop "a neighborhood institution." Proprietor Rolf Klotz declined to speak with us further about his business, but according to Klotz Watches' website, he began his San Francisco career in 1988 after extensive training in the German watchmaking industry:
Rolf Klotz began his training to repair watches & clocks in 1958, when he was 14 years of age, in Düsseldorf, Germany. His first dream was to become a car mechanic, but his father said he was too small to work on cars at 14, and apprenticed Rolf with a Master Watch & Clockmaker. (Today, Rolf is well over six feet tall.) He completed the apprenticeship and went on to work as a journeyman watchmaker for five more years before he went for a "Meister's" — Masters Degree — the highest level of skill. This made him qualified to teach, which he still does.
In a post announcing the closure, Klotz Watches & Clocks stated it would be going out of business on July 25th, 2015. "We would like to thank all our customers for their continued patronage, support and loyalty for over 14 years here in San Francisco." A new location in the Sausalito/Mill Valley area is reportedly in the works.
Though we weren't able to confirm the exact reasons behind the closure, tipster Mark C. said that the business was "another victim of the greedy landlord kind. Rolf Klotz must close July 31st. His clock shop has been there since I moved here."
It appears that a rent hike may indeed be behind the closure. In a Facebook comment, Klotz Watches stated that "it was just a matter of time. Crazy rents."