The SFMTA has put forth a new plan for speeding up the 5-Fulton bus along McAllister Street, revising an earlier proposal that called for including five traffic lights on McAllister between Lyon and Fillmore street. Timing these lights would, in theory, speed up the 5-Fulton's trip downtown.
The new, edited plan from the SFMTA still includes traffic lights along the route, but only at the intersections of McAllister and Broderick and McAllister and Scott. In addition to these traffic lights, traffic circles would be constructed along McAllister at Steiner and Lyon streets.
"The idea is there'll still be stop signs for the side streets, but McAllister would have no stop sign, and the circles would be the calming feature for vehicles heading along McAllister," Muni Forward program manager Sean Kennedy told Streetsblog.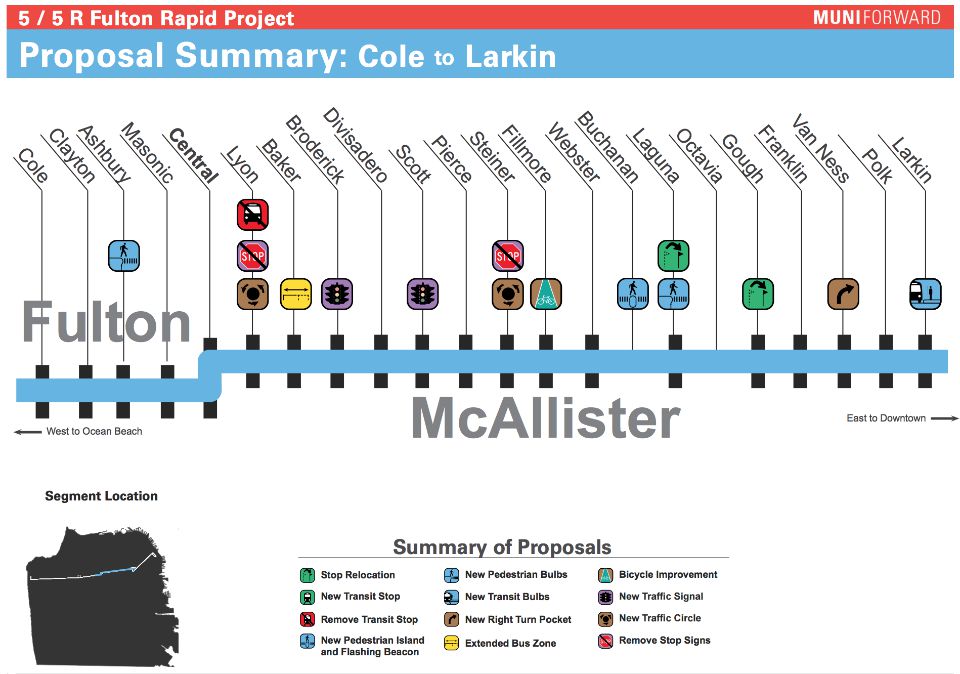 Image: SFMTA
Some community residents are already protesting the proposed changes. McAllister resident Gabrielle Tenaglia has started an online petition to oppose the new lights and traffic circles. She is concerned that traffic will not need to slow down through these intersections, creating a pedestrian safety issue. Cyclists, she argues, will be hidden from drivers using the traffic circles, creating a second safety risk.
Tenaglia also points out that the proposed plan would save the 5-Fulton a mere 90 seconds on its trip downtown, which she does not believe justifies the changes that would come to the street.
The San Francisco Bicycle Coalition's communications director, Chris Cassidy, said that "traffic circles can be a valuable tool to reduce speeds and keep people driving, walking and biking safer," according to Streetsblog. But for the moment, the organization is "looking forward to SFMTA sharing more details about" the McAllister project.
The traffic circles plan will go up for a vote by the SFMTA Board of Directors before it's passed. We'll let you know when the public hearing occurs, and what the final results are. In the meantime, the new SFMTA plan can be found in its entirety here.